A Grand Rapids- based firm infuses workspaces with innovation and energy through interior design.
"At the core of our brand and our story is the idea that great environments are good for organizations," said Natalia Connelly, director of branding at Custer Inc., as she sat on a lemon-lime and speckled gray couch in the full-service firm's showroom in downtown Grand Rapids.
"We really believe that a great environment can empower you to do your best work and so it is our hope to do just that: to create great environments and to understand our customers' needs so that we can meet them," continued Connelly.
Custer Inc. specializes in designing and developing inspiring interior work spaces that not only improve employee engagement and organizational performance, but also enhance workplace wellbeing. To emphasize the firm's capabilities for its clients, Custer renovated its entire first floor showroom last year to create an environment that invokes a sense of tranquility, yet still fosters productivity.
Known as Custer's "living room," one of the spaces on the first-floor incorporates a trellis and planter, light and gray chevron-like patterned carpet floor, a set of Emu Re-trouvé poufs with a spiraled design reminiscent of the 1950s, and large windows set in brick walls flooding the area with natural lighting.
Connelly said while the first words that come to mind to describe the space are "beautiful and inspiring," she noted it doesn't quite capture the essence of it.
"I'd say this specific  environment is craftsman comfort. We call it our living room, because we really want to invoke a feeling of home," said Connelly. "When you come in here, we want it to feel like we are hosting you and as guests of ours, you feel at home."
The interior design and layout of Custer's first floor showroom also embraces a recent trend for work spaces: the melding of the third place into the workplace. With the growth of mobile technology and amount of employees working remotely in places such as at coffee shops and at home, Connelly said the balance of energy and relaxation from community spaces is being incorporated back into the work environment.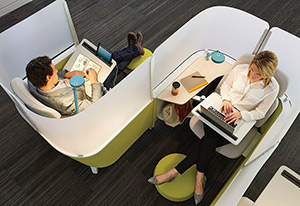 "At Custer we have our living room. It is like a home environment meets a coffee shop, but the advantage of this third place being incorporated into this workspace is that you are not in a rickety chair, and you are not in an uncomfortable setting," said Connelly. "You have the advantage of the energy and that buzz of a third place, but with all of the supportive products to keep you productive."
Custer specializes in providing interior design and renovation solutions to customers in four vertical markets, including large-scale corporate clients, small business entrepreneurs, healthcare, and the educational sectors. The firm not only has experience working with clients to select interior furnishings and finishes, artwork, workplace accessories, and plans spaces to optimize workflow; but also creating custom architectural pieces, flooring, interior build-outs, and integrating communications technology with workplace architecture.
"Depending on our customers' needs, we really can provide them everything in interior renovation. We are proud to say really no one else in West Michigan can provide everything from concept to close-out, from design all the way to the unveiling," said Connelly. "Beyond that, we can also provide support services as well. We can provide facility management to make sure that once completed, your space remains beautiful and exceptional."
Custer originally began as Custer Office Environments when David Custer a fellow Steelcase employee purchased a failing Steelcase dealership in 1981. During the next three decades the firm has expanded its capabilities with additional services, products, and staff from a foundation of selling office furniture with about 17 employees.
"We still offer furniture, but really at the core of what we do and at the core of what we provide is a full-service solution to our customers," said Connelly.
When working with clients to create an interior design that meets the type of work they do and the specific needs associated with it, Connelly said in many cases asking the right questions goes hand-in-hand with showing what options are available to them.
"Often times our customers don't know what needs they may have until they see the kinds of products or services that could meet them," said Connelly. "On the one hand we like to ask what our customers feel they need and on the other hand we like to tour them in our space and the spaces of our partners in the area to show how their needs could be met and to widen that realm of possibilities."
Connelly said clients may not realize how technology integrated into collaborative spaces could impact employee engagement, or how standing height or adjustable height desks can boost productivity until they experience it.
One of the innovative products Custer offers through Steelcase is the NeoCon award-winning Brody WorkLounge, which not only incorporates patented LiveLumbar technology, but also an adjustable work surface and a privacy shield. The integration of furniture, technology, and architecture is another recent trend in work space design, and one that will only continue, according to Connelly.
"Brody comes from it being good for your body and your brain, because you are in an engaged lounge setting," said Connelly. "It is the best of all of these worlds where you have the technology you need, you have the support in the furniture, and then you have this pseudo-private mini room too."
Serving clients and creating innovative and supportive interior design is part of Custer's mission, and it is a notion guests can resonate with from the first moment they walk into the firm's living room.
GLBD
Visit Custer Inc.