Grand Traverse Resort & Spa pampers guests with the whole vacation package. 
The 17-story glass Tower at Grand Traverse Resort & Spa has become an iconic image set against a backdrop of 900 acres of sprawling greens, wooded trails, and the shimmer of sunlight dancing upon the East Grand Traverse Bay on the northwestern horizon.
Much like the nature of glass used to adorn the façade of the Tower, Grand Traverse Resort & Spa's interior is designed to reflect its natural surroundings in northern Michigan. Upon first entering the expansive resort lobby, guests are greeted by warm, soft hues of sandalwood and stone accents that create a luxurious, yet soothing milieu closely tied with its environment.
Steve Timmer, director of marketing at Grand Traverse Resort & Spa, said the design takes elements of the natural environment surrounding the resort, especially in the Tower, which was renovated last year.
"It is not stiff, it is not cold, it is not too upscale: it is relaxed luxury," said Timmer. "The end tables in the Tower rooms reflect the look of a Petoskey stone; there are a lot of blues signifying the water; a lot of sand and silver colors; it is very much trying to tie in and connect with the natural environment of this area."
Grand Traverse Resort & Spa offers nearly 600 guest rooms among its Tower, Hotel, and Resort Condominium accommodations. Rooms in the six-story attached Hotel are rich with burnished and beige colors; while options in the Tower have added accents of deep freshwater blue couches and pillows. Condominiums along the fairways and at The Shores near the East Grand Traverse Bay have varying interior decoration since they are privately owned.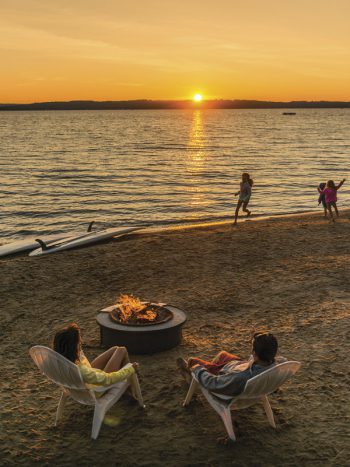 While Grand Traverse Resort & Spa's accommodations cater to guests traveling both on business or n vacation, what completes the full-scale resort's package is the ability to offer additional amenities such as: approximately 86,500 square-feet of meeting space; a roughly 7,000-square-foot Spa Grand Traverse; five restaurants and lounges; a complete gallery of shops onsite; three championship golf courses; a private beach club on Lake Michigan; four indoor and outdoor pools and hot tubs; and a nearly 100,000-square-foot Health Club.
"What sets us apart in the end is having everything that we have both here on property and in the region in one complete package; meaning you have a full-scale, one of the largest resorts in the Midwest with three golf courses, a spa, shopping, and restaurants, yet you have downtown Traverse City seven miles away," said Timmer.
"You have freshwater beaches literally across the street as part of our property; you have wooded hiking trails and mountain biking trails; and then the last big component is travel. Traverse City airport is 10 minutes away. You put all of that together and it is really a complete package. It is hard to find other resorts can offer all of that," added Timmer.
Dining options located onsite at the resort range in both cuisine and setting from its Sweetwater American Bistro, and Jack's Sport Bar, to The Grille overlooking The Bear golf course, and the Aerie Restaurant & Lounge located on the 16th floor of the Tower.
Aerie Restaurant & Lounge combines a romantic atmosphere with eclectic cuisine boasting of flavor sourced from locally-grown produce. Its dinner menu offers appetizers such as tuna au poivre and artisanal cheeses, and entrees ranging from seared sea bass, and soy glazed tempura fried tofu, to a rack of lamb with parmesan risotto, fried garbanzo beans, and garlic chips. Aerie also offers local and international wines, micro-brews, signature martinis and cocktails, and fresh desserts.
"Our signature restaurant is Aerie Restaurant located on the top of the Tower and it is going to 'wow' you between the food, the service, and the view," said Timmer. "You are going to get panoramic views of East Grand Traverse Bay, the countryside, orchards, and our golf courses. It is pretty special and has very well-handcrafted cuisine."
Although golf has always been a large part of Grand Traverse Resort & Spa's operations, with The Bear, The Wolverine, and Spruce Run; Timmer said the game of golf has changed during the last two decades and now the Spa Grand Traverse has become one of the resort's most popular amenities. Spa Grand Traverse offers a number of services and treatments from facials, nail care, waxing, massage and body care, to makeup, Novalash Eyelash extensions, and hair artistry.
"It has been growing every year," said Timmer in reference to the spa. "In the 80s and early 90s golf was a pretty normal part of a business retreat and popular pastime. It is still popular and we do a lot of golf, but the climate has changed a little. A majority of people are going to want to pursue and explore other things."
Timmer indicated regional charms such as wineries, the vibrant downtown Traverse City, and Sleeping Bear Dunes National Lakeshore are some of the top popular off-property attractions for guests. Between Old Mission Peninsula and Leelanau Peninsula alone, there are more than 30 local vineyard and wineries beckoning travelers to their tasting room counter to savor their artisan wares.
"Wineries are our number one attraction. People come here, they stay here, but then we take them on a wine tour or they go around on their own and taste wine around the region," said Timmer.
The Grand Traverse Resort & Spa has its own longstanding history in the northern Michigan region, with its roots tracing back to the early 1980s as a Hilton Hotel and a single golf course. When the resort opened its doors for the first time to the 17-story Tower in 1986 after the addition of The Bear golf course designed by Jack Nicklaus, it took one step closer to becoming the vacation destination it is known as today.
GLBD