JOURNEYMAN DISTILLERY
THREE OAKS, MICHIGAN
 Among Journeyman Distillery's impressive repertoire of spirits is its unique Bilberry Black Hearts Gin, which derives its name from Thomas Hardy's novel The Return of the Native where bilberries were referred to as "black-hearts."
The certified organic spirit combines bilberries, which is native to Britain and northern Europe, with juniper and seven other botanicals to infuse flavors of tart fig, pepper, and black licorice into the clean, bright, and fruity gin.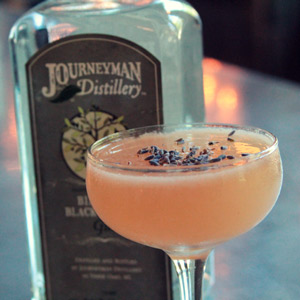 As an establishment with a knack for infusing stories into its space, spirits, and menu, it is only natural one of its cocktails is steeped with rich history. The Lavender Gimlet, Journeyman Distillery's twist on a cocktail which can trace its roots back to the 19th century and the British Navy. Gin itself has a long, albeit illustrious past, that dates back to the 17th century when it was produced in the Netherlands for medicinal purposes before it became widely popular—and consumed—in the 18th century in London.
"The gimlet is a fairly popular form of gin cocktail," said Garrett Ragland, marketing manager at Journeyman. "This is our unique, infused take on the gimlet. It remains popular regardless of season and always sells well to gin fans and those who like a subtle, sweet, and sour accent to compliment the pine, juniper, berry, various botanicals of our gin."
While the distillery regularly changes its mixology menu and features other libations using the Bilberry Black Hearts Gin, it is one of the oldest cocktails on the menu.
---
1.5 oz. Lavender-infused Bilberry Black Hearts Gin
0.5 oz. Lime Juice
0.5 oz. Grapefruit Juice
0.5 oz. Simple Syrup
Combine and stir all ingredients, shake with ice, and strain into a coupe glass.
GLBD
Related: Rich Profile
Visit Journeyman Distillery