An Italian-inspired restaurant and deli has transported its patrons to southern Italy for more than three decades. 
Set among a number of small shops in the Holland-based Washington Square, which is a block known for its historical charm and buildings dating back to the early 1920s, Pereddies Restaurant and Deli has greeted its customers for decades with tempting aromas of baked bread and fresh ingredients as soon as they step through the threshold.
The restaurant and deli features trellises and grapevines strung throughout the building, original artwork adorning the warm-hued walls, and rows of shelves offering a variety of meats, cheese, olives, and spices.
Since 1983 the family-operated business has charmed customers with old world recipes from southern Italy, aromas of charbroiled lamb chops and sausage rigatoni paired with a great selection of red and wine, and the promise of an authentic Italian experience.
Chris Brown, current owner of Pereddies Restaurant and Deli, said when the restaurant originally opened in 1983 it was solely a bakery and deli.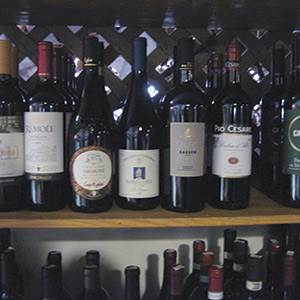 "We did not have a restaurant then and it was opened by Perry and Eddie, which is how they got the name Pereddies," said Brown. "After two years of being in business, they opened up the restaurant and wanted me to run the kitchen."
By 1986 Brown was running the restaurant and deli with his brother-in-law Perry when Eddie moved back to Detroit; and then in 1995 Brown assumed sole ownership of Pereddies when Perry moved to Hawaii.
"I have been running it ever since by myself for the last twenty-some years," said Brown.
During the past three decades Pereddies has also expanded its employment to staff nearly 40 part-time and full-time individuals, and its space as the restaurant and deli added new rooms and features. Pereddies now offers a private dining room complete with a fireplace known as the Ferrari Room and a casual lounge dubbed the Scusi Bar in addition to its deli and restaurant areas.
"It was four buildings at one time, but we knocked holes in all of them and it is all one now. We have a private dining room in the back that seat up to 20 people," said Brown. "We have our little pub, but we have our little restaurant, so we have the best of both worlds I think and the best food."
Pereddies' lighter noontime menu ranges from antipasto salad, and a Tuscan sausage served with a hard roll, to the Marco Polo sandwich, which includes chicken, ham, pineapple, and melted Swiss cheese, topped with lettuce, tomato and mayonnaise on a sesame seed bun.
The restaurant also offers a number of lunch pasta dishes, such as: cheese ravioli served in a creamy marinara sauce; thinly sliced eggplant, and lightly breaded and baked mozzarella and parmesan served in red sauce; frittata wedge, which is a linguine pie stuffed with mozzarella, mushrooms, and spinach topped with seasoned tomatoes; and sausage rigatoni.
"We sell a lot of that; it seems to be popular," said Brown in reference to the sausage rigatoni. "It is rigatoni pasta with Italian sausage in vodka sauce."
In the evening, Pereddies' menu expands to comprise small plates, Italian favorites, seafood, lamb, beef, and pizza options, such as: pierogis, baked brie, shrimp mascarpone, pollo polenta, pasta carbonara, grilled salmon, lamb chops, bistecca, Sicilian pork, beef marsala, and margherita pizza.
"We have steaks, lamb, and fish so we cover all the ground as far as different types of food, but it is all Italian, all the Mediterranean flavors," said Brown.
The food, which Brown indicated is his favorite part of running Pereddies, is inspired from annual trips to Italy where his mother-in-law still lives.
"We go to Italy every year. My wife sometimes goes twice a year. She brings back recipes from southern Italy and we like to use fresh ingredients. We try to get as fresh as we possibly can on everything," said Brown. "It is nice to have the deli, because the cooks in the kitchen can come up to the deli and pick some nice cheeses out for something they are making."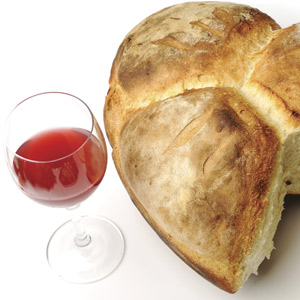 While Brown can often be found in the kitchen on a Friday or Saturday night ensuring each dish is prepared and served perfectly, the authentic Italian experience goes beyond the plate and table. Not only are the tables clad in white-linen table-cloths with linen napkins, but also the decorative touches throughout the store are inspired from Italy.
"I'm an artist. I did all the paintings in here. I come home with ideas from Italy—colors, different terra cottas—everything is inspired from Italy. I try to replicate Italy as much as we possibly can in our deli and our dining," said Brown. "We still have white table cloths and linens. A lot of people are getting away from that, but that is how we like to eat and when you go to Italy, that is how you eat."
As Pereddies has watched hundreds of seasonal workers at the high school and collegiate level walk in and out of its doors for the last three decades, and the landscape change along Washington Square, Brown said his philosophy has been to concentrate on what the restaurant is doing and making sure the food is great for customers.
"We have been in business for 33 years now; it is a long time in the restaurant business. We have seen the streets landscaped—all the bricks and the lampposts. We are probably the oldest tenants on the block right now," said Brown.
GLBD