A wholesale tile distributor headquartered in Livionia offers product solutions for clients' design needs.
When it comes to tile, trends and design tend to go hand-in-hand.
"The design of the tile and the color of the tile can give more of a cooler look for the modern trends today," said Lynne Moran, Michigan showroom operations manager at Virginia Tile Company.
"Most often the tile is a really good interpretation of what the trend is at the time," added Moran.
The type of material, design, and color of the tile selected for a room can have a significant impact on the overall ambiance of an interior residential or commercial space, according to Moran. Recently, Moran has noticed a trend toward the cooler tones such as white and gray, combined with clean lines and contemporary design.
"It has been simpler patterns, a lot of more organic materials and now they are starting to reintroduce pattern in tile so you are starting to see that look coming back too," said Moran.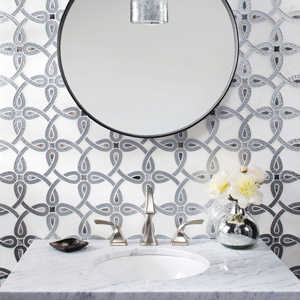 In terms of material, what is trending today with clients is the ever-versatile porcelain. With its durability and myriad of different textures, the porcelain tile can be created to emulate a textured linen fabric or even be used for commercial settings such as car dealerships.
"What is really nice about porcelain tile today versus years ago is they have been able to incorporate so many different textures to it now that the organic feel of it is really represented," said Moran. "We have porcelain tiles that look like concrete and we have porcelain tiles that look like a wood floor, which is super popular right now."
In Virginia Tile's Creekwood by American Olean collection, the porcelain tiles evoke a natural wood flooring look, complete with its slight undulations and linear wood grains in Birch Stream, Maple Lake, Ash River, and Walnut Brook hues. Other American Olean's collections, such as Historic Bridge create an exposed and weathered look, while Arbor House offer a rich, warm color palette with a matte finish to capture the essence of natural hardwoods.
"You can pick a porcelain tile that looks like a natural wood and it can have anywhere from a really sleek look to a barn wood with a real rustic, shabby-chic look to it," said Moran.
With its sturdiness and frost resistance, the porcelain tiles in the Arbor House collection can be used in both residential and commercials floors and walls, and even have exterior applications.
Virginia Tile works with both the retail public, such as homeowners, and with designers, architects, builders and contractors. Since its establishment in 1928, the company has grown to have showroom locations throughout Michigan, Ohio, Illinois, Indiana, and Wisconsin with a team of designers and architects ready to provide tile design consultations.
Depending on the space, light, color, texture, and flow of the building, the consultant can help identify an appropriate tile design, style, and material that suits the client's needs. Virginia Tile offers additional products made from stone, glass, marble, limestone, slate, travertine, granite, and terra cotta that can be used in different applications, such as: kitchen, bathroom, fireplace, flooring, and exterior spaces.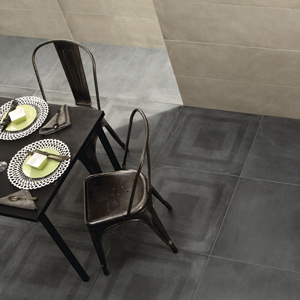 "You have to look at what the application is and what kind of tile the customer likes to determine the appropriate usage for the tile," said Moran. "Certain ceramic tiles you can't use on a floor, because they would scratch.  Certain tiles can't be too close to heat so you have to be careful with the backsplash over a cook top or being too close to a fireplace."
Moran also indicated another popular trend that has lasted for more than a decade is the use of glass, which has evolved from an accent tile to full-scale walls.
"Everybody thought it would come and go, but it has just become so much more advanced, because manufacturers are starting to develop each product with different patterns, colors, and sizes," said Moran. "You can do a 6" by 12" in a glass tile for shower installation that is absolutely stunning, or you could do a very small mosaic in a glass and mix the colors for a blend, which is also very beautiful for kitchen back splashes for vanity walls or shower walls."
Whether it is stone or porcelain tile, backsplash or flooring: design and serving the wholesale building industry matters at Virginia Tile.
GLBD
visit Virginia Tile Company