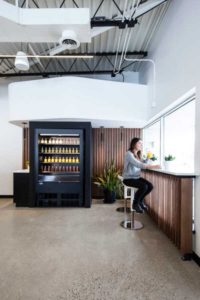 For the design-make architecture studio of Synecdoche Design Studio in Ann Arbor, Michigan, design is a key ingredient that can be used to spatialize a business model, according to Principal Architect Lisa Sauve, AIA, NCARB, ASID, IIDA.
The studio was recently recognized for its skills in the area—this concept of giving spatial form or consideration of in space relations—with an award for best low-budget project at the 2019 AIA Michigan Honor Awards Ceremony in June for its transformation of Thrive Juicery in Ann Arbor. The design of the approximately 1,800-square-foot interior was informed by the juicery's core values—health and wellness—around which Synecdoche rotated a variety of tools for creating custom business solutions and an innovative visual identity.
"It wasn't over-designing, but it was intentionally designing; and I think striking that balance is what has kind of gotten that recognition," Sauve said. "Not everything needed to be designed, but the things that were designed really had successful [instrumentations] behind the intentions."
Like Synecdoche, Thrive Juicery is an entrepreneurial-small-business focused on helping its clients thrive. Much of Synecdoche's approach to creating the group's first retail space involved creating multi-functional design elements that would accentuate its business model, instead of weighing the space with extra items.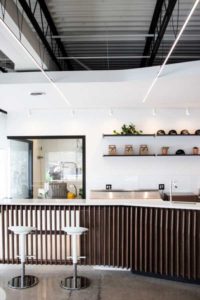 The finished interior features odes to health and wellness upon entrance, where a handwashing station activated by foot pedals greets visitors before they arrive at a digitally fabricated bar and counter made of undulating walnut panels—a material which also fits a take-away retail kiosk nearby. The bar is both a focal point and custom design solution built by Synecdoche. It functions as a point of sale before bending into an intimate, high-top seating arrangement where guests can observe the juicing process, have a drink, and interact with staff. The result is a re-imagined notion of retail design that create impact with less ingredients.
"It's a custom solution for a custom problem and I think that's the design-make relationship that we have as a studio that we really try to implement when needed into a project," Sauve said. "We're not making things just to make things; we're making things to make a design impact."
The bar is foreshadowed by LED light beams, which span the interior from entrance to bar threshold. Along with a generous layering of natural light from a side of perimeter windows, the lights lead the eye behind the counter, where a juicing machine is separated only by a sheath of glass. The minimal, transparent nature of the interior body reinforces Thrive's own value for pure, unaltered ingredients that compose a healthful being.
The space as a whole is minimal and industrial, according to Sauve, who also used easily cleanable surfaces like polished concrete floors and solid surface countertops to foreground the healthful theme. In the end, however, she said it was Synecdoche's affinity for hybridizing design solutions that enabled the team to not only bend the retail genre for a new Ann Arbor business, but also allow it to function in a simplified way.
"It looks beautiful; we're being recognized for that, but also when people go there they think it's a great place for the community where they can meet up, have a juice, and see the level of design that Ann Arbor can host," Sauve said.
Text: R. Collins | GLBD writer
Photography- Synecdoche Design Studio