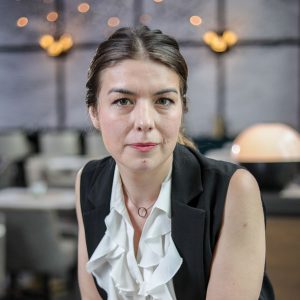 In the past, architecture has been defined as a vocation, a field of both technical and creative study, and a conduit in which an individual can impact lives and leave a legacy. Yet, its potential to influence, create, inspire, disrupt, and include speaks to a larger import than a simple, concrete interpretation. Its significance is elusive, fluid, and subjective; as varied as the talented minds and hands practicing the craft in the region, building upon the existing built fabric and landscape.
In this continued series, Great Lakes By Design Magazine had an opportunity to learn more about some of the architects practicing in the Great Lakes region—and what drives them to create inspired spaces and places.
Lisa Sauve, AIA, NCARB, IIDA
Principal | Synecdoche Design Studio
Ann Arbor, Michigan
When it comes to pursuing architecture and design as a career, Lisa Sauve, AIA, NCARB, IIDA, principal at Synecdoche Design in Ann Arbor, Michigan, has never been one for backup plans. From the first drafting class in seventh grade and the subsequent industry-related course electives throughout high school to setting her sights on Lawrence Technological University for architecture, Sauve has boldly and intentionally pursued a path toward the design, make, and craft of things. 
"I decided this is what I want and how I want to do it," Sauve said. "My architectural background has been mapped out in my own head and it has only really been since having Synecdoche up and running—and really building momentum—that the mysteries of architecture have really taken off."
Sauve, who earned a Bachelor of Science in Architecture from Lawrence Technological University, or Lawrence Tech, in 2009, immediately went on to attend the University of Michigan's A. Alfred Taubman College of Architecture and Urban Planning to earn a Master of Architecture in 2011. She also received a Master of Science in Conservation from Taubman College of Architecture and Urban Planning in 2014, and has since been licensed by the National Council of Architectural Registration Boards, a member of the American Institute of Architects, and the International Interior Design Association Michigan Chapter.
Yet, through it all, Sauve—and Adam Smith, partner and director of design at Synecdoche Design Studio—has practiced the craft of design and explored material construction and disassembly in a hands-on manner through both competition and professional work. It was in 2009—the summer between undergraduate and graduate work—that Sauve and Smith established Synecdoche Design Studio, an agile design-make practice focused on integrating craft back into the process as it works with clients to deliver creative solutions for all types of design problems. The creative duo, who both planned to attend University of Michigan later that fall, launched the practice upon a single project found on Craigslist—a small graphic design office in need of an interior build-out—which would lay the foundation for the studio's benchmark of completing one built project each year in order to develop their portfolio. 
"This was back in 2009 in the middle of the recession so architecture had really slowed down and there weren't many internship opportunities. We decided if there weren't any jobs, we would make our own," Sauve said. "The following summer, we did an artist studio and when we finished grad school we won a competition for the Young Architects Forum of Atlanta for a 10Up Competition."
The Young Architects Forum of Atlanta's 10Up Competition challenged applicants to create a temporary outdoor installation to operate as a beacon for the Modern Atlanta's "Design is Human" event in 2011. Sauve and Smith's work considered the use of a single, by-product material produced through hardwood manufacturing and a flat stacking method that allowed for expansion and contraction opportunities. 
"It was like a big stack of reclaimed wood of cut edges that we made into a 20-foot tower pavilion," Sauve said. "We really sought out projects that aligned with what we were interested in, which was materials, experiences, and statement pieces to get the studio started."
Though Sauve's early work at the studio coincided with her architectural education, and experience as a research assistant, graduate student instructor, and adjunct faculty member at a variety of collegiate institutions, Synecdoche Design has grown from building custom furniture pieces in a friend's studio to a full-time, design-make practice of architects and designers operating from its brick-and-mortar design studio and shop facilities. From its studios, Synecdoche Design offers architecture, interior design, space planning, adaptive reuse, branding, furniture, custom objects, hardware, and custom spatial features.
"When we started, we liked to say we were a start-up for start-ups, and now we are also a growing company for growing companies. We like to align with similar pain-points and sensibilities that our clients do, so we can be more of a team member and engaged at that level," Sauve said. 
"We are designing the business along with the space when we work with clients, so really understanding their process, the engagement experience of their employees along with their customers and clients, and really how the business works and how that translates into space. We really look for projects that challenge those questions along with being able to experiment with materials, details, and other spatial and design challenges that we present in the project," Sauve added. 
Sauve, who noted their philosophy and motto from the beginning has been based on "do good work and people will notice," said her background in interior design allows for a more holistic approach when the small, nimble team designs spaces for clients. Rather than just thinking about the architectural components and larger framework of space arrangement, Sauve noted the understanding of interiors helps to consider the smaller details and the interaction with materials and objects within the space. 
"[Design] is problem solving. Training in design means you can think broadly and holistically from different angles about a problem to solve and designing those solutions instead of just seeking those solutions," Sauve said. "Design offers opportunity to go about things in new and different ways. There is diversity in both outcomes and answers, which I think really neutralizes certain opinions and declarations can be, to offer a lot of new and exciting possibilities."
Though a design-make studio, which differentiates from a design-build practice in that Synecdoche Design focuses on fabrication and are not contractors, there is an intention to integrate craft into the process of architecture. 
"It is an important piece to maintain within the studio, to have a direct connection with materials and details. Being a woman-owned architecture firm with a majority female staff while doing those efforts is also really important to support what wouldn't really be traditional-gender-biases toward certain tasks," Sauve said. "Everybody is responsible for creating and doing a lot of different things and architecture has the opportunity to contribute in different ways than just the drafting and creation of design at the front of construction projects."
Roughly a decade after launching Synecdoche Design, Sauve has led the studio in developing a robust portfolio of design and make projects ranging from office, retail, hospitality, and wellness installations and build-outs; to custom tables, shelves, twisted felt canopies, and reception counters, among others. However, its nontraditional beginning has led to a consistent perception that the studio is an alternative practice—and stems back to a challenge Sauve foresees could continue to face the industry. 
"I think the industry needs to understand that it is moving and has to support as things change, either how people enter the profession, contribute to it, or work within it, around it, or collaborate with it," Sauve said. 
"I think taking on this range instead of the idea of 'master architect' is something that needs to shift in the industry, because there is a new diverse range of ideas and ways to tackle these problems and if we stick to the way architecture functioned since its inception, it's really going to lose the opportunity to be flexible and nimble for the different challenges we are going to face with different projects, building types, clients, and ambitions in the world," Sauve added.