Silk. Lace. Glamour. For RC Caylan, fashion designer and studio founder of RC Caylan Atelier LLC in Grand Rapids, Michigan, fashion design is about timeless beauty, simple elegance, and meticulous detail. Silhouettes are well-tailored, fabrics are luxurious and intentionally meant to add texture or soften overall creations, and vintage glamour, bold statement, and dynamic movement bring each piece to couture life.
For the past five years, RC Caylan has made a name for himself at both the local and international level, showcasing a deft ability to pivot from bridal couture at his namesake brand studio in Grand Rapids to avant-garde gowns and street style men's fashion at runways in San Francisco, Los Angeles, Detroit, and Rome. He has also been involved with the New York Fashion Week on a regular basis, which he noted is one of the coveted runway show platforms for fashion designers.
His drive and keen eye led to the launch of his brand in 2016, a quick expansion to showroom space in Beverly Hills, California in 2017, and has now debuted his first retail space in the Breton Village Shopping Center in Grand Rapids, Michigan—with plans for a grand opening at the end of August or early September 2020. It is a move, that is admittedly exciting for RC Caylan, as one of the only local or namesake brands in the region to open a flagship store.
"I am an immigrant and you know, for someone like me, to be I believe the first ever fashion designer based in Grand Rapids that also has a studio in Grand Rapids that is dressing up with celebrities it is important. I hire my talent, the people, from here," RC Caylan said.
"It is hard to break into the industry and be recognized with celebrities. I hope that I am not only inspiring, but also give opportunities, because that is how I felt before, that we don't have an opportunity to get in or break into the fashion industry, so I hope I am giving that to others to see how the production, how the business works," RC Caylan added.
Before he was dressing celebrities like Carrie Underwood, Jackie Thon, Annie Gonzalez, Sarah Wayne Callies, and Chesca, RC Caylan's affinity for fashion design traces back to his childhood surrounded by patterns, fabrics, markers, and the talented hands of seamstresses. The Philippines-native, who was inspired by his grandmother's and mother's work, spent time as a cosmetologist before honing his craft and earning a degree in the field of fashion from the Grand Rapids Community College School of Fashion and Interior Design in 2015. In that same year, RC Caylan was invited to participate in the San Francisco Bay Area Fashion Network RUBY show in San Francisco, California, which arguably marked the successful launch of his professional design career.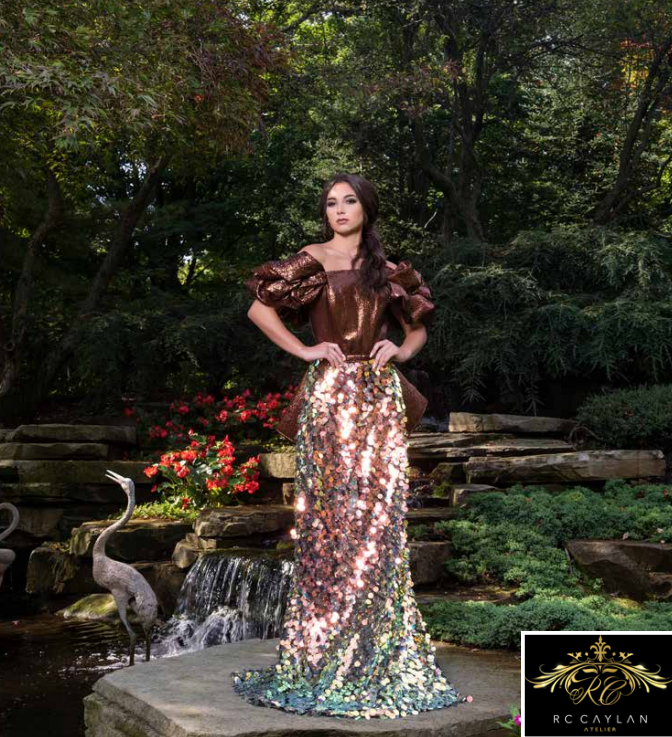 Today, the RC Caylan Atelier portfolio comprises evening gowns custom-made for clients, bridal couture, and red-carpet wear, as well as seasonal collections curated roughly twice-a-year. His is a meticulous process that begins with inspired concept, intricate detail, and fine, luxury materials to bring a design that balances functionality and elegance to life.
"Every season I do a full collection. Other designers normally would do a lot of mood boards to give inspiration, but normally I work by storing everything in my head and then after thinking it through thoroughly, then that is when I start to create my mood board and say 'okay, this is going to work, this is the color palette, and the patterns,'" RC Caylan said. "I am very meticulous in every detail."
Though his pursuit of new influences, styles, patterns, colors, and trends continues, when it comes to fabrics and textures, RC Caylan has an affinity for the classics: silk and lace. Sourced from Italy and Spain, RC Caylan noted silk, even if it is blended with another fiber, is a material he uses often, and there is something timeless about French lace.
"I always loved the vintage look for Hollywood glam and normally the Hollywood glam texture is taffeta, but silk is the best fabric, the best fiber you can use. It is also tricky to use pure silk, because you have to be careful how you treat it: the characteristics, the element of the fabric is not easy to maintain," RC Caylan said.
"I also love lace. Lace is a timeless beauty, regardless of the pattern. I love incorporating it into any of my looks. I do a lot of bridal [work] here and everything I do is customized, so bridals tend to love lace and solid pattern with silk. Those are my favorites; you can never go wrong with flowy, silky, French lace," RC Caylan added.
Full text available in Great Lakes By Design: Bold Graphics, 2020
Text: R.J. Weick
Photography: RC Caylan Atelier | H3 Designs | Dimity Loiseau