In Harbor Springs, Michigan, an unassuming garage exterior holds a microcosm of active space within for a lifetime collection of automotive experience and memorabilia. Historic artifacts and refurbished cars from different eras in the automotive industry weave together a unique and personal account of its heritage. Inside, a lounge, office, curated showroom, garage, and workspace converge into a project that was as rewarding to complete as it was to design.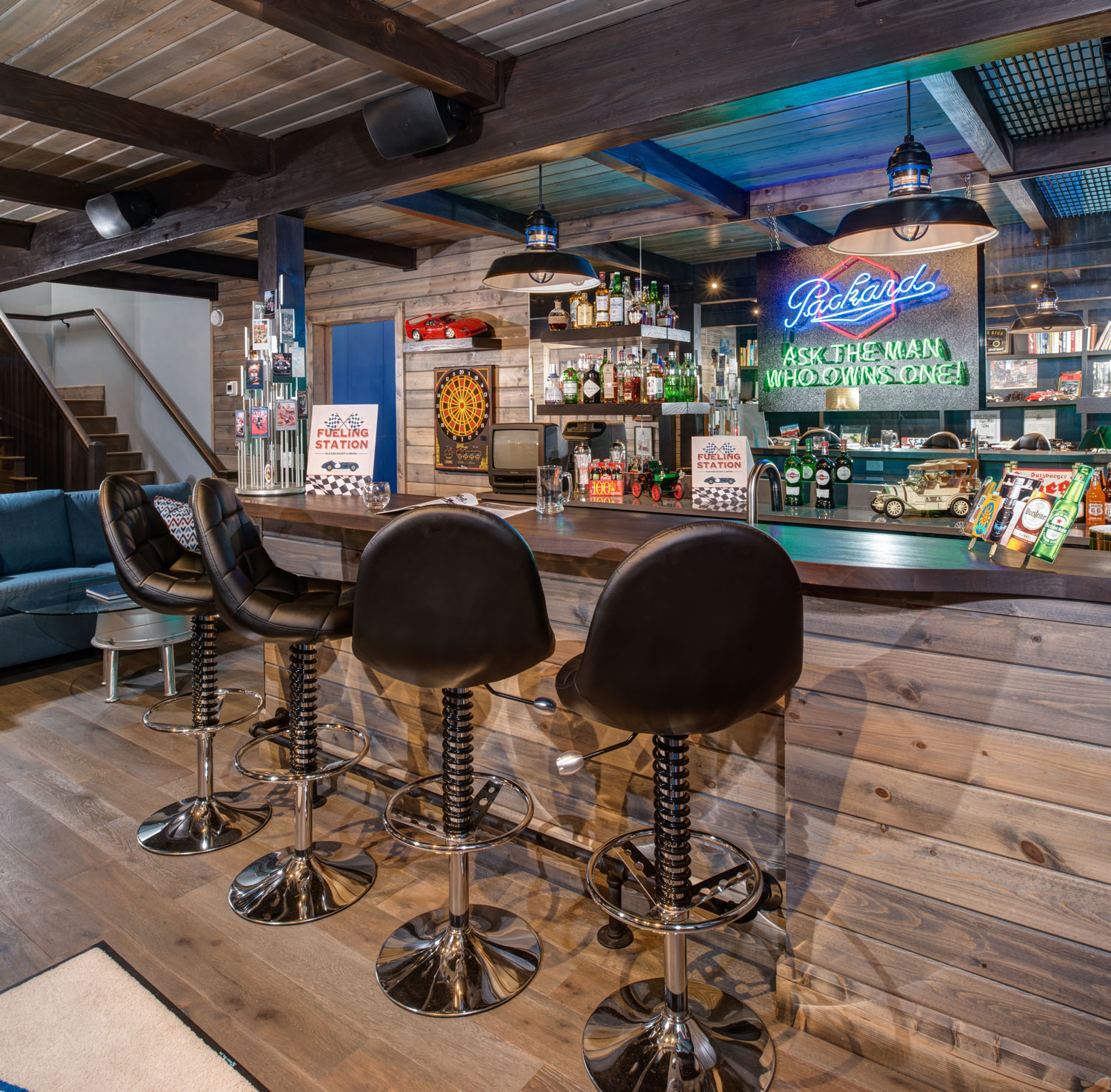 In its surroundings, the approximately 5,000-square-foot garage is described as "urban camo" by its architect, Elaine Keiser, AIA, NCARB, of Elaine Keiser Architect Inc. in Petoskey Michigan. Keiser and her team have built a sweeping portfolio of retail and restaurant work, office and commercial spaces, and single and multi-family home projects. When it comes to design, the client interests that fuel any project, especially personal passion projects, equally inspire the architect, who is an avid museum explorer with an impressive ability to adapt her expertise to client interest. She has designed everything from brewing facilities and marine showrooms to lakeside home interiors. 
"Being able to understand how things are set up in a museum environment allows us to go ahead and start applying those techniques to a smaller scale; so our shift had to become falling in love with the idea of having a historical car and displaying it, driving it, and maintaining it, as well as having guests over to enjoy that with you," Keiser said. "Whether we like cars or not, we're going to by the time we're done."
In this case, Keiser found inspiration in the client's rich collections of memorabilia—from vintage gas pumps to countless car figurines—and an affinity for building, restoring, and showcasing vintage cars; all of which require special considerations from electrical voltage to floor finish.
The entire space was adapted from an existing warehouse away from the client's home. Its exterior, from baby blue siding and modest shingle roofing, is made to evoke a classic, mid-century car garage, while blending into the surrounding vernacular. The inside takes practical and aesthetic cues from this, and classic dealership interiors. The showroom itself features tall ceilings and a polished epoxy floor, with Packard blue stripes spanning its walls as the focal point. Diamond plate accents and bright down-lighting sharpen the style and highlight the vintage cars and signage positioned throughout.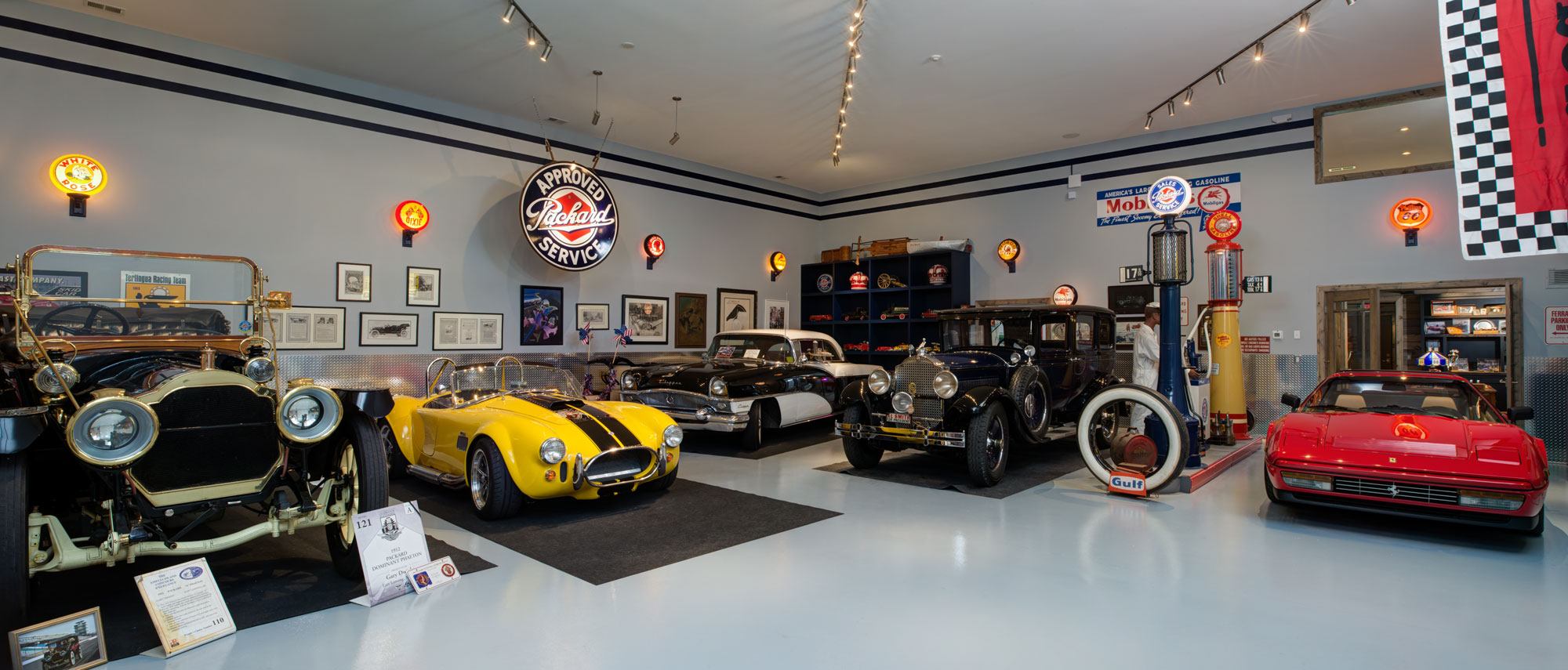 Lighting took special consideration in this project, according to Keiser, and besides showroom lighting that highlights the client's collection, dark vintage wall sconces, lanterns, and pendant fixtures appear throughout other spaces to brighten low ceilings and the dark-stained timbers, beams, and knotty pine finishes that cover the interior. 
"He wanted a masculine space, but not in the typical sense—we refrained from calling it a 'man cave,' because it's really more about the car showroom," Keiser said. "We did a lot of research as to what people were doing for these sorts of spaces. Then, we turned our attention to bringing in elements that would reflect the car industry—things that were more industrial—and that's where we picked out some of these light fixtures."
Custom casework holds a considerable portion of the client's collection. Near the stairway, the team utilized a thin bookcase to hold model cars and wrapped a stairway around it for added storage. The upstairs mezzanine features Douglas Fir wood flooring that doubles as the lounge's ceiling to save ceiling height. 
The upper level also holds the building's windows—a move intended to discourage onlooking, but still capture natural light. It filters through a grate in the second level's flooring and into the areas below. At one corner of the second level mezzanine is a sprawling, detailed figurine display that can be admired or touched. Another goal for the project was to create unity among the spaces for the client's family to enjoy and interact with together. Opening doors blends once-separate areas, and both levels are connected by stairway, light, and vision passages. Above all, each aspect of the car garage is hands-on and meant to share a caringly collected interest for one of Michigan's most prominent parts of industrial heritage.
"This was one of our favorite projects to really dive into and [create] something unique," Keiser said. "It was just a blast—just a lot of fun to have someone trust in us to have free reign and come up with this design work."
Text: R. Collins | GLBD writer
Photography: Elaine Keiser Architect Inc., Copyright: Phoenix Photographic