A food event brings the competitive fire to the ingredient list.
The culinary arts, as a field of study, is often described as the preparation of food or the art of cooking. It is a process that combines art with science, practical training with passion, innovation with technique, and during a recent event held in Holland, Michigan; a dash of the competitive spirit.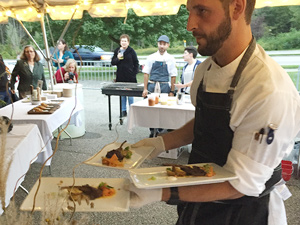 Executive Chef Clark Frain from Butch's Dry Dock and Head Chef Kelsey Winter-Troutwine from Coppercraft Distillery competed in a head-to-head, live cook-off showcasing their ability to take three common ingredients and pair it with a protein of their choosing to create an award-winning dish.
Using the acorn squash, carrots, and Yukon Gold potatoes provided by Zeeland-based Visser Farms, each chef had nearly 30 minutes to prepare an entrée to serve to a three-person judging panel.
Frain, who has had experience with The Gilmore Collection, Vista Springs, Judson's Steakhouse, and the Norwegian Cruise Line, said the inspiration behind his dish was finding a great protein and chose to use lamb from a farm near Cadillac known as S & S Lamb, LLC.
"They do a lot for us. They deliver once a week and do a great job of raising their lambs," said Frain in reference to the relationship between the farm and Butch's Dry Dock. "I had the opportunity to feature that ingredient not knowing what I was going to have in the mystery basket and I was able to tie that into a fall dish."
Frain used a special rub combining juniper berry, fennel, caraway, and coriander on the lamb lollipops and paired it with pickled carrot slaw, grilled carrots, a roasted acorn squash puree, and a crème fraiche to tie all of the rich flavors together.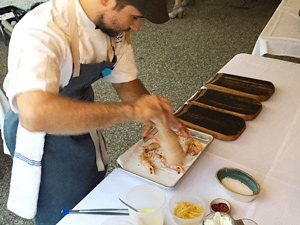 On the other end of the table—and palate spectrum—Winter-Troutwine made kimchi using fermented carrots and the acorn squash. He then paired the kimchi with prawns sourced from the Texas gulf coast and a sprinkling of shoestring potatoes on top.
Winter-Troutwine, who has worked at mK The Restaurant, Billy Sunday, GT Fish & Oyster, Graham Elliot Bistro and Table Fifty-Two in the Chicago market, said his background experience does have some southern influence which is reflected in his affinity for pickling ingredients.
"We were donated carrots, the acorn squash and I thought what better idea, what better way to utilize this and preserve it than pickle it so I made it into kimchi," said Winter-Troutwine.
The friendly competition was part of Local First's lakeshore edition of its event known as Fork Fest. The West Michigan-based organization is dedicated to supporting locally owned businesses and has held similar annual events in the nearby city of Grand Rapids, Michigan. The event also featured samples and wares of other local restaurants, farms, grocers, breweries, coffee shops, and wineries.
While both dishes were lauded by the judges, in the end Frain of Butch's Dry Dock was named the winner of the inaugural Fork Fest cook-off and presented with a cutting board.
GLBD