A Holland firm gives custom home building a whole new meaning.
For Mike Schaap Builders Inc., the devil—and difference—is in the details.
Since 1986, the Holland-based company established by Mike Schaap has specialized in crafting one-of-a-kind custom homes tailored to individual clients' needs right down to when they take their morning coffee.
"Nothing is ever too custom; each design is unique and each home is different," said Danielle Becklin, marketing director for Mike Schaap Builders. "We have examples of floor plans that we have done, but there hasn't been a home that we have just replicated. It is always custom to our clients; it is always how do they live and very rarely does one person live exactly the same as another person."
Through the design process, the company works with clients to discern how they live to ultimately create a floor plan that is tailored to their lifestyle choices by asking questions related to morning routine, frequency of guests, bathroom location in relation to waterfront views, and long-term planning for access to the master bedroom.
Becklin said clients find great value in the free reign of design and customization services when working with Mike Schaap Builders.
"It is very interesting how people live and the clientele we work with in custom home building is willing to pay for the level of design and customization and service, because it is so distinctive to them," said Becklin.
From traditional designs and contemporary style to lakefront living, Mike Schaap Builders works with clients from start to finish on a project to create their dream home. The company has more than 55 project managers, supervisors, designers, and craftsmen on staff. Mike Schaap Builders also partners with sub-contractors in the West Michigan region.
As the sister company of Benchmark Wood Studio and Benchmark Design Studio, clients also have the access to in-house craftsmen and design professionals who can provide advice on custom millwork, cabinetry, furniture, and interior design selections.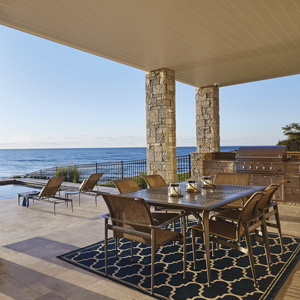 "It is a very cohesive process when it is done completely in-house. Each person is responsible for the design aspect of the whole," said Becklin. "The designers really bring it all together and make it distinctive to each client. You have the layout of the house, you have the furnishings of the house, you have how it lives and how it lives specifically to each family member."
Although a majority of the projects are located along the Lake Michigan shoreline from Muskegon down through Indiana, Becklin said the company has also done work in East Grand Rapids, Chelsea, Kalamazoo, Ada, and Howard City.
"It really depends on the project and making sure we have relationships with sub-contractors in those areas, because [Schaap] wants to make sure the level of finish is consistent," said Becklin. "We go where the clients go, but the lakeshore has always been our specialty."
With narrow lakefront property lots and the promise of a spectacular panorama along the shoreline, Mike Schaap Builders tends to leverage height in the home and an open concept design to maximize the view. Some of the design features in lakefront homes comprise 10-foot-tall main floors and nine-foot-tall lower and upper levels, avoiding wall obstructions in the main floor related to the view, and incorporating outdoor living spaces, such as patios spanning the length of the home.
"We try to incorporate open air balconies and patios on every level," said Becklin. "If you are going to do a vacation home on Lake Michigan, you want to do it right. You are not spending a premium on this land to not relish in all the delights of lakefront living."
Mike Schaap Builders also takes into account whether the clients plan on aging in the home, especially if the main floor doesn't have enough space to accommodate a master bedroom. To address the potential challenge, the company will either install or prepare space for future installation of an elevator to reach the top floor.
"People often prefer the master bedroom on the top floor, but later on down the road it might be an inconvenience," said Becklin. "We will often include closet space that can be converted into an elevator. We have done that quite a few times for clients and they really appreciate the forethought."
When asked what sets the company apart from others, Becklin said it is a combination of things from in-house capabilities to building relationships with clients through a very realistic and clear process from the beginning.
"We are specific from the beginning. We don't ballpark budget allowances; we go line-by-line and calculate material and labor costs upfront so it is very transparent," said Becklin. "Of course there are change orders and things fluctuate, but it is much more dialed in."
From timelines, budgets, maintaining client relationships, and attention to detail, Mike Schaap has built a reputation during the last 30 years of delivering on expectations.
"When you have been doing it for 30 years—juggling multiple homes and renovations at the same time—it can often become tedious, but the difference is in the details for him," said Becklin.
GLBD