Lighthouses constructed on the shoreline of the Great Lakes are built to last.
From a limestone outcropping in middle of Lake Huron to the northern tip of the Leelanau Peninsula along Lake Michigan, iconic structures throughout the Great Lakes have withstood the test of time to continue serving as guiding beacons to mariners and recreational boaters alike.
There are nearly 388 lighthouses constructed along the shorelines of Lake Michigan, Lake Huron, Lake Superior, Lake Erie, and Lake Ontario; and more than 75 percent of them are still considered active aids to navigation today. While Ontario, Canada takes the prize for having the most lighthouses built along its shore with 133, the state of Michigan has nearly as many with 129, according to the Great Lakes Lighthouse Keepers Association.
More than 80 of the historical structures are open to the public to tour, including Two Harbors, Au Sable Point, Copper Harbor, and Whitefish Point in Lake Superior; Thirty Mile Point, Tibbetts Point, and Charlotte-Genessee in Lake Ontario; Ludington Breakwater, Point Betsie, Grand Traverse, and Mission Point in Lake Michigan; Old Mackinac Point, Sturgeon Point, and Charity Island in Lake Huron; and South Bass Island, Marblehead, and Mariners Memorial along Lake Erie and the St. Clair River.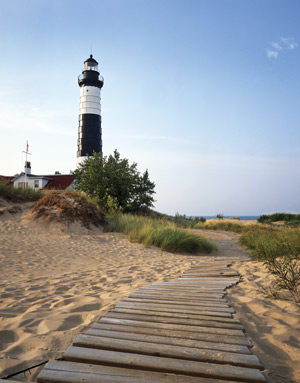 Lighthouses of the Great Lakes were in large part constructed during the late 19th and early 20th century, and designed with round, pyramidal, skeletal, conical or square/integral light towers, according to the Michigan Lighthouse Conservancy.
Big Sable Point, which is located in Ludington, was established in 1867 on a foundation of wood pilings and its existing historic tower was made of brick encased in iron plating for added protection. The conical tower is 112 feet tall and has an attached two-story, keepers quarters building comprised of brick.
The Manistique Breakwater Lighthouse, another inhabitant of the Lake Michigan coastline, was built on a concrete pier in the Upper Peninsula in 1917. The 35-foot historic tower was constructed out of steel in the shape of a square pyramidal.
Both Whitefish Point and South Fox Island were designed with a steel skeletal framework to support their lights; while Holland's "Big Red" lighthouse is considered square or integral shaped, since the 32 foot-tower was built into a twin-gable, two-story brick keepers quarters building.
A few of the surviving resident lighthouses now operate as bed and breakfast inns, such as the 1896-established Big Bay Lighthouse Bed and Breakfast in Marquette, Michigan along Lake Superior. The two-story, red brick, duplex-style building, along with the 65-foot square tower light was converted into a bed and breakfast in the 1980s. The facility now features seven guest rooms and private baths, a living room, library, and a sauna for guests.
Other lighthouses, such as Charity Island provide a dinner cruise experience for the public. Although the brick, conical light tower and its two-story duplex style house fell into disrepair in the mid-20th century, the 1857 Charity Island Lighthouse now welcomes visitors by boat ride to its new structure from both Browns Landing at 1187 Dyer Road in Tawas and Caseville Municipal Harbor at 6632 Main St. in Caseville, Michigan.
The 1857 Island Lighthouse Dining Adventure Cruise begins May 28 and runs every weekend through the second Saturday in October. Visitors are treated to an hour boat ride out into Lake Huron to Charity Island, and a dinner of yellow perch or fire-seared medium rare tenderloin steak tips while sipping locally crafted Michigan wine at the new five-bedroom, two-story home.
In recent years the Great Lakes Lighthouse Keepers Association, a non-profit organization established in 1983, successfully restored the 1873 St. Helena Island light station and then began working to restore the 1880 Cheboygan River Front Range Lighthouse.
Restoration for the project ranges from rebuilding the lantern and gallery, stabilization initiatives to the foundation, and renovation to the interior and grounds. The restoration of the lighthouse and grounds is estimated to cost nearly $300,000.
GLBD