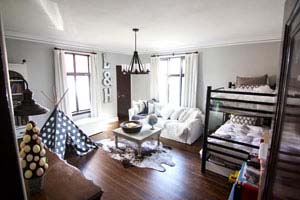 An Indianapolis-based designer has taken her love of design from fashion to interiors in a region rich with historical architecture.
Located less than five miles north of downtown Indianapolis, homes and gardens throughout the Meridian-Kessler residential neighborhood have opened their doors each summer to welcome visitors inside to view great design and architecture.
The Meridian-Kessler Neighborhood Association has hosted the Home & Garden Tour since 1973, and this year's tour featured the remodeled home of local Designer Tiffany Skilling of Tiffany Skilling Interiors Co. The event is intended to promote the history and unique architecture in the neighborhood, while also serving as a fundraising tool for local community initiatives.
Great Lakes By Design had a chance to speak with the Indianapolis-based designer to learn more about her company, her work, and what she loves about design.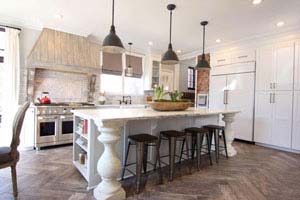 Tell me about your company and the work you do.
I am a designer. I'm going to school for my licensing right now and when I'm done I will have a Bachelors of Engineering from Purdue in Interior Design.
I do anything from full remodels, to space planning, and furnishing. I did a high-end boutique salon about five minutes from my house called The Mae, but I do residential projects mostly.
My clients are mostly in the Meridian-Kessler area in Indianapolis, which has a lot of old historic homes built in the early 1900s.
How do you approach new projects? What is your process?
I always start with my clients giving me a little background information about them and I really love the age of technology we live in. I have them share Houzz boards and Pinterest boards to understand their aesthetic better. If they don't do technology well, we look at magazines together to understand their life style.
From there, I develop mood boards and we put a budget together. I am as involved as they want me to be with the budget they have. I would rather have them use my services if they can and get the most out if than not use me at all.
What do you love most about what you do? What do you love about design?
I've always loved design. I remember when I was little I used to build houses out of leftover cardboard boxes. I've always been really into art and design.
I ended up graduating with an apparel and textile design degree from Michigan State University and I was in fashion for a long time. For some reason I kept coming back to my love of interiors: I love how I feel in a really great space; and I want to provide that for other people.
Do you see a relationship between the fashion and interiors?
Oh absolutely; just as you layer clothing, you layer the design in a home.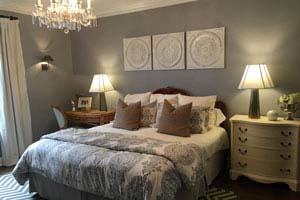 How do you move from fashion into designing spaces and homes?
My husband and I lived in New York for several years and then with the market crash of 2008 I was out of a job in fashion. No one was hiring; there was quite the freeze. I ended up working for a company off of Madison Avenue at an outdoor furniture company.
I also took some side jobs because his husband worked at a country club and I ended up decorating the country club. Then I became the director of operations for this furniture company and that is where I really loved getting into high-end design and understanding furniture placement.
We have been Indianapolis for the last five and a half years. I ended up going out on my own as a fashion stylist and realized there is not really a market for that in Indianapolis, but there is for interior designers.
My husband and I were lucky enough to remodel a historic home here in the Meridian-Kessler area and one of my old coworkers is on the Meridian-Kessler Neighborhood Association Home Tour Board and she asked if we would show our house in this home tour which has more than 3,000 people view the homes in the summer. We ended up having our home on the tour and I was doing a very small amount of business up until that point, but after people came through my home; business exploded.
Do you have a favorite space or room you like to design?
I love it all, but I have been having a lot of fun with playrooms lately. I just did one for a virtual client in Austin, Texas and she will be installing in the next couple of weeks. It's just really fun.
I also love kitchens and baths…I like everything.
What does design mean to you?
Design is a creative process that starts with truly understanding your client. Once you know their functional needs for their space and how they live, creating a vision for it comes naturally. The magic really happens when you turn that vision into a reality.
GLBD
Visit Skilling Interiors