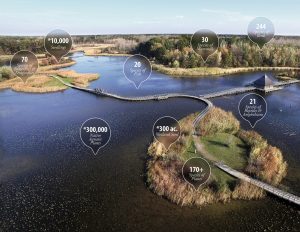 Near the Detroit Metropolitan Wayne County Airport, a collaborative project nearly 25 years-old continues to hold precedent for environmental design and ecological restoration. The Crosswinds Marsh Wetland Interpretive Preserve in New Boston, Michigan, is one of the largest self-sustaining wetland mitigation projects in the United States, and was a collaboration between SmithGroup, a renowned champion for environmental design, and the nearby Wayne County Airport Authority that was completed in 1995. 
Last year, it received a Landmark Award from the American Society of Landscape Architects and has, to date, naturally attracted around 30 mammal species—including deer, muskrat, and beavers—to its more than 1,000 acres, along with 21 reptile and amphibian species, and 70 species of butterflies and dragonflies. 
The project came as part of a mitigation plan to recreate and nurture historic wetlands that were lost to an airport expansion, and in recreating those spaces there was an opportunity to infuse new educational assets into the environmental design. 
Thus, creating plans for Crosswinds Marsh—originally drained agricultural land— involved a delicate, designed balance between natural habitat and the community benefit of interacting with that habitat, reflected Emily McKinnon, PE, LEED AP BD+C, principal, and director of operations at SmithGroup's Ann Arbor, Michigan office. 
"In order for the natural processes to occur and the natural habitats to re-establish, there needed to be minimal human intervention, but then how could we creatively interweave some human intervention in some areas to provide the educational and recreational aspects for the community to be able to understand what the whole project was about and how these systems are important to us, and provide that educational opportunity for people to learn about the flora and fauna and ecosystems that we established in that area?" McKinnon said.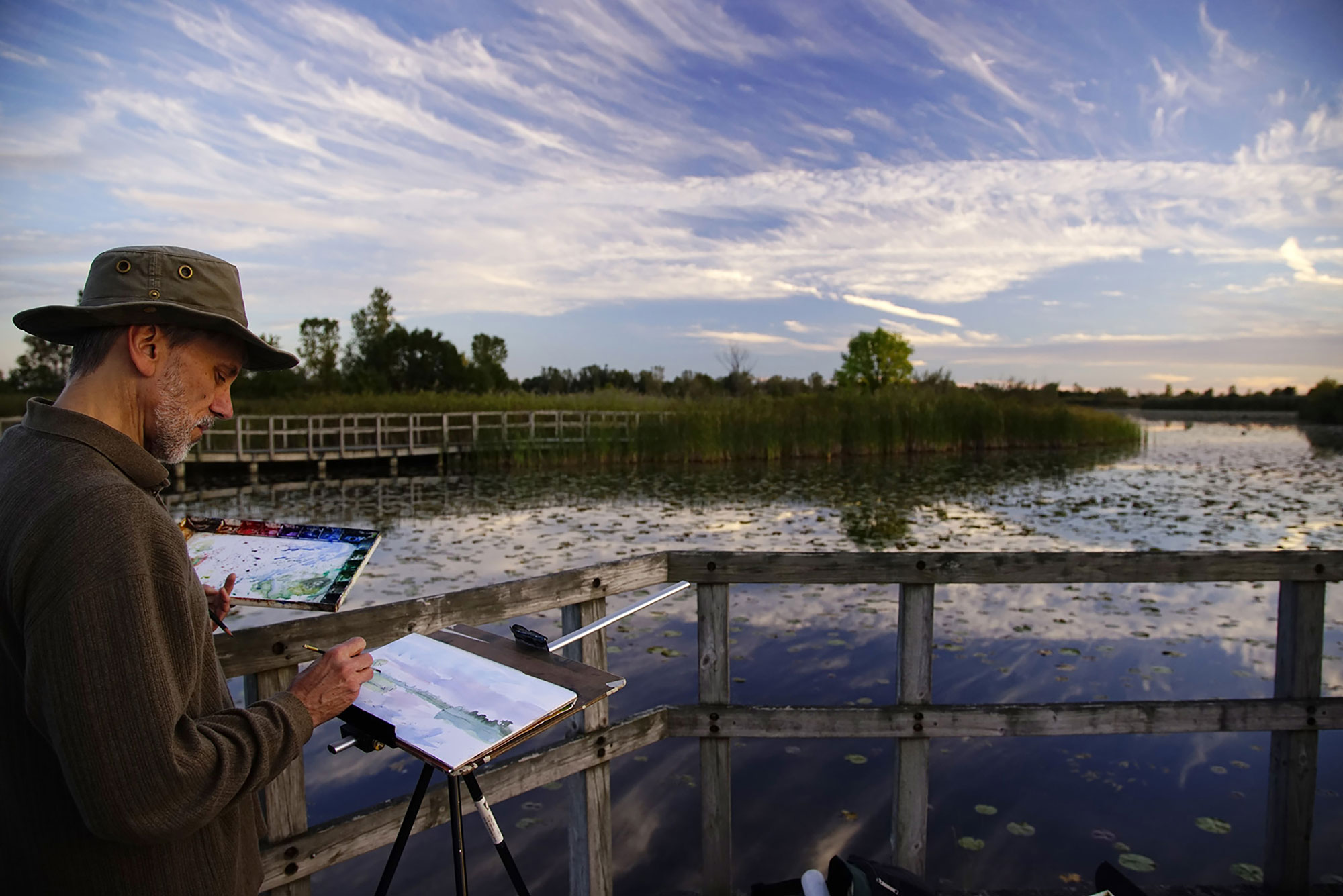 The balancing act in design is a timeless one, as is the relationship between industry and natural processes in Midwest urban areas among changing societies. For designers, the task of designing with nature has its own unique characteristics. When approaching the challenge, McKinnon said SmithGroup typically begins by evaluating historic land data like land maps and research studies from the region to evaluate its historic soil and material structure and habitual make up. For SmithGroup, it then came time to recreate those historic features through design; and they did so by creating distinct packets of ecosystems throughout the acreage. 
"Particularly at Crosswinds, there were six distinctive ecosystems that we tried to establish there, from upland island habitats to emergent to deep water habitats; so a variety of systems that supported different kinds of flora and fauna species throughout the area," McKinnon said. "It's evaluating those historic pieces, doing a site evaluation of what existed there currently and then developing a strategy for how we can recreate those similar systems."
More technical design strategies for doing this involved integrating pump-free hydraulic systems throughout the marsh to provide the essential habitats for incoming species. In this case, they included ditches and natural water courses that were cut through the relatively flat land and diverted to feed the wetlands in the area. 
In all, the project recreated ecosystems for hundreds of native flora and fauna species, while also creating careful, considerate interactive opportunities for human communities. Though access is intentionally limited, the marsh still supports education and low-impact recreation like hiking across five miles of trails, horseback riding, fishing, canoeing, bird watching of more than 240 species, and other opportunities for more than 15,000 annual visitors. 
It is these personable aspects that strike the ideal balance between nature and humankind that McKinnon remembers fondly, especially the boardwalk that takes visitors into the heart of the wetland. 
"You're right over a wetland and taking a boardwalk to get there so you're exploring the site and then you can come to this gathering space, which is used frequently for the educational community programs that they have there," McKinnon said. "You're just surrounded by it as you're learning about it or as you're just watching it; that's what's really great about it and it just continues to evolve."
That evolutionary cycle is another interesting aspect for McKinnon, who noted that the more than 20-year-old design has matured in ways that the design team couldn't have expected, as is to be expected when designing among natural processes. Perhaps the most surprising is how quickly and completely the species that call Crosswinds Marsh home flocked to the new area to carry on their own great cycles of evolution.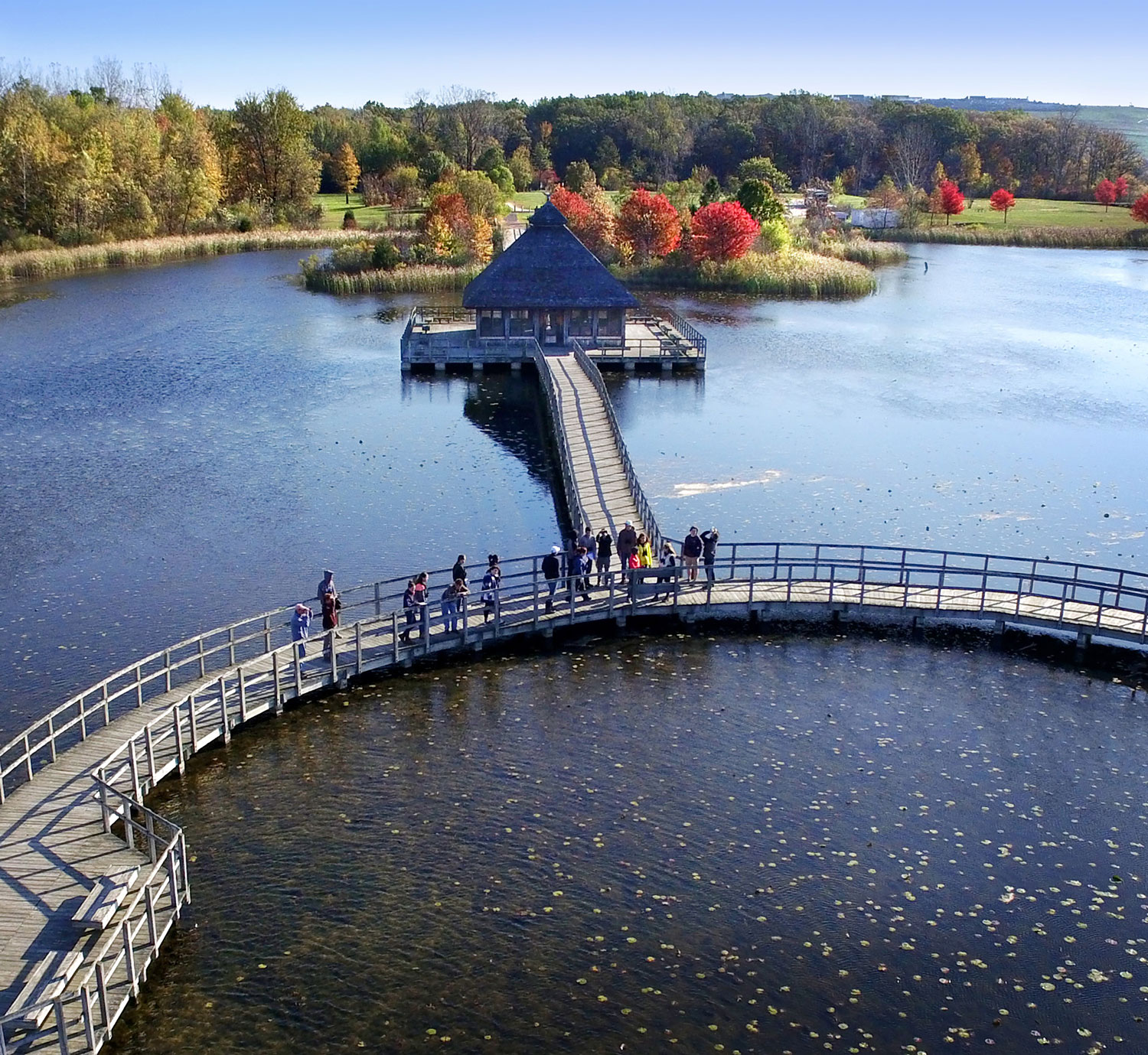 Text: R. Collins | GLBD writer
Featured image: As one of the largest self-sustaining wetland mitigation projects in the country, Crosswinds Marsh has become a national benchmark for ecological restoration and environmental design.