Text: R. Collins
a look at the development of an international competition focused on sustainable design.
Within today's complex economies lies an inner-voice belonging to sustainability as it tries to make itself heard. The A to B mindset that governs much of our business and systems-thinking also plays a significant role in the direction of our economies, which often lead products through the same cycle: raw materials compose a product, then the product is recycled, and the waste is disposed.
For four years, the Wege Center for Sustainable Design at The Kendall College of Art and Design of Ferris State University in Grand Rapids, organizes an annual student design competition known as Wege Prize. The international competition aims to catalyze progress toward sustainable product, space, system, and service solutions through tackling the issues of a largely linear economy. The goal at the end of the six-month-long competition is to successfully produce a product of a circular economy, which is restorative by design.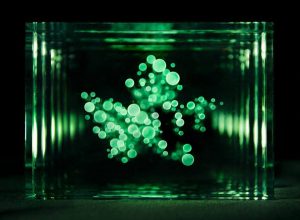 Wege Prize was also created in collaboration with the Wege Foundation to further their mission of developing leaders in a variety of disciplines such as economicology, health, education, and the arts, while enhancing the lives of people in western Michigan and worldwide.
The competition, which tackles the wicked problem of creating a circular economy, requires its participants compete in groups representing two academic institutions and consisting of five team members from different disciplinary studies. The variety of students and the subjects they represent makes the prize a unique event from year-to-year and allows for an ameliorated and progressive version of the same discussion focused on the American economy.
"They come at the project from different scales," said Gayle DeBruyn, chief sustainability officer and chair of the Collaborative Design and Furniture/Design Studies at Kendall College of Art and Design, or KCAD.
"I see teams grabbing more complicated projects with a deeper systems-thinking-approach," DeBruyn added.
Students, who come from different disciplinary backgrounds, provide each team and the competition with more variety and more complex results to match an equally complex issue. When thought of holistically, diverse teams can accurately and more completely address the desirability, effectiveness, and feasibility of their products and solutions. The concept of design thinking, which takes a human-centered approach to the development of solutions, prompts Wege Prize participants to draft their solutions with empathy for the markets they are designing for as well as for each other's disciplines.
"We have to teach ourselves—all of us—to get out of our silos, if you will, and get into spaces in which we can collaborate to solve the bigger problem," DeBruyn said. "Whatever the wicked problem is that the team is working on, it needs all level of communication to tell the story: visual, verbal, as well as technical . . . and there needs to be a business plan."
With the Wege Prize's increased number of applicants and expanding international representation, those who organize the competition each year have adapted to both the growing interest and the varying standard education levels. Entry has also opened to all levels of higher education to include students in graduate school, which has created an even more diverse environment for new ideas and experiences to root themselves.
DeBruyn, who anticipates a swell in applicants before the fifth prize in 2018, said as a result, a first tier of judges who are experts in their fields will determine which groups have a clear objective of the goals of the project and will enter the next stage. For DeBruyn, this is a necessary step since she describes the competition as "not for the faint of heart."
"It's iterative; it encourages fast failures so that you can quickly readapt," DeBruyn said.
Despite the complexity of the problem at hand and the frequent failure of many of its solutions, Wege Prize has welcomed a multitude of students eager for the challenge and a chance to walk away with $30,000 in total cash prizes. Each year, one out of many innovative teams creates a solution and in some cases, that solution becomes a reality put into practice.
The winning team of the 2017 Wege Prize, consisting of students from Brown University and the University of Michigan formed a relationship with an Austin, Texas-based microbrewery to prototype their solution: converting waste byproducts into insect-based proteins that can be reintegrated into the environment as agricultural fertilizer.
KCAD's own team approached the issue by crafting a solution which helps coffee farmers in Nicaragua utilize waste byproducts to produce other exportable raw materials. The team approached their project first by having it defined by the market they were designing for and then thinking critically about the potential behind coffee production waste and the constraints of producing a secondary product. As the team delved further into the process, it became apparent that the concepts they were illustrating were evolving with them. This made it necessary to keep ideas rooted in reality, said Taylor Axdorff, team member of the KCAD project, while not being afraid to think big.
Throughout the years, participants in Wege Prize have waded deeper into the problem, designing thought-provoking solutions that could very well change how sustainability is integrated into everyday life. It has also set the stage for an international dialogue regarding wicked problems solved by design in the heart of the Great Lakes region.