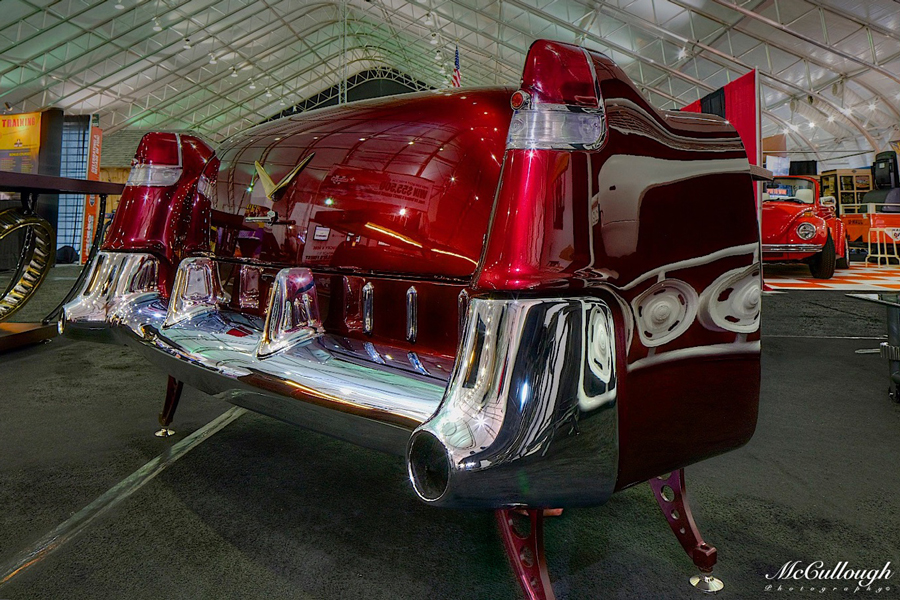 In Hudsonville, Michigan, the specialty proto-design shop at Banyan Tree Fabworks is known for creating custom furnishings out of unique historic machinery and vintage artifacts. From steel tables and wine racks supported by massive industrial gears, to woodworking jointers fashioned into sleek, modern desks; the firm's entire portfolio represents the experimental nature of repurposing some of the 20th century's most hard-working artifacts. To date, however, one of its prized works of experimental design success is a rounded bar made from a preserved 1955 Cadillac Series 62 sedan.
"I think what makes this [project] unique is we really pushed the boundaries of what our capabilities are," said Greg Davis, vice president of sales and operational development at Banyan Tree Fabworks. "It's a very large project, [with] a carbon fiber top, the chrome, the LED lighting, and the cabinetry. It kind of hit all the details."
Banyan Tree Fabworks is a branch of Banyan Tree Ventures LLC, an investment firm servicing Midwest-based start-up companies specializing in manufacturing. In the image of its own entrepreneurial spirit, the firm's team at Banyan Tree Fabworks acquires and converts unique statement pieces into designs for individuals, companies, architects, and designers that are inspired by the industrial age, as design and machinery merged in overall function.
A 25,000-square-foot fabrication shop and showroom near Grand Rapids, Michigan prepares the design team for any of the countless 20th century finds that can arrive, including the Cadillac body designed by the legendary auto stylist Harley Earl, who is considered one of the main figures to merge high design with auto machinery after the invention of the automobile. During his career, Earl became the first director of a formalized styling department in the automobile industry as well as the vice president of General Motors, and some of his classic creations like the Series 62 were introduced alongside his other famous designs like the original Chevrolet Corvette and Cadillac Eldorado.
Cadillac's Series 62 models—produced throughout the 1940s and 1950s—were stylish in post-war United States, each featuring a sleek, wide body style, which eventually included extended chrome bumpers and fenders shaped by pointed tailfins.
To create a new form with its own vintage model, the team at Banyan Tree Fabworks decided to keep the body largely intact, keeping in mind the logistics of installing an 80-inch piece of furniture in a commercial or residential setting. After cutting the trunk away and shaping the two subsequent pieces to form cooler storage and the base of the bar, respectively, the design team began introducing finishes that would refresh the piece in its modern setting.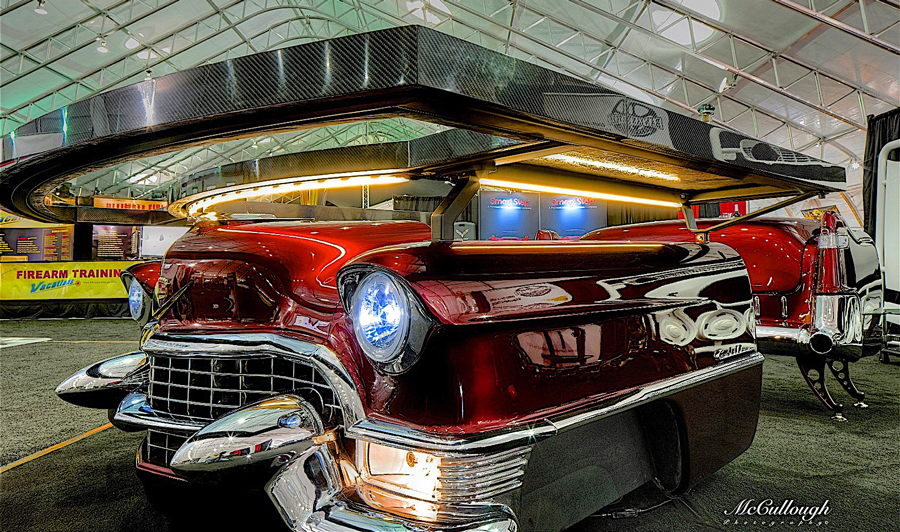 "We [began] thinking of a mix of a classic automobile from the 1950s and incorporating modern materials like carbon fiber, glass, and that sort of thing to blend the two periods together," Davis said.  "We found a car that was fairly intact and we had these original chrome pieces re-chromed; there were hundreds of hours that went into the body work to make it look just right."
To compose the wrap-around bar itself, a three-inch-thick carbon fiber top was fitted with a glass insert, suggesting a modern sleekness with industrial edge. The glass embedded in the bar reveals the car's refurbished and polished grill and restored chrome work on the hood underneath. A fresh coat of candy-apple-red paint was applied for one last modern touch in classic taste, and it creates an electrifying contrast with new LED lighting installed in the headlights. The bar and trunk—which holds a stainless-steel cooler matching the grill—are propped up by supports the team crafted from blocks of solid metal.
In refabricated form, the original Cadillac model is, once again, a unique example of modern design, this time in a new era. The piece—which is currently for sale—continues to awe visitors, according to Davis, who noted that for this project, the team went above and beyond in creating its own original rendition of a similarly original design.
"People see it; they touch it; they look at the carbon fiber and say, 'That can't be real. No one would spend that money.' [Between] that and the chrome work and all of that, there's really no expenses spared on doing this project," Davis said.
Text: R. Collins | GLBD writer
Photography: Michael McCullough