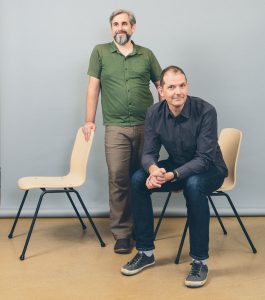 "People find their own ways of using things regardless of how prescriptive it can be," said Lee Fletcher, principal and co-founding partner of Fig40, an award-winning, multi-service, industrial design firm based in Toronto, Ontario. "We need to have a sensitivity to that."
This intention to the intrinsic human nature of design underscores the Fig40 portfolio, which Fletcher has been building with fellow principal, designer, and co-founding partner Terence Woodside since the design studio's launch in 2008. It is a craving for pure understanding of systems, both human and mechanic, that has driven Fletcher's exploration of the design realm, whether it involved creating LEGO® shock absorbers during his childhood or recent chair styles designed down to their mechanical and ergonomic details and universal—and accessible—functionality. 
"There's an innate empathy that you have to have in your education and your approach [to design]; to put yourself in someone else's shoes to understand what they might need when you design something that can then be made by the factories that your client [has]," Fletcher said.
Fletcher, an industrial designer, and Woodside, a mechanical engineer, formed Fig40 to create sustainable, relevant offerings for industrial contractors like Stylex Seating, an American office furniture manufacturer, that the pair have worked with to develop singular designs like the F4 Chair and Still Screens. The Still Screen series, their latest project, combines Fig40's systems-centered approach in a more architectural format, which is a growing interest area for Fletcher.
Acoustic insulation and a tack-able surface are draped across an internal CARB-Certified, plywood frame in the upholstered varietal, while other, all-wood versions are built entirely of oak or walnut and finished in a satin clear, water-based coat. Emphasizing the control of light, proportion, and rhythm in architecture—blended with Stylex's upholstery prowess—the screens can be layered or moved to sculpt an interior in accordance with its approach to workflow and social distancing, yet they are refined and tactile in any arrangement. 
"The way product is enabled is through an understanding of systems and then marrying it with this real capability in upholstery and handling wood," Fletcher said. "It is a recent project, but it still spins around in my head as being a really great one."
The F4 chair created by Fig40 for Stylex is another project that speaks to the studio's comprehensive, systems-approach to industrial design. By deducing and designing each layer of the chair's form and function down to the mechanical accessories that make it mobile—including a concealed torsion mechanism that fluidly adjusts the chair to a broad range of users—they were able to create an efficient, sustainable, and supportive furnishing for the office setting that is also sustainable in its simplicity. The chair cuts out adhesive like glue that would normally be used to hold fabric to the dip in the seat by giving the area a slight, domed shaping.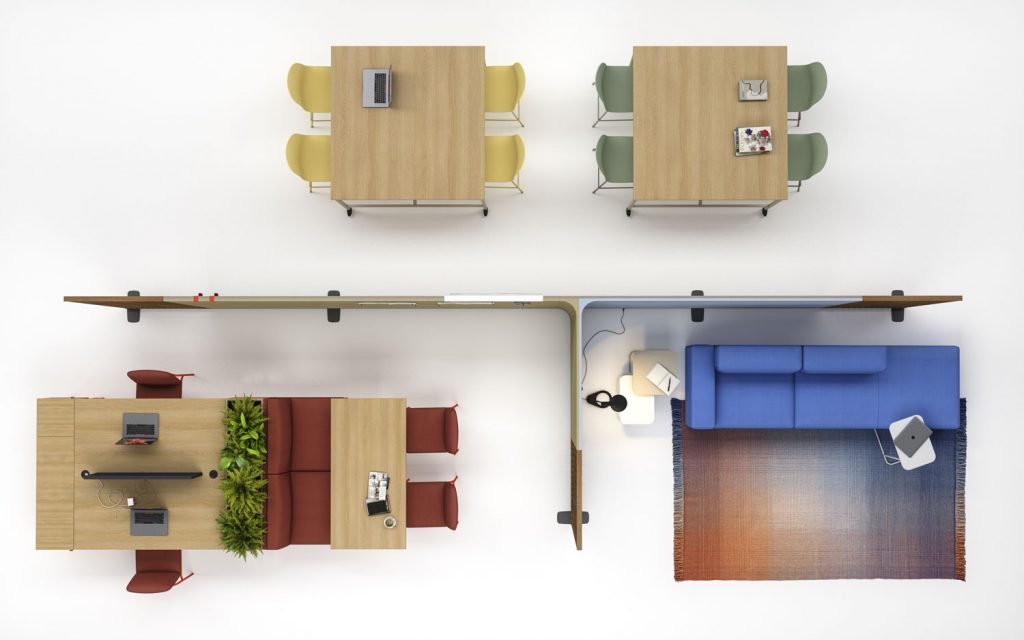 "The more pieces like that, that you can learn about, you can create the composition of the elements such that you don't even need to face the question of what's a more sustainable glue, because you don't need any glue," Fletcher said. "[If] you can get the composition of things right and the form of them right relative to the materials and processes you're using, it can be a lot easier to be sustainable."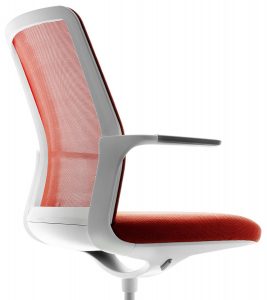 This top-down approach to design permeates the F4 at a production level as well. Instead of requiring a strain-to-stretch mesh onto the chairs, they are formed using a method that slides one frame backing and mesh into another to shape the material that is then steamed and shrunk taut over the chair frame, reducing strain on its assemblers. 
In this way, Fig40's empathetic approach to the industrial design sphere spans from end-user to manufacturer. It happens again in one of Fletcher and Woodside's latest endeavors, the Community Chair, which is released through their non-profit CommunityForOpportunity.org. The chair features a durable, cleanable, affordable, and aesthetically friendly design that serves a need for better seating in homeless shelters across Toronto. 
The team took the Community Chair project one step further with the addition of job training opportunities in assembling, packaging, and shipping for those who could most use them. In its pilot run, the Community Chair supplied Toronto's Salvation Army Gateway drop-in center—which utilizes furniture for about 18 hours a day—with a dozen chairs.
"What we were trying to do with the Community Chair is create a process through the product of the chair; what we really designed was a way to employ people," Fletcher said.
Though CommunityForOpportunity.org is a new venture that leaves room for development, it signifies a continued exploration of the possibilities available to industrial design and what that means in terms of ergonomics and human usability. Global pandemic has also prompted the team to explore industrial design for the workplace through a new lens, one which can be seen in Fig40's recently launched microsite, Possibilities, which explores product proposals and new ways that design systems can evolve with their ever-changing human counterparts. 
Text: R. Collins | GLBD writer
Photography: Fig40 | Stylex Seating