The stage is set: a hush settles over the crowd, smoke curls languidly on the floor, and lights draw eyes and ears to the platform. There is an avid anticipation—a collective intake of breath—as the crowd watches both guitarist and the iconic silhouette held before in an extension and expression of its player. It is an instrument that has defined and redefined sound and music, launching movements and inspiring generations—and when deft fingers strum its first strings, sending vibration and resonance from body and pickups to amplifier, it can strike a similar chord in its listeners when style and function are in harmony. 
The electric guitar is an instrument that has graced the hands of pop, rock, punk, country, and blues artists since the earliest iterations of its hollow-bodied acoustic cousins were adapted and electrically amplified in 1931 by George Beauchamp. There is a playful tension between instrument and musician as the artist works to craft song and melody from a product embodying both visual appeal and technological elements. It is this combination of the technical and innovative artistry that has resonated to this day with guitar industry veteran and innovator Joe Naylor, exclusive design consultant with Reverend Guitars in Toledo, Ohio. 
"There are a lot of technological aspects to an electric guitar, but a lot of times people don't realize the real challenge is the visual part of it. It has to sound good, it has to play good, but if it doesn't look good, a customer is not even going to take it off the wall," Naylor said. 
"It's like buying a shirt, because it says a statement about who the musician is and the type of music played since it is all how the guitar looks and projects those things. You literally wear a guitar like a piece of clothing," Naylor added. 
The award-winning luthier, who received his first guitar at the age of 19-years-old and discovered his passion for building and designing the instrument after taking it apart on the kitchen table, is known for creating uniquely designed custom guitars. Naylor first began repairing guitars part-time while studying industrial design at Western Michigan University in Kalamazoo, Michigan, before going on to graduate from the Roberto-Venn School of Luthiery, where he learned the finer points of acoustic and electric guitars from well-known luthiers such as John Reuter, James Weisner, and William Eaton. Since starting J.F. Naylor Guitars in 1987, Naylor relocated to Detroit where he eventually established Reverend Guitars in 1996—then known as Reverend Musical Instruments—and built its first guitar in 1997 leveraging a patented high resonance body design. Throughout the years, Naylor has designed amplifiers, cabinets, pedals, speakers, an entire line of set-neck and bolt-on guitars, a series of set-neck and bolt-on basses, and developed patented pickup technology known as Railhammers. 
Now Naylor serves as the exclusive design consultant for Reverend Guitars, which was acquired by Chief Executive Officer Ken Haas in 2010 after working in sales and management for the company and comprises the 2012-established Railhammer pickup company. 
"I work for Reverend doing all of the design and technical support. We are basically a partnership: I design the stuff, [Haas] sells it and runs the day-to-day operations," Naylor said. "That is the partnership we have right now and continues to this day, which has worked out quite nice; because I can focus just on design and he can focus on the nuts and bolts of the operation." 
While Reverend Guitars may have begun quietly in East Detroit behind a bicycle shop more than two decades ago, it is now a brand that resonates with a rich tone quality across a global network of musicians, enthusiasts, and dealers. 
"We are what they call a modern retro genre, but people who buy Reverend guitars are looking for something different than you typical, main-stream, big-brand name," Naylor said. "We have a pretty envious artist roster."
Reverend Guitars not only offers bolt-on and set-neck models of guitars and basses for artists, but also left-handed guitars and a signature series where Naylor works with the musician to create one-of-a-kind gear for the individual. There is a noticeable depth and diversity to the company's portfolio, and the inclusion of both a set-neck and bolt-on design aesthetic caters to a broad range of artists. 
"There are two basic series: there is what is called a set-neck series and what is called a bolt-on series. A set-neck simply means the guitar's neck is glued into the body. With the bolt-on guitar, the neck is literally bolted to the guitar," Naylor said. "There are two different classic camps of design philosophy—kind of Ford vs. Chevy—and you usually pick a side. When Reverend became bigger, I decided to do both." 
Building off of the neck options, the signature series delves into capturing who the artist is, what music he or she plays, and how they play the instrument into a unique and well-crafted design. Naylor will work one-on-one with the musician to create different designs and prototypes before coming up with a signature model, which is then under a two-year agreement with the artist to play almost exclusively. 
"We will work with a particular artist who has certain features or a certain aesthetic cue that he wants incorporated into a Reverend Guitar. We come up with a lot of interesting and innovative stuff as a result of these collaborations," Naylor said. 
"You're designing it pretty much for that one person—of course a lot of other people are going to be attached to it or it will appeal to them—but you are designing with this one person in mind. You know what he has done, you know his catalog, you know his sound, you've seen him live, you know his gear: in that respect it is a little easier to focus on the tonal end of it. Of course, they usually want crazy-looking stuff so that becomes more of a challenge, but that is a whole different thing," Naylor added. 
While the shape and look of the body can bring its own set of challenges, Naylor noted from a design point of view there are four major parts of the electric guitar: body, neck, headstock, and electric pickups. It is after the visual aspect has been decided upon—ensuring there is the right amount of resonance and vibration needed for the artist—then the design can focus into the more functional elements such as electronics, the way it sounds, and the way it plays.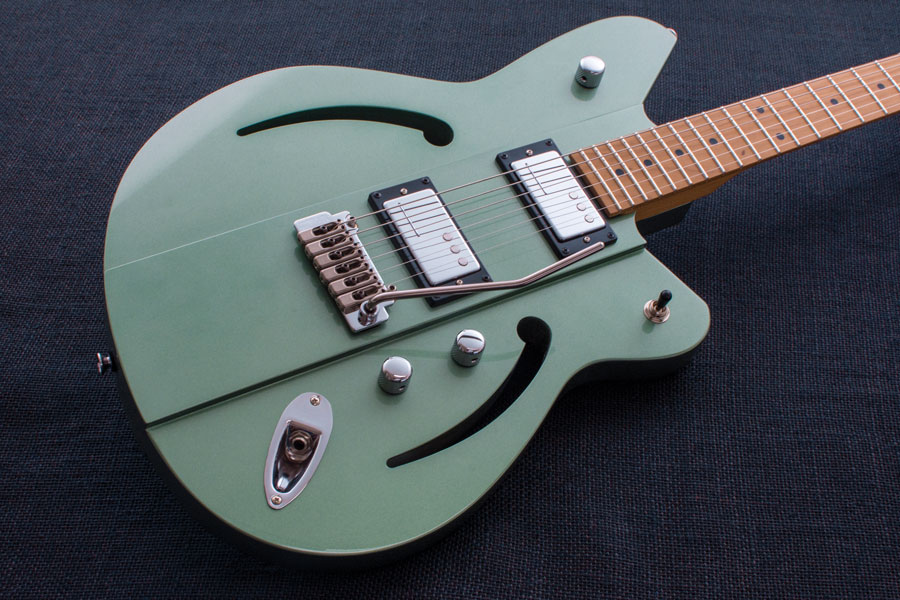 "The materials an electric guitar is made of has a profound effect on the sound. Common wisdom is: 'well, its electric so the materials don't matter, because you are just going to process the signal electronically,'" Naylor said. "That's not true. It couldn't be further from the truth."
Instead, Naylor has a basic philosophy of making the guitar resonate and vibrate well before it uses electronics to process and pull the sound quality of the guitar into the amplifier. There are a number of considerations for the body of a guitar alone that can impact how it plays and sounds, such as the shape, size, solidbody, semi-body, hollow, the internal chambering, and the type of wood used. Hard woods, soft woods, heavy woods, and light woods all deliver its own set of characteristics. For the body, Reverend Guitars tend to feature Korina, or White Limba, which is a medium-light-weight wood known for its highly resonant and responsive quality. 
"A good electric guitar sounds good unplugged: that is important. It has to resonate. There has to be an acoustic element there before you even plug it in. Half of the sound is electronic and half is the wood, the construction, and the design of the guitar," Naylor said. 
"There has to be a certain amount of flexibility in the entire instrument and there are ways to build that into the instrument from the shape of the body, internal chambers we might add strategically in different parts of the body, and then you want some guitars to vibrate more than other ones depending on the genre of music you think it is going to be used for," Naylor added. 
In search of the next level of performance, Naylor has also created a patented electric pickup leveraging a combination of thin rails under wound strings and oversized six-millimeter-diameter poles under plain strings to deliver tight, clear, low sounds and thick, sustained high tones. Known as Railhammer, the pickup portfolio comprises a series of Humbucker bridge and neck devices, as well as a Humcutter—P90 tone—line of bridges and neck products. 
"It tightens up the low end and makes the high end thicker, so it is almost like a built-in equalizer, if you will," Naylor said. 
The Sensei RA model was one of the first Reverend guitars to feature the revolutionary Railhammer pickup after the technology was officially launched in 2012. Designed for the rock and metal player, the set-neck Sensei RA features Railhammer Chisel pickups, a Korina solidbody, an ebony fretboard, three-piece Korina neck, and a gloss finish. The model also incorporates proprietary, lower profile dome knobs; Boneite nut, a synthetic bone nut to reduce friction and improving tuning stability; a Pure Tone jack by Pure Tone Technologies; and a custom jack plate featuring four mounting screws. 
Driven by innovation, Naylor also debuted the Airsonic HC model which combines the sustain and attack of a solidbody guitar with the rich, big sound of a semi-hollow body. With thinner wings, thru-body f-holes, and a Wilkinson WVS50 IIK Tremolo bridge, the Airsonic HC captures clarity and dynamics of classic P90s without the hum—and its elegant contours add to the visual and sonic statement. 
"Once you have the basic concept distilled, have a basic drawing on paper in front of you, and you realize it is going to be good when it is done—even though you have a lot of work ahead of you—when you realize you are onto something,  that is probably the best part, because it inspires you, it motivates you to get the project done and out there," Naylor said.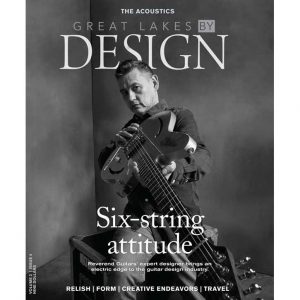 "One of my favorite parts is seeing an artist on stage using it, because then it all comes together: all the work, everything. It is very gratifying to see it in action," Naylor added.  
Text: R.J. Weick
Photography: Reverend Guitars | Brad Stanley
Full length available in Great Lakes By Design: The Acoustics, published 2018