In this unprecedented time, major players and smaller participants in a variety of Midwest industries have set their attention on an invaluable product: the face masks with which many are protecting themselves against COVID-19. Brands, from General Motors to the Milwaukee Bucks, have launched mask-making initiatives to supply the consumer market that continues to grow in need, nearly as quickly as it is satiated. 
Alongside national corporations, volunteer efforts among local sewing enthusiasts and crafters have also amassed into a sweeping grassroots effort to provide friends, families, communities, and those on the frontlines of the pandemic with the personal protective equipment they need. Many of these efforts also come with fundraising models attached that often pour resources straight back into local communities, whether they are free masks for healthcare workers or donations to the essential organizations that continue their mission. 
In this compilation Great Lakes By Design takes a look at just a few of the businesses and organizations that have pivoted—sometimes in a matter of days—to produce and supply the population with face masks and other PPE. 
MICHIGAN
Trevco – MaskClub
In Madison Heights, TrevCo is a name associated with producing apparel and accessories for more than 800 licensed brands—many familiar names include Hello Kitty, NASA, and Jurassic Park. In April, the firm added a branded monthly subscription face mask website to their services that gives back to United States first responders and is dotted with recognizable brands in the TrevCo portfolio like Hasbro, Warner Bros. and more. The monthly subscription package gives customers a mask a month and matches each purchase with a mask that will be donated with the help of Homedics, a global health and wellness company helping to source the medical-grade masks. TrevCo is also partnered with the First Responders Children's Foundation, which provides support for first responders like medical personnel, 911 dispatchers, paramedics, and their families. 
General Motors
The auto industry has been poised to boost responses to the Coronavirus that center around personal protective equipment and medical supplies. General Motors, namely its Warren, Michigan, facility is one of those major players in the mix, thanks to its rapid response project for producing mass-scaled facemasks in March. With the help of engineers, designers, buyers, and people in manufacturing, GM was able to convert its Warren facility into a mask-making operation in under a week. The facility can now produce up to 1.5 million face masks a month, and it has also shared manufacturing plans with suppliers like the Michigan Manufacturers Association and the Original Equipment Suppliers Association to help them ramp up production as well. 
"Our ultimate goal is to get more masks to the people who desperately need them," said Shilpan Amin, vice president of Global Purchasing and Supply Chain at GM, in a press release. "We recognize it would be counterproductive for GM—or any other manufacturer—to compete for supplies with existing medical mask companies. By making GM's production processes available to the OESA and the MMA, we hope to facilitate other companies' efforts to bring more materials, more equipment and ultimately, more face masks to the community."
GM's mask-making efforts have swept the state of Michigan and other places across the Midwest. For U.S. mask production, the company has turned to many suppliers who have previously supplied materials like automotive insulation, and some of its current partners are JR Automation in Holland, Michigan, and GDC, a certified Women's Business Enterprise. Recently, GM also added two additional product lines to its repertoire: a second face mask line and a new line for filtering facepiece respirators.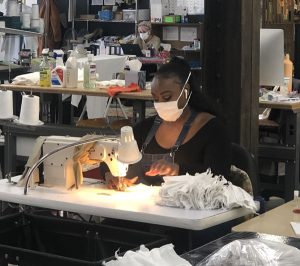 Detroit Sewn Inc.
Detroit Sewn was one many local makers to initially respond to the public outcry surrounding personal protective equipment. The sew-centered firm typically offers pre-production and production—or cut and sew—services as well as marketing and design, and now it includes a volunteer initiative that surrounds four new product lines: standard face masks with twill ties, standard masks with elastic, face masks with pockets for filters and elastic, and the more recent washable, reusable, and water resistant isolation gowns. 
Each mask is made entirely with tightly woven cotton fabric and cotton ties or latex-free elastic. Pleating allows adaptability for face size and plastic-coated wire around the top ensures a formed fit around the nose. Though Detroit Sewn notes that their masks are not a substitute for N95 masks, they are a washable, reusable, fabric version of disposable paper hospital masks. Thanks to its partnership with cut and sew factories around the state, country, and in Mexico, Detroit Sewn is able to take on high-volume orders to keep orders moving. 
ILLINOIS
Chicago Upholstery & Drapery Co.
In the historic Rogers Park neighborhood, the Chicago Upholstery and Drapery Co. has taken to making hospital-grade face masks and gowns using furniture upholstery equipment. The firm, which has decades-long standing in the neighborhood, provides a full range of upholstery and fine drapery services to residential and commercial clients. After making the decision to convert some production to washable and disposable mask-making, the firm is now able to produce approximately 500 masks per day.
Chicago Made Masks
Another team mask making effort is Arthur + Lucca, a custom clothing, alterations, and retail shop, and Fishman's Fabrics, a more-than-century-old, family-owned business and supplier of exceptional fabrics. Together, the pair have organized a face-mask-making effort that use the buy-one, give-one model to supply medical professionals, police officers, firefighters, and those on the front lines with a mask for each customer purchase. The cotton masks they create come in reusable or disposable packs and customers can choose to order in bulk or simply donate to the effort. The pleated white cotton masks come in packs of one, five, or ten, meaning that each purchase amount is matched for essential workers. 
PrideMasks
Recently, PrideMasks was recognized for its customized Chicago-themed mask worn by Mayor Lori Lightfoot, but the business offers many more unique, colorful designs to pick from. Made locally in Chicago, the masks are entirely washable and support filter inserts if needed. The goal being to address a shortage of NIOSH-certified masks for healthcare workers, PrideMasks consulted with a CDC-trained epidemiologist and clinical doctors to create their versions, which are made with 100 percent cotton backing, washable microfiber, and latex-free elastic. Their overall goal in response to the COVID-19 pandemic is to help satisfy growing public health needs with thoughtful, inclusive, and science-driven products.
WISCONSIN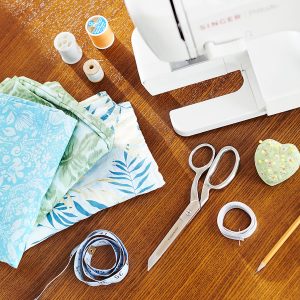 Wantable Inc. – Sew Good
The Milwaukee-based personal styling service Wantable Inc. has used its online platform and logistical reach to rally a vast network of community crafters and sewing enthusiasts to create face masks for medical professionals. The process involves an exchange between the company and its volunteer sewists: instructions and pre-paid shipping labels are sent out, and finished masks come into the fulfillment center for same-day distribution among various organizations. So far, the online lifestyle service has pledged more than 20,000 masks and counting as part of this Sew Good initiative. 
"Volunteers have sent in anywhere from four to 134 homemade face masks," said Tiffany Cooley, chief marketing officer at Wantable, in a press release. "When we launched Sew Good, we knew there was so much potential to make an impact, but what we didn't anticipate was the level of care and personalization that volunteers would put into each and every face mask. We are incredibly grateful and we truly are stronger together."
MINNESOTA
Joynoëlle + Birchwood Café
In Minneapolis, a partnership between Tracy Singleton, owner of the local organic eatery Birchwood Café—a nearly century old mainstay in city life—and Joy Teiken, fashion designer behind the Minneapolis-based brand Joynoëlle is yielding positive outcome for one Twin Cities non-profit called the Food Group. Teiken, who had already been making cloth face masks for nurses, sought to expand the operation and Singleton, who has supported the Food Group, decided to team up to create the fundraising opportunity as well. 
Now, 100 percent of proceeds from each mask go to supporting the Food Group, a local non-profit using nutritious food to strengthen community and provide hunger relief. The masks themselves use an ultra-allergen filter between two layers of pure cotton, and the colorful designs are reusable, washable, and reversible—and the pick-up location at Birchwood café includes take-and-bake meal options and pies. 
Sew Good Goods
As part of an effort between the Blue Shield of Minnesota and Treadle Yarn Goods—a full-service fabric store specializing in natural fiber fabrics—Sew Good Goods is creating protective masks for local healthcare providers and teaching its community how to do it too. The Saint Paul-based, non-profit is centered around creating high-quality, handcrafted goods for food relief organizations like food shelves, shelters, and transitional housing programs. It now provides mask-making kits, patterns and instructions, and location drop-off information. 
BA Craftmade Aprons
Made with restaurant staff in mind and crafted with feedback from chefs, bartenders, bakers, and industry professionals, BA Craftmade Aprons are comfortable, individually designed aprons made in Minneapolis and worn by industry workers throughout the state of Minnesota. The shop is now also offering handmade, cotton and poly blend face masks in two sizes, $5.00 of which go toward the shop's self-organized Black and Blue fund, which supports service industry workers in need. 
Makwa Studio
Also utilizing the buy one, give one model is Makwa Studio, a creative design space started by Maggie Thompson (Fond Du Lac Ojibwe) focusing on art, textiles, and fashion. The shop offers a series of knitted wool, woven, and hand-loomed apparel from statement making hoodie scarves to tunics, beanies, and cowles. As part of its new Ribbon Mask Project, the Makwa Studio  team is donating two CDC-compliant cotton masks to individuals and partnering organizations for every one of its pleated cotton Ribbon Masks sold.  
INDIANA
Top Stitch Inc.
Top Stitch Inc., a family-owned commercial sewing business, has recently applied its textile expertise to medical gowns and surgical facemasks for healthcare industry use. The Indiana small business typically services the interior design and hospitality industries, and even offers recreational vehicle accessories and equine supplies. 
Cinda b
Cinda b, a fashion label specializing in machine-washable handbags, luggage, accessories, and more, has started making a line of medical gowns and poly blend face masks for hospital workers. Each colorful, double-ply mask is hemmed, pleated, and machine washable; and for every purchase the group will supply a healthcare worker in need with an additional face mask. Hentz Manufacturing LLC, the domestic textile manufacturing and design firm supporting the production of Cinda b's line, is also scaling production to include isolation gowns, face masks, and face shields. The efforts of both have also resulted in new jobs for the locale as production continues to grow.
Text: R. Collins | GLBD writer