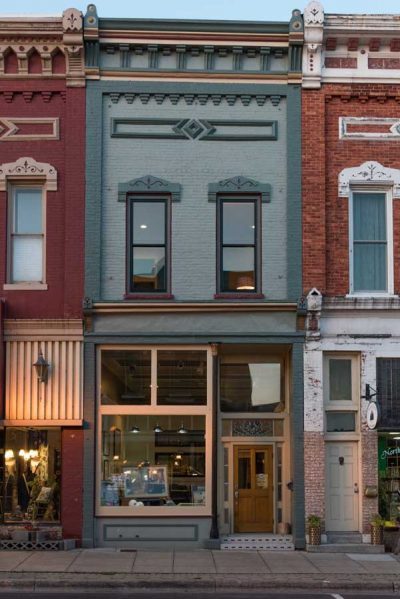 Text: R.Collins 
Manistee, Mich. is a quaint coastal community surrounded by Lake Michigan to the west and Manistee Lake to the east. Its stout north-east peninsula, which reaches gently into Manistee Lake, holds the heart of its downtown and locally-owned Construction Design Inc., or CDI.
Located along River Street in Manistee, CDI's commercial space has recently accommodated a new live-and-work space after the completion of an extensive renovation project by founder Ed Kriskywicz and Tamara DePonio.
CDI is a small residential design and build firm, and while the firm primarily focuses on residential projects, has experience with historic restoration in commercial spaces. Founded by Kriskywicz in 1991 at the age of 26-years-old, CDI has done work in Benzie County, Mason County, Manistee County, and has designed for clients in nearly 26 different states and Nova Scotia. The firm has also been featured on the Destination America channel's show known as Epic Log Homes.
"We've been really fortunate to deal with some nice clients and projects," Kriskywicz said. "I think the difference between us and others is that there are not a lot of other firms in the local area who design and build. We stay with the owners and clients from start to finish."
During his 24 years as a Manistee resident, Kriskywicz has been accustomed to adopting versatility in his everyday life from managing the design and building processes for his clients, to living in his own workspaces and working in the winter when others may not.
"Some of those other coastal towns pretty much roll up the streets when winter comes and Manistee stays somewhat busy," Kriskywicz said. "There is business happening all year round and that's why I like being here in Manistee."
Recently realizing that it was time to upgrade their previous live-and-work space before the coming winter, Kriskywicz and DePonio began the same brainstorming process they use with other clients to craft a new home for themselves and their two dogs.
Versatility is a theme largely present in the newly finished, 1,100 square-foot space since Kriskywicz and DePonio opted for a sleek, modern aesthetic that can be styled effectively for pristine coastal summers and sleepy northern winters. Since the space also rests in the heart of downtown Manistee, flanked by commercial businesses and busy streets, Kriskywicz had to make some strategic design moves.
"With 1,100 square-feet, there is only so much you can do," Kriskywicz said. "The door could only come in from the south side, because we're sandwiched between two other buildings and the north side has two windows at second story height above River Street."
After extensive work on the entire upper level—which comprised rewiring, plumbing, and reinsulating the interior—Kriskywicz discovered the original brick walls where plaster used to be. Upon sanding them to remove oozing grout, he covered them in a clear, dull sealer to exude a clean, simple appearance and left them exposed in many places, much like what is seen at the Village at Grand Traverse Commons. Kriskywicz noted the Commons served as an inspirational space during the renovation process. Where the walls aren't composed of historic exposed brick, they are drywall painted a simple gray and tan hue.
In the approximately 14-foot-by-14-foot bedroom they crafted, there is a 12-foot-by-14-foot walk-in closet in which a stacking washer and dryer are conveniently stowed away. The space also features a set of built-in drawer systems topped with granite countertops, walls garnished with white Simpson three-panel doors, and white crown molding traveling through the kitchen as well.
The kitchen area ceilings, originally separated from the rest of the open space, ended up being lifted from eight feet to 12 feet to match those in the living and dining room, ultimately giving the flooring—composed of five-inch wide hickory tongue and groove panels covered with an ebony stain—the spotlight.
Kriskywicz and DePonio collaborated with Northwood Kitchens in Traverse City to design the kitchen's interior, opting for clean white cabinets atop granite countertops and an island with cherry cabinets, a quartz counter, and specialty trim work to make it appear similar to a piece of furniture. Paired with two full ovens, an island range top, and a stainless steel, deep single-bowl sink with commercial sprayer faucet—all appliances are Frigidaire brand from Max's in Traverse City—the kitchen is as stylish as it is practical.
Keeping in mind northern Michigan winters while also satisfying the cozy, modern feel of the space, Kriskywicz and DePonio installed an electric fireplace as to not create another penetration in the commercial rubber roof.
While renovation work—especially when converting commercial spaces into a live-and-work environment—can have its quirks, Kriskywicz longed to live in the heart of the city he builds his life in.