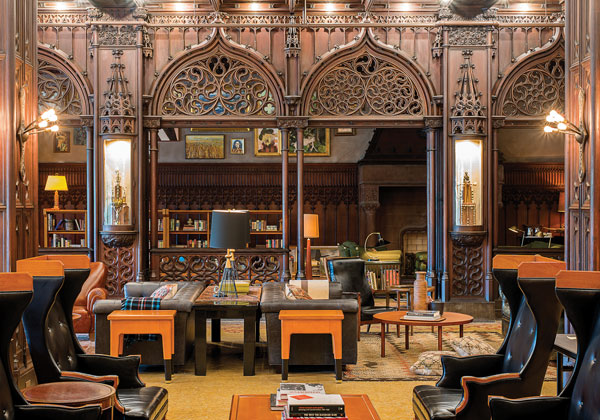 By R.J. Weick
In 1893, Chicago dazzled the world with its display of architecture, industry, and innovation. It was the year in which the White City received its moniker as neoclassical-inspired buildings were meticulously constructed and designed for the World's Columbian Exposition—or more fondly known as the Chicago World's Fair.
As a palatial exhibition began to take shape south of downtown Chicago at the hands of talented architects and artisans, the foundation of the Chicago Athletic Association Hotel was laid by well-known architect Henry Ives Cobb. While the stunning Venetian Gothic building was initially constructed as a private athletic club, more than 120 years later it continues to stand the test of time as a beacon of rich design and modern innovation as a boutique hotel.
Despite its brief flirtation with demolition, the Chicago Athletic Association reopened in 2015 after an award-winning renovation project was completed by a dedicated team of professionals and investors, such as AJ Capital Partners and Commune Hotels + Resorts—now known as Two Roads Hospitality. The restoration project was led by Hartshorne Plunkard Architecture, with expertise from firms, such as:  Roman and Williams Buildings and Interiors, Forefront Structural Engineers Inc., and MacRostie Historic Advisors LLC.
While other developers had plans to tear down the building past the front façade, AJ Capital Partners wanted to keep the entirety of the structure and adapt the athletic club into a 241-room boutique hotel, according to Paul Alessandro, partner at Hartshorne Plunkard Architecture.
The front façade, which had been inspired by the Doges Palace in Venice, comprised Venetian Gothic Revival elements such as: trefoil, lancet arched windows, carved limestone, and patterned brick.
"The building was built at the same time as the World's Columbian Exposition by Henry Ives Cobb who designed several of the Columbian Exposition buildings. It was intended to become a beacon for the development of Michigan Avenue," said Alessandro.
"It's called Venetian Gothic Revival in reference to the style's origins in Venice, but it doesn't really exist as a style outside of Venice except as an oddity. Henry Ives Cobb utilized it for this building, because he wanted something that felt celebratory, exuberant, and fanciful in a city of buildings that were very pedestrian at the time," added Alessandro.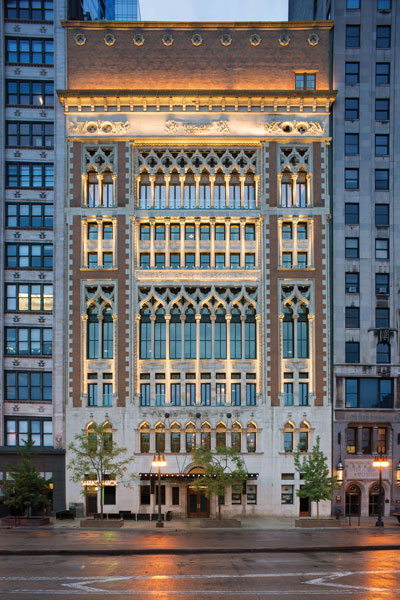 Alessandro and Jim Plunkard, partner and co-founder of Hartshorne Plunkard Architecture, served as partners in charge of the design for the project. HPA is an award-winning architecture, planning, and interior design firm developing inspired and timeless architecture, and fostered sustainable design solutions since its establishment in 1987.
When initially approaching the adaptive reuse of the historic building, which is listed on the National Register of Historic Places, Alessandro noted the one of the main challenges was identifying a reconfiguration solution to align all of the spaces and floors of the building.
"The building had a lot of problems in terms of reuse that were the result of the building being built in three stages," said Alessandro. "There were differences in the floors so that the floors on one side of the building were at a completely different elevation than the floors on another side of the building."
Although the Chicago Athletic Association originally had a rectangular floorplan, it was adapted into an L-shaped layout when an addition was built onto the building in 1906, and a second expansion was completed around 1926 by Schmidt, Garden, and Martin, according to a Historic American Building Survey by the National Park Service of the U.S. Department of the Interior. As it stands today, the Chicago Athletic Association Hotel is more than 235,000 square-feet, with nine-stories and a 19-story annex.
While in some regard the building's original design as a club lent itself well to adaptation into a hotel with its public and dining spaces, ballrooms, and exercise rooms, Alessandro indicated the difficulty remained in moving from one space to another.
"That connection had to be made," said Alessandro. "That was the difficulty we were presented with from the building. The building had also been occupied since day one by the club and over time, in the interest of modernization, there had been a build-up of finishes on historic surfaces."
Throughout the natural course of history, repairs and updates had been made that resulted in a dissonance among rooms in terms of interior design. While one room would have furnishings or decoration from 1893, another would have touches from the 1950s, and yet a third would have finishes reminiscent of 1927.
"Each era the building was updated in had become historic in-and-of itself just by virtue of how long they had been around," said Alessandro. "We couldn't take the 1953 [room] and restore it to what it looked like in 1920; we had to keep it and make sense of it."
Now, the interior design elegantly weaves in the different eras while drawing inspiration from abandoned athletic equipment, furniture, lighting, and paintings. The rich mixture of contemporary and era-appropriate touches pays tribute to the building's history and was completed with input by the New York City-based Roman and Williams Buildings and Interiors. Rooms tease the imagination with warm wood and leather-embellishments reminiscent of racquets; modern curves shaped into brass beds; and complementing vintage oriental rugs.
Building upon the idea of sport and play, the boutique hotel also incorporates pommel horses adapted into benches, boxing-style robes for guests, and wooden gym ladders transformed into wall storage; while continuing to deliver a sense of luxury with Carrara marble vanities and porcelain tile bathrooms.
"This was an early post-fire design and it was intended as a building for all the wealthiest and most influential people in the city. It was the first building that had its own lighting system and generated power in the basement. Lights are integrated into all of the architectural details," said Alessandro.
"It is hard to divorce the interiors from the identity of the building, because they are so integral to how the building lays out," added Alessandro.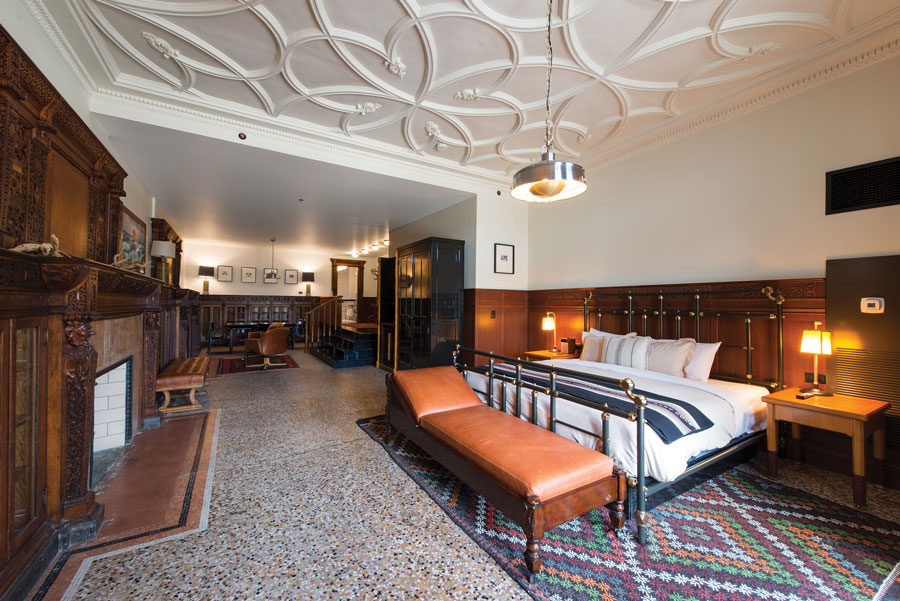 Although the Chicago Athletic Association Hotel features a number of impressive architectural interior detailing, the white stalactite ceiling in the White City Ballroom is by far the most stunning and complemented by the restored Italian Carrara marble floor. Alessandro, who advocated for restoring the room back to its original design, indicated it is his favorite room from a historic point of view.
"The White City Ballroom is completely unique," said Alessandro. "There is nothing about that room that has any precedent anywhere. [Ives] just invented it and it's strange and amazing. It is everything you can imagine an iconic space should be."
The newest rooftop dining addition, known as Cindy's, not only delivers a spectacular view for guests overlooking Millennium Park and Lake Michigan, but also is an architectural feat. Alessandro noted the entire addition is supported on eight points and is suspended within the structural system using giant trusses.
"There were a lot of structural gymnastics to have it up there," said Alessandro. "The exterior walls could not have additional load put on them as the foundations wouldn't hold it. As a result, it is cantilevered out in three directions to avoid touching those exterior walls. It is a structural tour de force and the view from there is probably the best in the city."
Since completing the adaptive reuse restoration of the Chicago Athletic Association and opening its doors to the public, the project has received a number of accolades, such as: AIA Chicago's Design Excellence Award for Distinguished Building, Citation of Merit; Landmarks Illinois Richard H. Driehaus Foundation's Preservation Award for Rehabilitation; ULI Chicago Vision Award for Historic Preservation; and the Chicago Building Congress Merit Award for Rehab Construction.
"Design is important. Even if people don't really notice design, they appreciate it. Things that are well-designed, well-thought, and fit well into daily life are the buildings people come back to over and over again," said Alessandro. "The denigration of art, design, and the humanities is a very bad business decision."
While the echoes and sights of the past are still evident within the very walls of the Chicago Athletic Association Hotel—the sound of billiard balls, the rich 19th Century Oak Bas-relief fireplaces, and the lavish white marble staircase—the iconic landmark along Michigan Avenue has redefined itself as a beacon of decadent celebration. Having achieved a careful balance of modern amenities and aesthetics, while paying tribute to the historical architectural detailing, the boutique hotel once again shines in the White City.
"No architect builds a historic building. When Henry Ives Cobb built this building, it was modern and when I look at a historic building, I look at it as if it is a modern building. What were the ideas that were new, inventive, and novel at the time—and are those still relevant today?" said Alessandro in reference to historic preservation work.
"If you look at a historic building as a dead building, you are never going to be able to do a good adaptive reuse. If you want these buildings to be a part of the fabric of the city, for people to enjoy them, and spend a lot of time in them, you have to make them modern; think about the future and today as opposed to 120 years ago," added Alessandro.
Photos by Brad Pogatetz Photography
---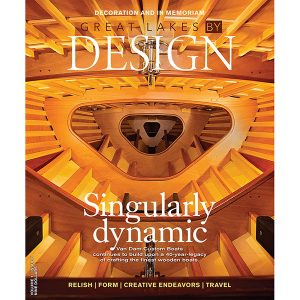 As printed in Great Lakes By Design, Volume 1 Issue 3: Decoration and In Memoriam

Start your one or two year subscription here.