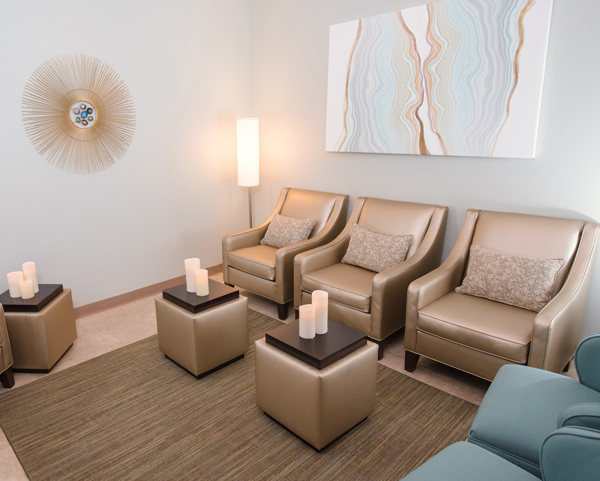 Text: R. Collins
For many northern Michigan businesses and organizations, the serenity of the area's natural environment—composed by sandy bluffs, fresh water, dense deciduous forests, and awe-inspiring seasonal changes—often inspires the design of retail and gathering spaces.
When it came time for Spa Grand Traverse, a full-service spa within the Grand Traverse Resort in Acme, Michigan, to receive an upgrade to its interior design, aesthetics inspired by northern Michigan's natural assets were incorporated during the remodel to not only encourage relaxation, but also a sense of separation from a guest's external stressors upon reopening.
"[We were] looking to find that same balance that is found in nature and wanting to bring that into the spa," said Kimberly Fuller Lewis, principal at Fuller Design, a full-service interior and space planning firm in Rockford, Michigan.
"We really wanted to create a strong first impression and renew the overall ambiance to create a space that was fresh and inviting," Fuller Lewis added.
Natural elements influenced all aspects of the redesign—finished in the spring of 2018—from surface materials to the spa's ingredient menu and finishing touches. In the lobby, a modern reception desk was placed in front of stone white quartzite, amid custom retail display fixtures, local photographs, and oversized pendant light fixtures which diffuse lighting and add interest to the space.
A simple material palette of wood, textured glass, stone, and lime-washed Cyprus was set among a neutral color palette of sea salt, oyster bay soap stone, and light-washed gray. The changes in color and materials dramatically changed the interior's personality, replacing previous superficial structural elements like cherry wood and darker tones.
"We wanted to give people a sense of space so they know they're not just walking into a day spa somewhere," Fuller Lewis said. "They're going to know they're in northern Michigan surrounded by the nature and what draws people to the resort. Even the patterns that we use reflect on nature."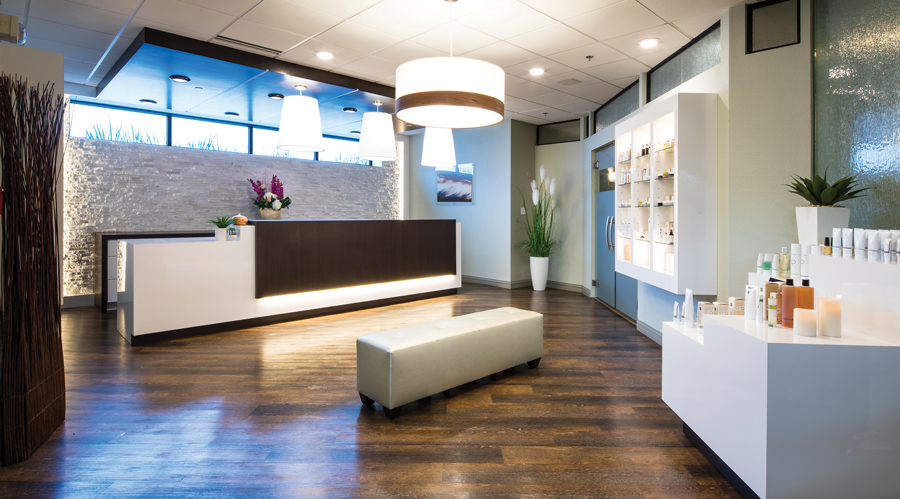 In treatment rooms, honey maple and LVT—or luxury vinyl plank flooring—were introduced to withstand both time and foot traffic; while also supplementing the nature-inspired aesthetic. To finish the process, Fuller Lewis noted that not sacrificing on finishing touches such as pillows, light pendants, contrasting textures, and even succulents to add fresh pops of greenery was as valuable as making the larger investments.
Each element of the redesign served to also reposition the spa's expert services and a new menu highlighting organic wild sage and lavender to promote relaxation and healing. For Spa Director Dawn Olsen, the remodel served to create a tranquil space that will provide visitors with a memorable and comfortable experience that they return to.
"The return clientele like to see that we've invested," Olsen said. "Any time you're patronizing a business it's nice to see them reinvest. We're really proud of it."
Since its opening in 1999, Spa Grand Traverse has positioned itself as an award-winning spa focusing on rejuvenation and utilization of natural ingredients to promote the body's natural healing processes. A variety of services including massage and skin therapy, nail care, and hair artistry utilize a new, sustainable product line, Eminence Organics and aromatherapy line, Body Bliss, to gently assist in restoring peace of mind and body.
Photos Courtesy Grand Traverse Resort & Spa | Nile Young Photography