By R.J. Weick
"Buick has a sense of well-being," said Christopher Hilts, design director for Buick Interiors at General Motors. "What really compels me is this composition of artistry. There is sculptural beauty in every aspect of the Buick interiors."
Hilts was named the director of design for Buick Interiors in August 2016 and has assumed the helm of leading the creative direction for the Buick brands during a rather pivotal and exciting time at the automotive company. Buick's line of luxury sedans and convertibles are once again drawing second-glances with its combination of refined style, seamless technology, and dynamic design. Not to mention, Buick's award-winning Avista coupe concept prompted the development of the Avenir sub-brand, which is redefining elegance and expectations.
As the creative design director, Hilts not only is responsible for leading the interior studio team, but also collaborating with other departments such as the exterior studio team, engineering, manufacturing, and marketing to launch Buick into the future.
"I have an incredible responsibility and opportunity to make sure everything hones back to the brand essence and delivers on the promise to our customers," said Hilts. "It gives me an opportunity to not only interface with different people in the world, but also recognize what Buick means to the rest of the world."
Buick, a well-known brand name that has endured since the turn of the twentieth century, has evolved throughout the decades to offer a portfolio of vehicles designed not only with a sense of style, but also with the driver—and passengers—in mind.
"When you are inside a Buick, you have this very progressive interior that is very clean, very elegant, and everything is designed that way by minimizing controls that don't need to be there—or making it easier for the customer to navigate when they are inside the vehicle," said Hilts. "We tend to group functional controls inside the interior and it's placed in a well-thought-out manner."
In the 2017 Buick LaCrosse, functionality and aesthetics merge into a cohesive interior design intended to enhance the driver's experience. The all-new center console design reduces the number of hard controls, while seamlessly integrating technology and digital content on the ICS, or Integrated Center Stack; the model has the capability to accommodate a heated steering wheel, heated and ventilated drive and front passenger seats, and multi-seat back massage; and the vehicle is engineered with an Active Noise Cancellation feature through its speaker system meant to reduce road noise. Even the soft touch materials—softening lines and adding a subtle hint of richness—have a built-in acoustic functionality that also absorbs noise to create a quiet oasis within the car.
The sculptural sense of calm and well-being infused into every vehicle in the all-new 2017 lineup is the keystone for the brand's design, according to Hilts.
"All of the lines flow from door to [instrument panel], into the console," said Hilts. "Everything has this fluid, gestural movement and we really feel that is part of the key attribute Buick's design creates for customers. It is emotional, it is modern, it is nature-inspired, it is fluid, and it is dynamic."
The process delivering each Buick vehicle, and future concept cars, to the consumer market and ultimately the asphalt begins the same way: with a sketch. Hilts noted while there is a perception vehicles are designed by computers, the notion is not quite correct.
"Computers are used as tools for designers to [create] what they want out of them—more or less their creative expression," said Hilts. "Everything starts with a sketch; pen-to-paper. We use computers to help in the illustration process, but we come up with a sketch and theme everybody can rally behind."
From there, Buick's team of creative professionals bring the sketch to three-dimensional-life with a clay or hard foam, scale model before recreating it as a full-size prototype; often seeking feedback from their customers on the overall theme prior to full-scale reproduction. As an avid boater and outdoor enthusiast, Hilts said he draws inspiration from the shapes in nature—whether it is ripples on the water or on the sand—and often incorporates it into the theme or sculpture found in the Buick brand design.
"When you are in the interior you will see the soft shapes that have a bit of tension to them; a bit of control and discipline," said Hilts. "I take aspects of what I see in nature and apply them. I find a lot of similarities between the things I do outside of work and work itself."
While the composition of artistry is an important aspect of the Buick brand, Hilts noted one of the challenges in the automotive industry is meeting a series of stringent regulations and accounting for human factors during operation of the vehicle. Not only are there federal requirements for vehicles to operate in a certain manner, but also during an event it cannot cause any additional harm. This often means when there are innovative ideas or themes for the interior that use protruding shapes or forms; they are modified to meet specific safety criteria.
"Cars are great products," said Hilts. "It is very challenging. I don't know of any other industry that has so many stringent requirements on it. It is definitely unique."
From the radius on a glove box, and the nestling of shapes, to how all of the interior components come together to deliver a message, the team of design professionals behind Buick Interiors meticulously manages functional criteria while developing a form that is aesthetically pleasing and instills a sense of style customer have come to expect from the brand.
"It is one thing to create sculpture; it is another thing to create a mechanical vehicle that has sculpture to it," said Hilts. "Industrial design is problem solving, understanding 3-D visualization, and applying everything you have in your toolbox to create something beautiful that functions."
---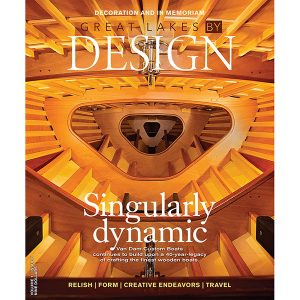 As printed in Great Lakes By Design, Volume 1 Issue 3: Decoration and In Memoriam

Start your one or two year subscription here.