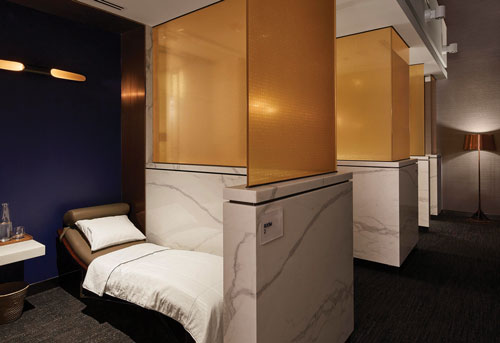 When United Airlines Inc. unveiled its United Polaris lounge at Chicago O'Hare International Airport in December 2016, it set a new precedent and expectation in pre-flight luxury and customer service for its international business class travelers. The lounge, which sets the stage for the on-board cabin experience, is an integral part of the airline's reinvention of international premium travel and at its core seeks to deliver a new standard of guest services by incorporating hospitality-level amenities, luxury, and services.
"The idea for the United Polaris lounge was an outgrowth of the redesign of the on-board experience—redesign of the cabin interior itself and some of the design principles there having to deal with user comfort, luxury, and the experience overall," said Sheyla Conforte, IIDA, NCIDQ, LEED AP, principal and executive director of interior design at Solomon Cordwell Buenz, or SCB.
To provide a continuity of experience between ground and air travel, Conforte noted designing the lounge was really about drilling down into the core elements of that luxury experience and being on-brand with the United Polaris cabin. Recognizing the varying hospitality needs of the discerning business traveler, SCB configured the nearly 12,000-square-foot lounge to flow in an easy-to-navigate, sequential order in terms of functionality and ambient noise level that supports customer choice in the various environments.
As the SCB design team continues to work with United Airlines to bring future United Polaris lounges to airport destinations—and cabin experiences to additional aircraft in the United Airlines fleet—Conforte noted the project is one the firm is very proud of and was the result of a concerted team effort comprising a productive and close collaboration with an airline invested in the success of the launch.
photos courtesy Dave Burk
---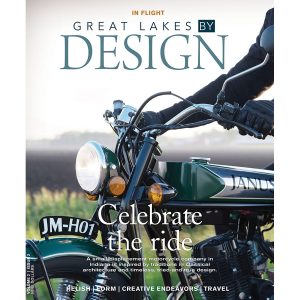 Read the full story in print in Great Lakes By Design, Volume 2 Issue 2: In Flight. 
Cover photo courtesy Janus Motorcycles
Start your one or two year subscription here.