By R.J. Weick
Van Dam Custom Boats continues to build upon a 40-year-legacy of crafting the finest wooden boats.
Vast, powerful, and unpredictable, the Great Lakes are as captivating and dynamic as the watercraft navigating them. While often overlooked by those who have yet to lay eyes on the awe-inspiring expanse and depth of any one of the five freshwater lakes—often hiding sunken treasures just below the surface—the vessels and boats that traverse them require the same amount of craftsmanship and sturdiness as any of its salt-water brethren.
The functionality and performance of the watercraft are as equally important as the aesthetic beauty and style, whether the vessel is a wooden-cutter-rigged sailboat, or a retro-inspired powerboat. It is this concept behind the success that has driven Van Dam Custom Boats, as well as a team of dedicated professionals, for 40 years.
Now celebrating their fourth decade in operation, Van Dam Custom Boats strives to mold each client's dream vessel into reality using their passion and expertise in the boat building industry to create handcrafted, singularly dynamic wooden boats.
"It's a little anecdotal, but we have probably built a wider variety of boats than anybody in the country," said Steve Van Dam, co-founder of Van Dam Custom Boats. "We have done classic, contemporary, retro, and sailboats…We like the challenge, the variety, and doing new things all the time."
Instead of focusing on a particular type or style of vessel, Van Dam Custom Boats designs, builds, and restores boats specifically tailored to each client based on a series different preferences. Since its establishment in 1977, the company has handcrafted vessels such as: rowing shells, a 30-foot canoe stern sloop, a Mediterranean-inspired luxury yacht, 100 mph speed boat, a contemporary military stealth boat, an early 1900s-inspired classic cruiser, an Art Deco runabout, a racing sailboat, and a classic limousine-styled boat.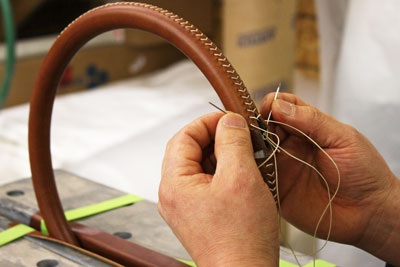 "Everything is custom. We don't have any models that we would pick from so it is unlimited," said Ben Van Dam, N.A., president of Van Dam Custom Boats. "Every [boat] starts with somebody's dream—maybe a napkin sketch—or they saw something they liked and wanted to combine it with three other boats."
Ben Van Dam, who holds a naval architecture and marine engineering degree from the University of Michigan, indicated the design process for each boat typically begins with a conversation and identifying requirements such as speed, size, sail, power, function, performance, and aesthetics.
"We do most of all our design work here," said Ben Van Dam. "We create the boat in the computer and will do everything from structural framing and engineering to the aesthetics, and down to the little mechanisms that operate hatches."
Although the company no longer hand-draws the boat design on a lofting floor, the design team at Van Dam Custom Boats generates a 3-D computer-aided design model incorporating data such as the appropriate technique for building the structural framework, and then is used to produce full-size patterns on mylar.
"It refers to the film they are printed on," said Ben Van Dam. "For us, it is a full-sized pattern we bring out of each frame and that is when the construction starts."
The team uses a process known as cold molding to create the hull and its large structural members. Thin layers of wood are laminated using epoxy adhesive to ensure the vessel is fundamentally durable, stable, and watertight. Since the technique reduces many of the problems associated with other boat-building styles such as rot and water leakage, Van Dam Custom Boats warranties their boats for life.
"The benefits are we have a structure that doesn't have an interaction with water so we don't have the expansion and contraction traditionally-built boats do," said Ben Van Dam.
From the design and build of the wooden framework, the team then moves on to fabricating custom fittings such as polished cutwaters and propeller shaft struts, in stainless steel or aluminum. Van Dam Custom Boats' team also completes the interior woodworking, painting, varnishing, connecting water systems and electrical wiring, and installing engines.
"The only thing we don't do is upholstery and building engines," said Ben Van Dam.
While Van Dam Custom Boats has an extensive and varied portfolio of wooden boat projects today, the company began with a single refurbishing project and a passion to learn innovative wooden sailboat construction techniques. Steve and Jean Van Dam, co-founders and visionaries behind the company, spent time living in Ontario, Canada while Steve Van Dam apprenticed with Vic Carpenter, a master craftsman in the boat-building industry.
Upon returning to Harbor Springs, Michigan the Van Dams launched their company and spent the first nearly 13 years specializing in designing and building wooden sailboats. It was when the company relocated to its current facility in Boyne City that Van Dam Custom Boats began to expand into other markets.
"We had a commission for a couple of speed boats and suddenly the business changed," said Steve Van Dam. "We started doing a lot of power boats."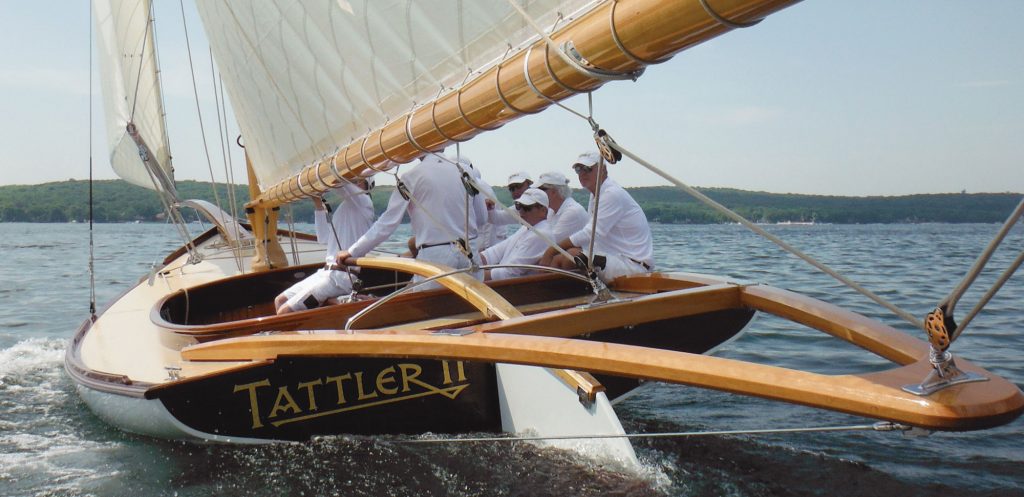 While the design of the power boat was more about the aesthetics, interiors, and details in the early stages, the company quickly evolved design-wise to create dynamic hulls to reduce structural instability and improve overall performance.
"Our techniques haven't changed, but our capabilities for design have been growing every year," said Steve Van Dam.
Ben Van Dam noted boats built by Van Dam Custom Boats are composed of mahogany and there are different species of wood used depending on the structural framework area. In some cases, the company uses plywood to create an "alternating grain direction."
"We take into consideration weight, strength, and durability. If you don't build the bottom right it might fail, but it also many run with a dynamic instability causing it to be all over the place at 80 mph," said Ben Van Dam. "I think design in boats certainly has to take into account the aesthetic, but the functionality of it is huge and small changes can make a big difference at 70-, 80-, or 90 mph."
When considering the hull design of a sailboat in comparison to a speed boat, there is a stunning visual difference that has everything to do with functionality. While a sailboat's bottom shape is typically a simple, one-warped plane, the higher speed boats tend to have step bottoms to reduce the amount of drag and improve balance.
"The steps introduce an air pocket and where the water attaches it is an extremely high pressured area. You lose wetted surface area, but you maintain the pressure that is actually supporting the boat. You basically can go faster with the same size engine," said Ben Van Dam. "It also does some complicated things for how you can balance a boat a high speeds so now you have two pressure centers."
While the company has adapted and evolved throughout the last four decades—both design capabilities and its business in general—the high quality craftsmanship, delivering upon client expectations, and a passion for wood has remained the same.
Jean Van Dam, co-founder of Van Dam Custom Boats, indicated part of what differentiates the company from others in the market is the added dimensions of design and metal working along with the construction capabilities.
"I think the willingness to add these things—the metal working here is off the charts design-wise—help to make our business special," said Jean Van Dam.
Steve Van Dam also noted the range in capabilities is rather unique as well.
"There are not too many places where you could walk in their shop like we have right now and have a nice big sailboat under construction and a high speed retro boat," said Steve Van Dam. "They are diametrically different and there are not too many businesses with that cross over."
With a team of talented craftsmen behind them, the Van Dams are continuing to build upon their boat-building legacy of crafted the finest wooden boats using the latest technology and innovative design.
"There is something about wood: it is dynamic," said Ben Van Dam. "My favorite part is trying to do something better than anybody else in the world and working with a team to build a better boat."
Photos courtesy Van Dam Custom Boats
---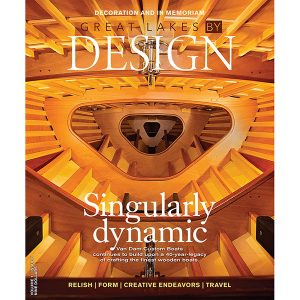 As seen printed in Great Lakes By Design, Volume 1 Issue 3: Decoration And In Memoriam. 
Cover photo courtesy Van Dam Custom Boats
Start your one or two year subscription here.