Text: R.Collins 
In the early 2000s, when the invasive Emerald Ash Borer beetle sparked an epidemic in southeastern Michigan, many trees native to the region had to be cut down and replaced. Then, about five years ago, Jenny Barger, co-founder and director of sales and marketing at Live Edge Detroit, received a coffee table composed of ash wood and beautifully exposed Emerald Ash Borer etchings from her brother Joe Barger.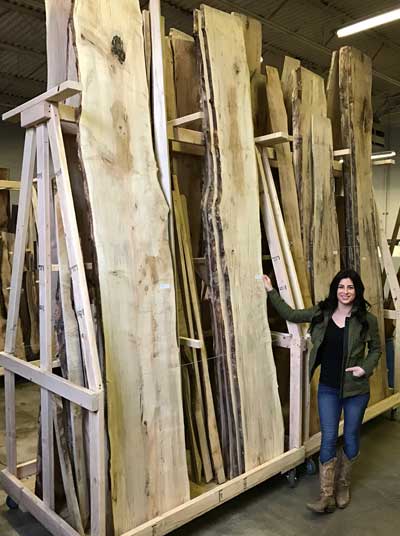 The table sparked a business idea that would bring a new supply of natural materials to Detroit's do-it-yourself and sustainable design scenes, and shortly thereafter, Live Edge Detroit was born. With support from their father, Mike Barger, who is a certified arborist, urban forester, and president of Mike's Tree Surgeons, the Barger family co-founded Live Edge Detroit: the Troy, Michigan-based supplier of salvaged, rough-sawn, urban wood sourced from the metropolitan Detroit area as a division of Mike's Tree Surgeons. 
"Our vision is not to sell lumber, but to re-envision materials that are coming to us as a byproduct of our main business—a tree care business," Jenny Barger said.
She also said instead of allowing old and beautifully developed trees to be reduced to mulch or firewood, Live Edge—named after the wood's natural edge underneath its bark—would give once-sick trees new life by producing useable slabs out of the natural material. 
To transform lumber into raw, ready-to-use materials, the Live Edge team mills logs into slabs on-site before stacking them to air dry for six months. Before putting them out for sale to customers, the slabs finish drying in a dehumidification Kiln. The lengthy process—an approximately nine-to-12-month timeline—in combination with a daily arrival of new logs allow the team to turn over new products every four- to six-weeks. 
 "You can come and watch the process—you can see the logs being milled into slabs and you can purchase a piece of your local community to enjoy for years to come," Barger said. 
The array of tree species Live Edge collects is diverse and varies depending on the tree removal project it is salvaged from. Common species comprise Black Walnut, Maple, Cherry, and Oak; but they also collect less common species like Tree of Heaven, Mulberry, Honey Locust, and Catalpa. While other mills might import popular woods such as Mahogany for retail value, Barger noted that Live Edge's commitment to rescuing local wood introduces customers to underrated species they might have overlooked in the past. 
As a family devoted to sustainability, the Live Edge team uses some of the smaller pieces to make their own finished home goods, such as charcuterie boards, cutting boards, and bowl sets, in collaboration with the Holland Bowl Mill in Holland, Michigan. Barger noted the best way to shop raw wood or finished products is by visiting the warehouse in Troy, but their products are also sold at Long White Beard Furniture in Ferndale, Woodward Throwbacks in Hamtramck, and POST in Detroit. While customers are welcome to watch the transformation process in-warehouse—in an effort to reconnect with hearty, natural materials as an furnishing option—the team recommends visiting one of their local woodworking partners to finish projects. 
"We're surrounded by man-made materials and it's nice to be able to reconnect with something that's natural and to have that warmth in [our] homes," Barger said. 
Beside its relationship with sustainability and quality, Live Edge has forged partnerships with craft enthusiasts, homeowners, and local businesses, such as: Burke Architectural Millwork in Livonia, Michigan; Bordine's Nursery of Rochester Hills and Clarkson, Michigan; and Long White Beard Furniture, among others. Burke Architectural Millwork purchased slabs of spruce wood to craft an outdoor dining table for Vertical Wine Bar in Detroit, and Long White Beard Furniture created a custom entryway table for a residential project; while the nursery produced a small series of finished goods such as planters, bistro tables, and benches. Several notable do-it-yourself projects utilizing Live Edge Detroit wood ranged from wall furnishings and shelving units to end tables, according to Barger.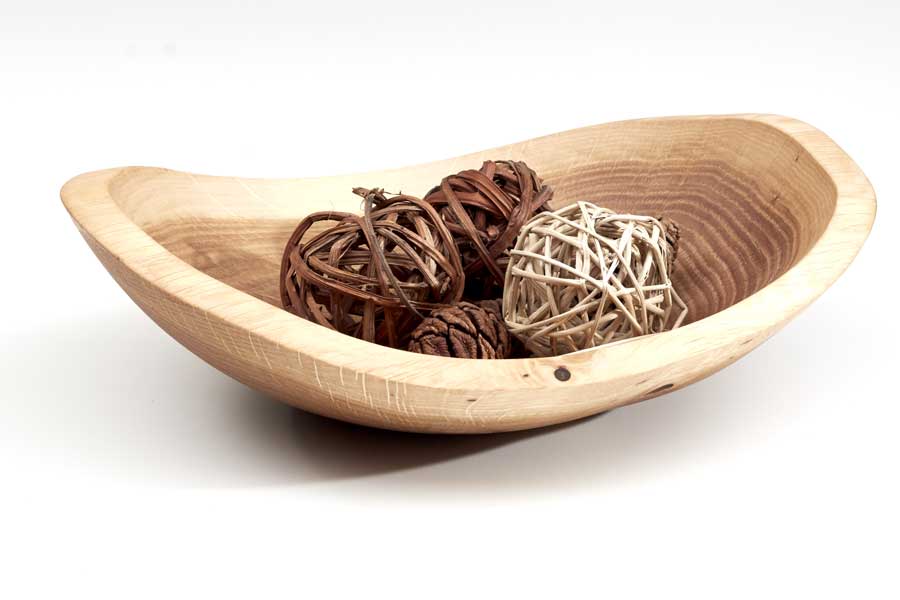 "A lot of people think of the live edge wood as being rustic and cabin-like, but if you have one or two statement pieces in a modern home, it just brings an element of warmth," Barger said. 
In the future, the Live Edge team hopes to continue growing its partnerships with local woodworkers, designers, and community groups. A new partnership was launched in June 2018 with Red Run Golf Club in Royal Oak, Michigan to produce a series of bowls crafted from three trees taken down on the course. The heritage pieces are available exclusively to club members and Barger hopes they will serve as fond reminders of the course for generations to come. 
The team will also begin crafting products for use by the Tiny House Project, which is an effort led by the Detroit-based nonprofit agency Cass Community Social Services to house low-income residents, seniors, and students in 25 unique and low-maintenance tiny homes throughout Detroit. The spirit of a second chance can be traced throughout Live Edge's partnerships as well as their products.
"What we have here is less about trying to sell wood and more about helping these trees find new life after they've had to come down," Barger said.