Since 2009, the Grand Rapids, Michigan-based interior design firm of Deidre Interiors has crafted distinctive spaces for the high-end residential market, and has become largely known for a rich mixing of the bespoke, sophisticated, and comfortable. The firm, founded by Principal and Interior Designer Deidre Remtema, ASID—a long-time city resident—works on everything from downtown condos and lakeshore properties to multi-generational homesteads—largely spaces of renewal that sculpt everyday life.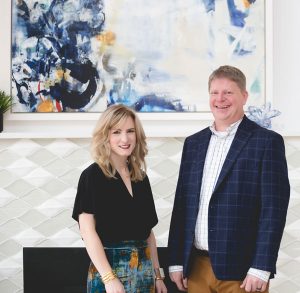 With business accelerating the past few years, Deidre Remtema sought to add architectural services to her growing team to move her firm into fully inclusive, turnkey territory. Luckily, her husband, Jeff Remtema, AIA, proved to be a perfect fit for the job. 
"We met at an architecture firm here in Grand Rapids and always worked separately for different firms and then I started my own firm. Over the last few years, we've become busier and busier and it just got to the point where I really kept needing more architectural support," Deidre Remtema said. "Since it was in the family, it made sense for both our business and our family life to come together and offer both services under one roof."
Jeff Remtema, who had recently worked with the Grand Rapids-based architectural firm of Mathison | Mathison Architects, officially came on board in 2018 as Partner and Architect, and was greeted by a full docket of existing projects that could benefit from immediate architectural assistance. Since then, the pair and the rest of Deidre Interiors' small team have acquired a variety of new projects; some involving new construction and others involving head-to-toe interior transformations. Either way, Deidre Remtema said the team offers architectural and interior design services or can work with separate architecture firms to get the job done. From there, the team follows a 12-step process that includes designing and creating drawings, getting feedback, working with builders, and pricing budgeting.
"We like to follow a well-defined process, but also our favorite part of this—which is killing us right now—is being with the client," Deidre Remtema said. "Our heart is really being with people. We love getting really in depth with our clients and how they live personally day to day."
When it comes to their professional chemistry, Deidre Remtema noted that the pair find comfortable opposites in one another that yield a harmonious balance, while unified in a foundational desire to entirely reflect a client's taste, lifestyle, and inner world. 
"I won't say that either of us work in any particular style," Jeff Remtema said. "We really try to curate our designs to the client's and so we're much more interested in building spaces for them than we are trying to…" 
"…force them into our mold," Diedre Remtema added.
Though stylistically agnostic, according to Jeff Remtema, the couple fully admit that a love for Michigan, its landscapes, and its tendency to host refreshing family homes, often finds a way into their design influences and their own lifestyles. This is something the Grand Rapids firm anticipates becoming more and more prevalent during turbulent times in which one remaining certainty is family and an appreciation for connectivity. Already passionate about creating spaces that bring family together and experiencing them firsthand—such as Deidre Remtema's own generational family cottage—the architecture and interior design firm looks forward to a likely growing market for them. 
"I feel like this time has really helped us just as a country and as a world focus more and more on what's really important to us and what brings us meaning." Deidre Remtema said. "For me, having that family cottage where we've gathered has just really been on my mind a lot, and I think in the future we're just going to continue to focus more and more on those homes that can gather family together and create memories for a lifetime."
Text: R. Collins | GLBD writer
Featured image Lakehouse project kitchen, photo by Werner Straube.