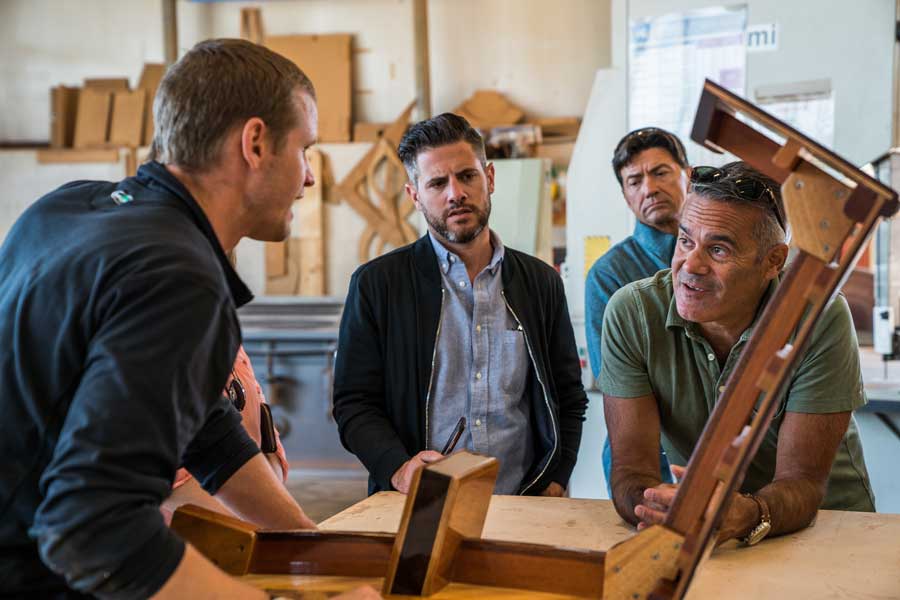 By: R.J. Weick
Buick, the international modern luxury brand of Detroit-based General Motors Co., partnered with Van Dam Custom Boats, a designer and builder of fine wooden boats in Boyne City, Michigan to deliver an exclusive behind-the-scenes experience and lakeside excursion to Boyne City and Walloon Lake on July 17, 2018 through July 19, 2018. 
The event, which embodied Buick's Avenir sub-brand's definition of experiential luxury, not only highlighted the artistry and advanced technology in the design process behind making the Buick Avenir vehicle line, but also featured the craftsmanship in molding functionality, performance, and beauty in each handcrafted vessel throughout Van Dam Custom Boats' more than 40-year-legacy. 
Set against the backdrop of Walloon Lake—the former playground of the literary figure Ernest Hemingway—Buick and Van Dam Custom Boats' joint program was an immersive design experience: from the fleet of Buick Enclave Avenir and Buick LaCrosse Avenir vehicles transporting guests from Hotel Walloon's turn-of-the-century charm to the shop floor tour at Van Dam Custom Boats in nearby Boyne City, and the return ride in the 27-foot Gage-Hacker runabout custom boat featuring African and Honduran mahogany, to the rolling purple and green waves at Lavender Hill Farm. 
Walloon Lake Village once again breathes with restored historic character through its walkable mixed-used, white clapboard-sided buildings, public spaces, and Hotel Walloon—the recently renovated 32-room, boutique hotel designed by Jonathan Borisch, co-founder of Walloon Development LLC; Jeff Visser of J. Visser Design, an award-winning firm in Grand Rapids; and Kathryn Chaplow, Allied ASID, principal designer and founder of Kathryn Chaplow LLC. Driven to recapture the sense of place and vintage charm inherent to the area, Hotel Walloon brings together vintage elegance with early twentieth century hospitality and modern comforts, and has since gone on to be recognized with the AAA Four Diamond Award. 
The careful attention to tradition—not so much in literal translation, but rather in spirit of timelessness—is also apparent in the construction of the larger, next generation exotic, high-performance speed boat known as Victoria Z; or the nearly 44-foot sailboat featuring a 70-foot-talll spruce mast reinforced with carbon fiber nearing completion at Van Dam Custom Boats. Wood species are selected based on their durability and functionality for specific applications; a unique cold molding process is leveraged to mitigate contraction and expansion issues known to other traditional wooden boats; and there is a dedication to authenticity and passion for the dynamism of wood apparent in every project. 
As a material, wood carries an inherent attribute of timelessness, which was a sentiment echoed by both Ben Van Dam, president of Van Dam Custom Boats, and Bob Boniface, global director of Buick Exterior Design.  As a brand Buick strives to avoid the trappings of temporary trends and instead focus on more enduring principles such as proportions and scale, and when using wood-toned elements tries to be as honest as possible to the material while also maintaining consistency with advanced technology to avoid a sense of nostalgia. 
Since launching, the Buick Avenir line has evolved into a portfolio with a sense of style and designed with the driver in mind. Seamlessly integrated technology, a sculptural sense of calm, and textured, fluid interior lines, are paired with an exterior highlight by the three-dimensional mesh upper and lower grille featuring chrome wings, an Avenir signature on the front doors, and a 310-horsepower, V-6, nine-speed automatic transmission. The Buick sub-brand line currently features the Enclave Avenir and LaCrosse Avenir, which were both inspired by Buick's award-winning Avista and Avenir concept cars. With its exterior and interior styling and luxury, and responsive performance, it is no surprise Buick is beginning to attract new customers in North America and engage a growing market in China. 
While the two companies belong to separate fields, there is commonality in design between the boat builder and vehicle manufacturer—in more ways than one. There is a similar attention to detail and craftsmanship in the process, a reflection of form and functional language in both vessel and vehicle, and an inspired drive to bring newfound innovation and artistry to their respective industries. 
Photo courtesy: Jim Fets | Buick