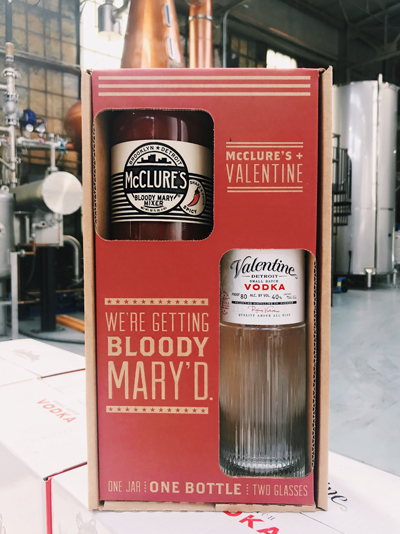 Text: R.Collins 
For years, craft food and spirits enthusiasts have learned to expect quality, care, and tightly-packed flavor from Detroit, Michigan-area natives Valentine Distilling Company and McClure's Pickles. Last week on Aug. 7, 2018, the pair announced a collaboration to renew the 2017's well-received Bloody Mary Mix Kit, in-step with tailgate season. 
The Kit—being released for distribution in late September 2018—includes a fifth of Valentine vodka and McClure's classic Bloody Mary Mix along with two glasses, for $29.99. Rifino Valentine, founder of Valentine Distilling Company, said the kit is a testament to Michigan's lively and growing collective of craft liquor and food products.
"When we started there wasn't much on the radar in terms of [craft items]," Valentine said. "People didn't know what craft was, really, or didn't care about what it was. What we found is that bigger brands are trying to latch onto the craft category [now]. One of the biggest brands out there claims their products are hand-crafted, so this is our little answer to that, too. This is a real craft product." 
For Valentine Distilling Company, the craft of producing the optimal liquor series involves composing small batches from a unique blend of midwestern grains and filtering them slowly through carbonized coconut shells before hand-bottling. McClure's beloved Bloody Mary Mix provides the tangy and robust counterpart to Valentine vodka's smooth composition and texture; the brine, dill, and garlic compose intense, savory accents.
With the Bloody Mary Mix Kit's renewed distribution comes a similarly refined-yet-bold package, which Valentine said portrays a relaxed, tailgating attitude as well as both products' status as top-end commodities in their respective categories, nationally. As both companies show a similar attention to craft and Detroit-area manufacturing, Valentine said he looks forward to continuing an almost decade-long relationship with McClure's that will continue to show the success that Michigan businesses can garner using quality manufacturing, dedication, and ingenuity as tools.
"This is good for the region; this is the way manufacturing used to be done several decades ago," Valentine said. "This is more than a best-quality product in the end; this is part of a U.S manufacturing story." 
Valentine Vodka has been named the World's Best by The World Vodka Awards in London in 2016 and 2017. Valentine Distilling Co.'s 10-year Mayor Pingree Blue and Black label bourbons received the Double Gold award at the San Francisco World Spirits Competition 2017. The company's award-winning vodka, gin, and bourbon are available in seven states, Western Europe, and Ontario. 
As a family-owned and operated company headquartered in Detroit, McClure's products are hand packed by one of its talented team members. All products are gluten-free, all-natural, and kosher certified through Michigan Kosher Supervisors, OU. McClure's currently distributes to more than 4,000 national and independent retailers throughout the U.S., U.K., Australia, and New Zealand. The company's portfolio includes high-quality, all-natural pickles, specialty drink mixers, and premium salty snacks.
Photo courtesy: Valentine Distilling Co.