"I have always had a love affair with architecture and woodworking," said Jason Sharp, founder and craftsman of Terroir Wood Studio in Boyne City, Michigan.
Named after the French term 'terroir,' which loosely translates to "a sense of place" and often referenced in relation to the natural environment from which a wine is produced, Terroir Wood Studio is an independent artisan woodworking shop based in northern Michigan. Specializing in crafting custom heirloom furniture, much of the studio's work is based on the sum of the effects that the environment has on the end product, mimicking the beauty of the natural world.
"My grandfather was my biggest inspiration in my woodworking career early on," Sharp said. "He had a little workshop in his basement, so we would go down there, and I would watch him build things. It was where my introduction to woodworking started."
After Sharp's interest in woodworking was initially sparked when he was young, he went on to take woodworking classes in junior high and high school. Later, he purchased and remodeled a number of houses, which grew his passion for the craft even further.
"In 2009, I lost my job as a chef and started down the struggling road of becoming a full-time furniture builder. I haven't looked back since and it has been a great evolution," Sharp said.
In 2012, Sharp and his wife moved to Alaska, where they lived for two years. During that time, Sharp worked in a custom mill shop specializing in custom-made furniture and staircases, while also making some of his own furniture designs on the side. Sharp indicated that he officially launched Terroir Wood Studio full time when he and his wife moved back to Michigan in 2014.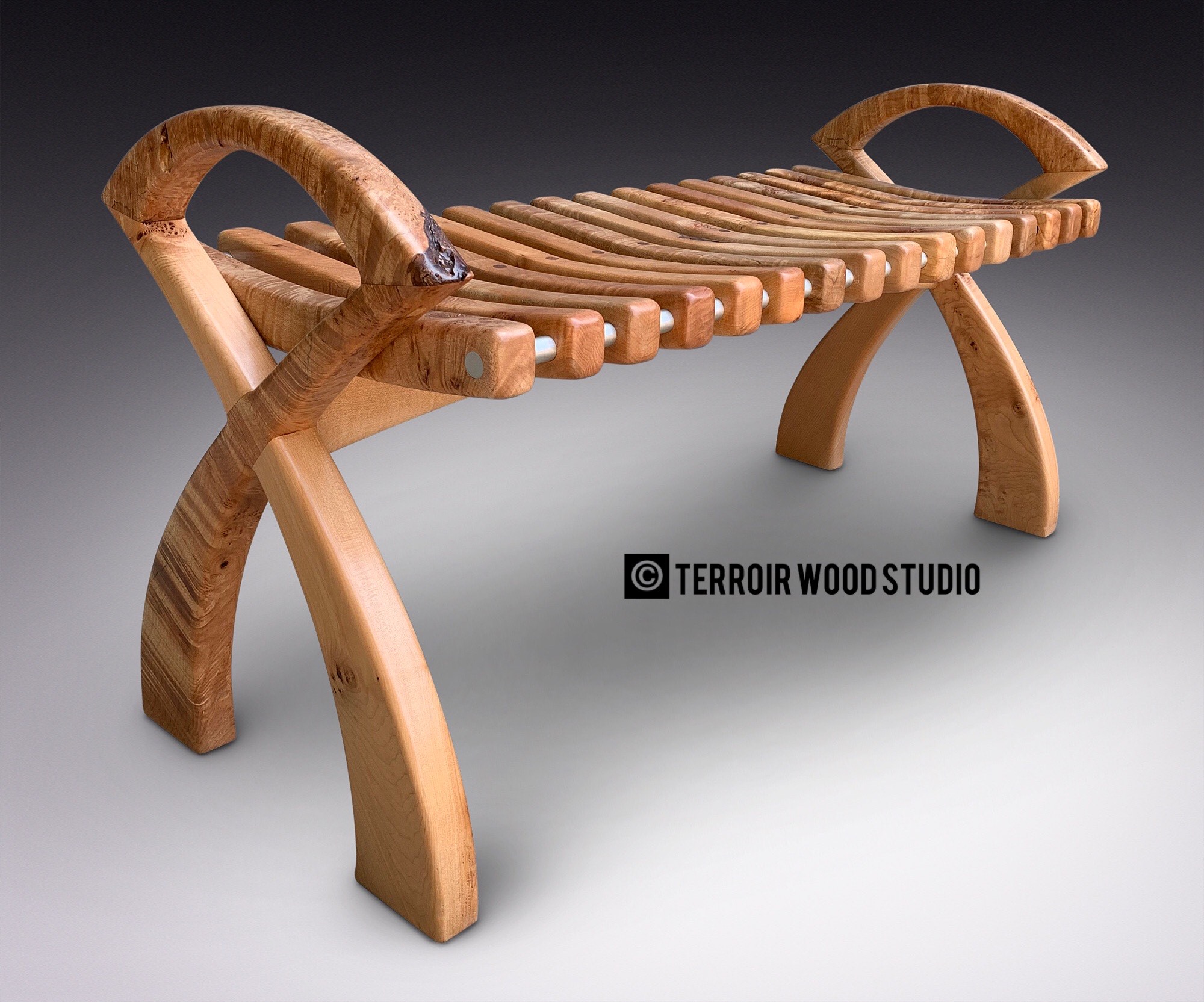 Much of the furniture Sharp builds is made from rare, heavily figured hardwoods. A few of his favorite woods to work with are big-leaf maple, curly cherry, curly maple, curly redwood, redwood burl, and figured walnut.
"Those just have such a distinguished pattern to them that really helps define the work. It is like functional sculpture in that the grain can change a piece dramatically to make it special," Sharp said.
"It is such a challenging medium to work in, because even though the tree is dead, it is still living and breathing," Sharp added.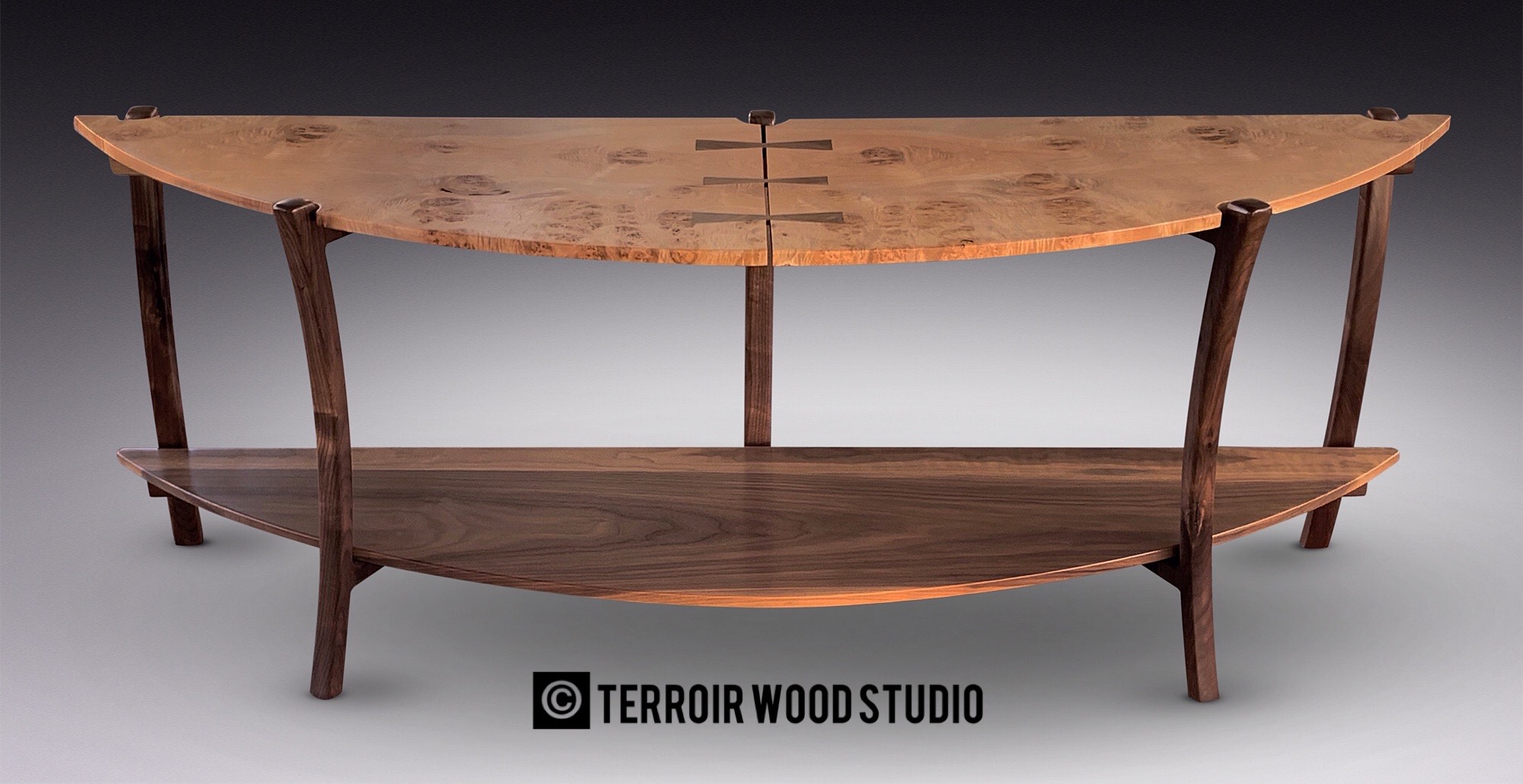 Sharp indicated that when beginning to design a furniture set, he typically looks at his wood supply, which assists with guiding his ideas. He prefers to build pieces in a set out of the exact same log so there is continuity in the grain and color, creating a balanced aesthetic and drawing unity between the pieces. Before actually building, Sharp will complete a series of drawings, and then create a small-scale model of the furniture, to perfect his vision for each piece.
"A lot of my creativity seems to come to me in my sleep. I'll have these dreams about pieces and complex joinery that I can put together, and that is sometimes where it starts," Sharp said.
"I like curves a lot, so almost all my work has some sort of organic, sculptured curve to it. I don't really do anything that is very squared off; I like gentle curves, I just think it really adds to the piece," Sharp added.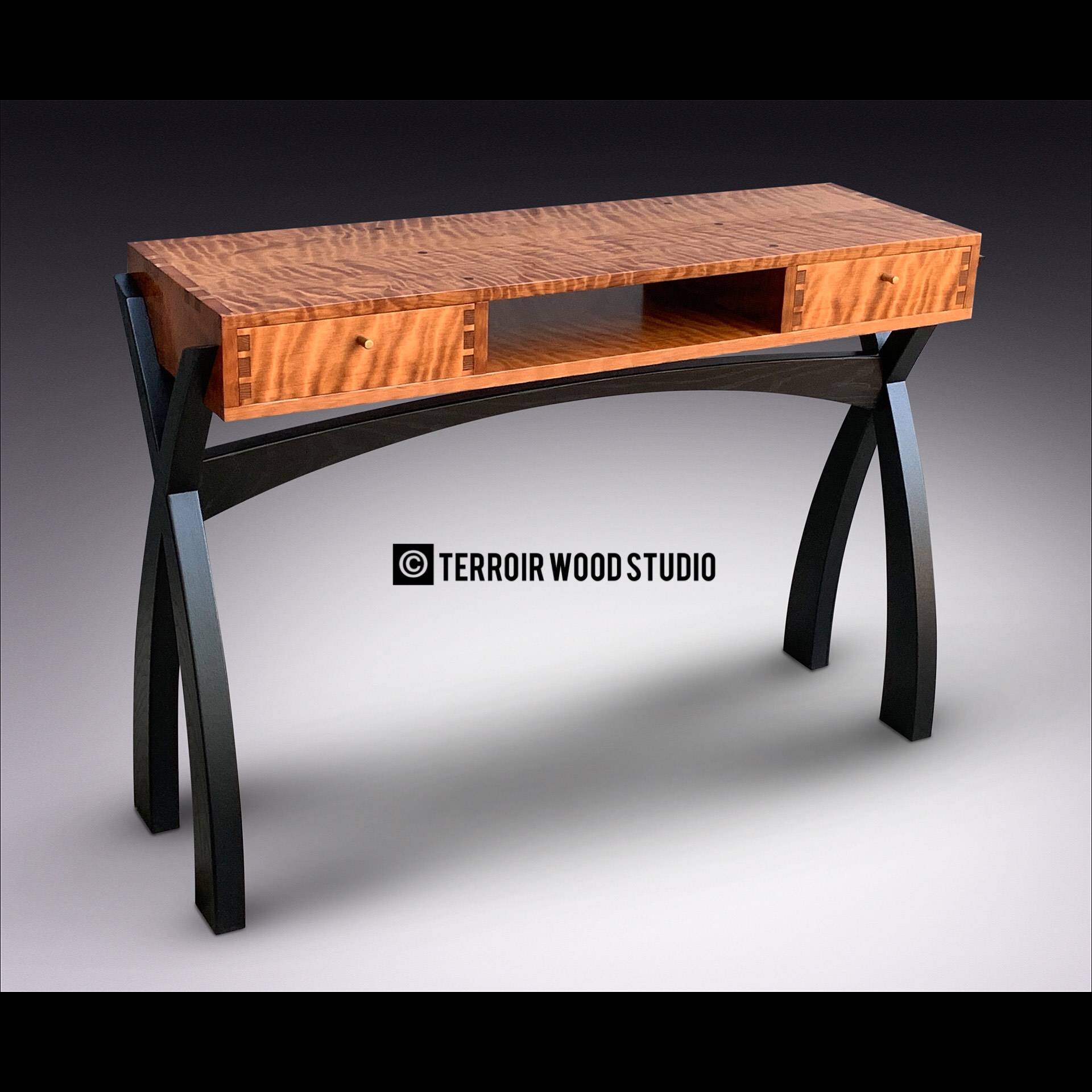 Although Terroir Wood Studio is based in Boyne City, Sharp completes custom orders from all around the country, building much of his clientele from attending and showing his work at furniture shows throughout the United States. This past year, during the pandemic, Sharp has not been able to travel and display his work at shows as much as he would like—although the extra time has lent itself to other opportunities, such as taking on apprentices to share his knowledge and love of woodworking with. For Sharp, he hopes the future allows him to continue to grow his business, travel and attend more furniture shows once again, and continue to be able to teach and share his love for the craft to apprentices.
"I am a one-man workshop; the biggest thing [with my work] is just the attention to detail, I think it is something you can't get with mass-produced furniture," Sharp said. "With each piece, you can tell that it has been touched by a hand and crafted by hand, and I think that is something that just really separates [my work] from a mass production."
Text: Brenna Buckwald
Photography: Terroir Wood Studio