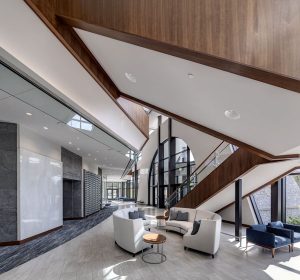 Nearly a year ago, northern Michigan gained a world-class performing arts complex and venue that continues to provide the area with a meeting space for regional arts communities and internationally-acclaimed artists. The Great Lakes Center for the Arts has been called a big city experience on the shoreline of Little Traverse Bay in Bay Harbor, Michigan, and its architecture, technological features, and overall mission position it as such among the Midwest's centers for art and entertainment. 
Designed by architecture, design, and engineering practice TowerPinkster, the nearly $25 million structure was part of a community cultural plan nearly 20 years in the making, which specified a need for an additional state-of-the-art performance and event complex besides the Interlochen Center for Performing Arts about 90 minutes away. TowerPinkster collaborated with strategic consulting partner DeVos Institute of Arts Management at the University of Maryland, as well as the center's co-chairs, general contractor, The Christman Company, and Fisher Dachs Associates to bring plans for the resulting approximately 33,500-square-foot complex to fruition. 
Its mission has been to inspire, entertain, and educate through the performing arts by hosting year-round performances, affordable ticket pricing, and robust educational programming. At its core, the center also aims to serve as a cultural and social hub for the Northern Michigan region, and since its opening in July 2018, it has arguably succeeded.
"We've used the space much more than our [initial] goals so we're happy about that," said Jill O'Neill, executive director at the Great Lakes Center for the Arts, or GLCFA. "We'll have had more than 65 performances in our first year and nicely north of 20,000 people coming through the space. Some of the months that are often quieter in northern Michigan, we've been busy."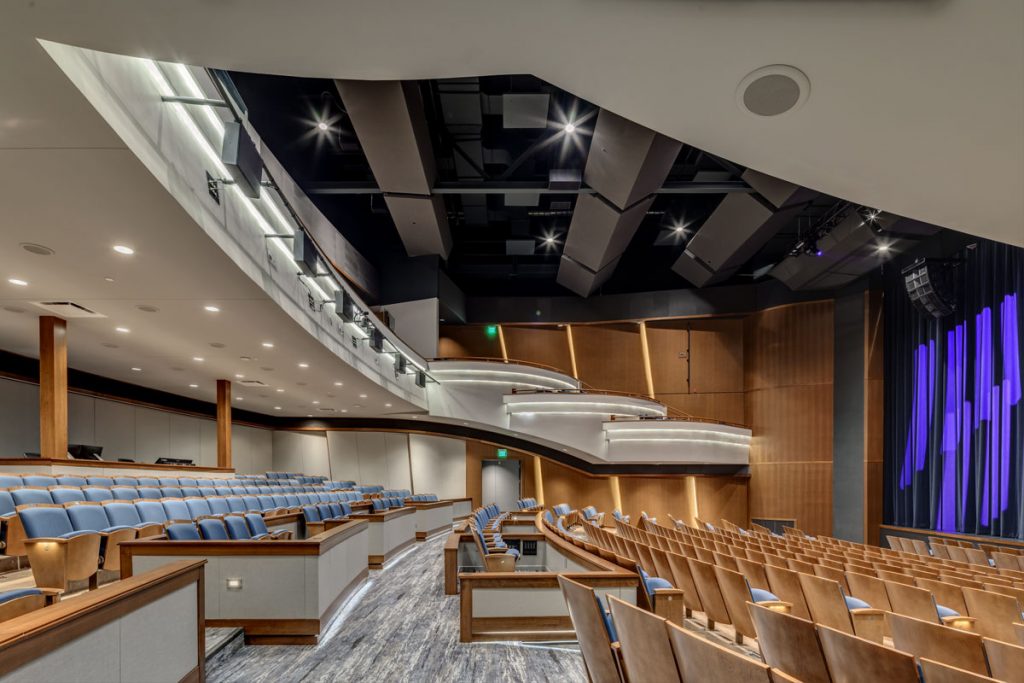 O'Neill also indicated more than 2,500 students from nearly 30 different educational programs have walked through the center's doors, and she enjoys watching their reactions upon observing the two-story lobby atrium and its expansive glass sheaths and archways. Designed specifically with northern Michigan's natural features in mind, the complex features a 525-seat theatre, donor lounge, rooftop terrace, and community engagement room, among other spaces in which visitors are met with world-class performances amongst scenes of the region's natural beauty.  
The theatrical planning and design firm, Fisher Dachs Associates—which has previously constructed theatrical spaces for more than 20 performing arts centers internationally—crafted the center's theater to hold a stage capacity of about 3,000 square-feet and feature surrounding paneling and wall treatments that emit sail shapes, shale rock layers, and sediment. Details throughout the interior like copper panels and micro-thin slate add natural land elements which frame those inspired by the water, such as the undulating wave patterns appearing in tile work, carpet, or wood treatments that appear throughout the atrium. The other main design inspiration, O'Neill said, was northern Michigan's picturesque sunsets, which are captured by the complex's wide use of glass. Transparent barriers preserve and celebrate views of the harbor and the sunsets that frame it, marrying a visual connection to the outdoors with the best of national and international performance. 
"Patrons don't have to choose. They can come and have this amazing world-class performance but also enjoy the outdoors during intermission and before and after the performance," O'Neill said.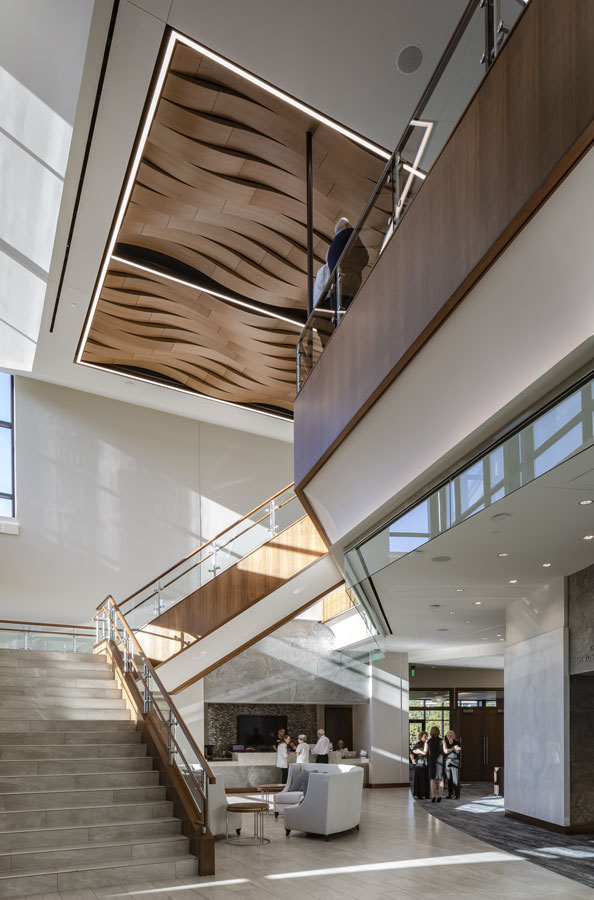 During its first year, the GLCFA has not only succeeded in its programmatic goals, but also adapted its features to form different iterations of their original purpose. On the lower level, the community engagement room has served functions from banquets and business events to dressing rooms and costume shops; and the stage itself has hosted a theatrical dinner for the center's first donors. An approximately 45-foot cinematic screen was also added to its repertoire in the fall for additional programming. 
Kicked off by a gala featuring the Detroit Symphony Orchestra and other performances, the center's first year comes to a conclusion this July 2019, and its second will feature an equally varied lineup of artists, symposiums, festivals, and educational programs. For O'Neill, its technological suitability and comfortable atmosphere create a lasting center for community engagement and the ever-relevant pursuit of art in its many forms. 
"That combination allows artists and arts organizations to grow and thrive, and it's been rewarding to see that happen for regional arts organizations," O'Neill said. 
"We have a tremendous number of non-profits engaged in the performing arts and seeing their audiences grow—with sell-out performances for some of these regional groups—some people are saying that the groups sound as good as they've ever sounded. It's rewarding to see that come through and to help arts organizations grow in their mission; and then in our mission to bring world-class artists to this part of the region and add to that the quality of life," O'Neill added. 
Text: R. Collins | GLBD writer
Photography: Great Lakes Center for the Arts