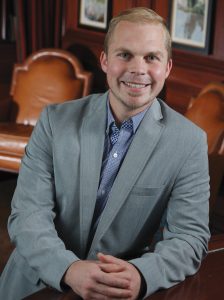 "A few years ago, I really decided to embrace the idea of you don't know what you don't know. Our job is something that the best of them are in their prime when they are in their final stage of their career, potentially, and it is because you can continue to master more and more of what goes into the building since there is so much to it," said Kevin Montgomery, AIA, LEED GA, architect and partner at KrM Architecture+ in Indianapolis, Indiana.
Montgomery's own beginning with architecture was somewhat of a family affair: his father is a practicing architect and his grandfather founded KrM Achitecture+ in Anderson, Indiana in 1978. Despite the assumption he would become an architect, especially now that he has been a practitioner of the field since 2010, Montgomery said he had initially thought of becoming an engineer due to his love of physics.
As Montgomery continues to lead the Indianapolis studio, building its portfolio and working on civic, library, and educational spaces, he said what he is most excited about now is this identity of trying to be the master builder—an older term for an architect.
Full text available in our print edition, Great Lakes By Design, Volume 2, Issue 6: Architectonics available to purchase now or with your subscription.
To learn more about Montgomery, visit their site, krmarchitecture.com