Built high into the steep, dune bluffs in Leelanau County, this contemporary lakefront home transcends traditional vernacular as it stands witness to the drama of a dynamic Lake Michigan theater. Magnetic and mercurial, the lake is one of expressive hue, shifting sands, and powerful currents set amid ancient forests, towering headlands, and islands of tilted limestone layers buried beneath glacial debris.
There is a constant in its transformation, as shipwrecks and natural landscape court the imagination, and for the homeowners of this waterfront residence built just north of Sleeping Bear Dunes National Lakeshore in view of South and North Manitou Islands, the idyllic setting of Lake Michigan served as the next chapter in their own narrative. Though initially from Michigan, husband-and-wife Chris and Ginger Yost had since made their home in Colorado and wanted to do their due diligence before selecting a location for their dream home. After looking at a number of other freshwater lakes across the country, mostly in the West—Lake Pend Oreille, Lake Coeur d'Alene, Lake Tahoe, and Flathead Lake—the couple noted that the process just solidified their view that northern Michigan, specifically Leelanau County, was where they wanted to build.
"My parents had a place up here near Northport, so we had been coming up here for years," Ginger Yost said. "We were debating between an interior lake and Lake Michigan, and after looking at properties on North Lake Leelanau and Glen Lake, as well as Lake Michigan, we made a list of the most important attributes to us. Our choice was ultimately guided by two main factors: sunset views over the open water, and as my dad always said, they can't make another Lake Michigan; there truly is and forever will be only one Lake Michigan."
While not avid boaters, per se, their draw to Lake Michigan was due to a love of sunsets, walking on beaches, and, in a subtle way, their own engagement story on South Manitou Island roughly 35 years ago. It was shortly after, while driving around the Harbor Springs area, they had a conversation that would serve as inspiration for the name of their dream house: Someday.
"He pulled up to a beautiful, timeless house and said, 'someday I'm going to buy a house like that for you,'" Ginger Yost said. "I just remembered that when we were swimming last summer, it was so clear in my head, and that is where 'Someday' came from."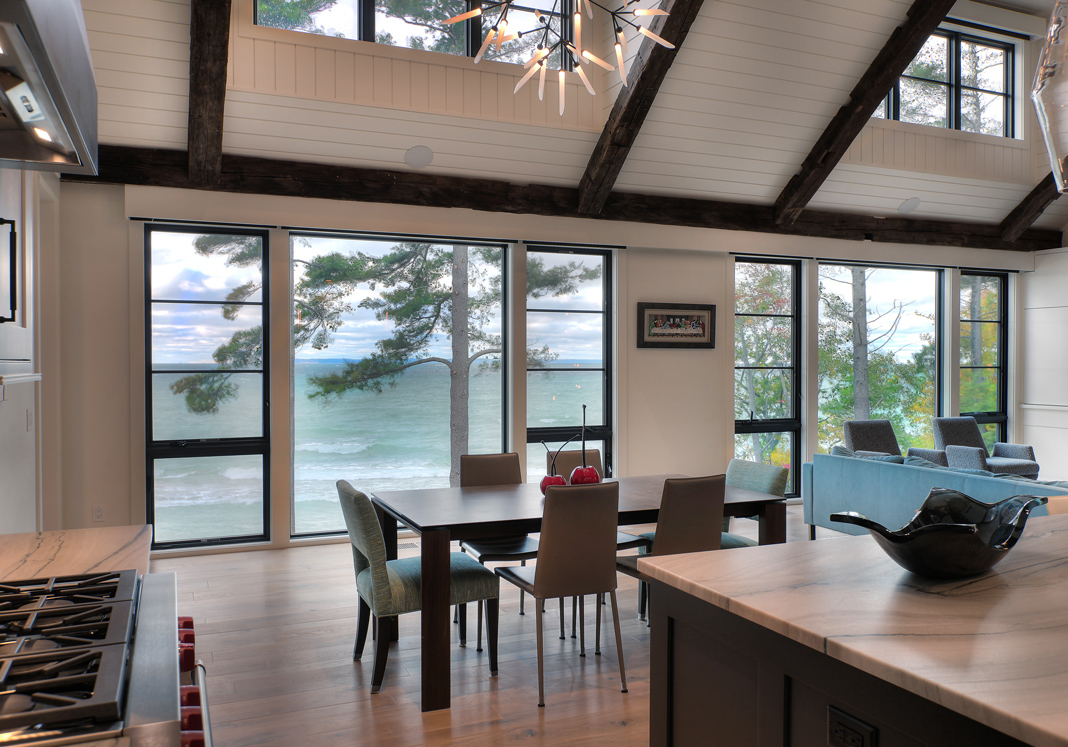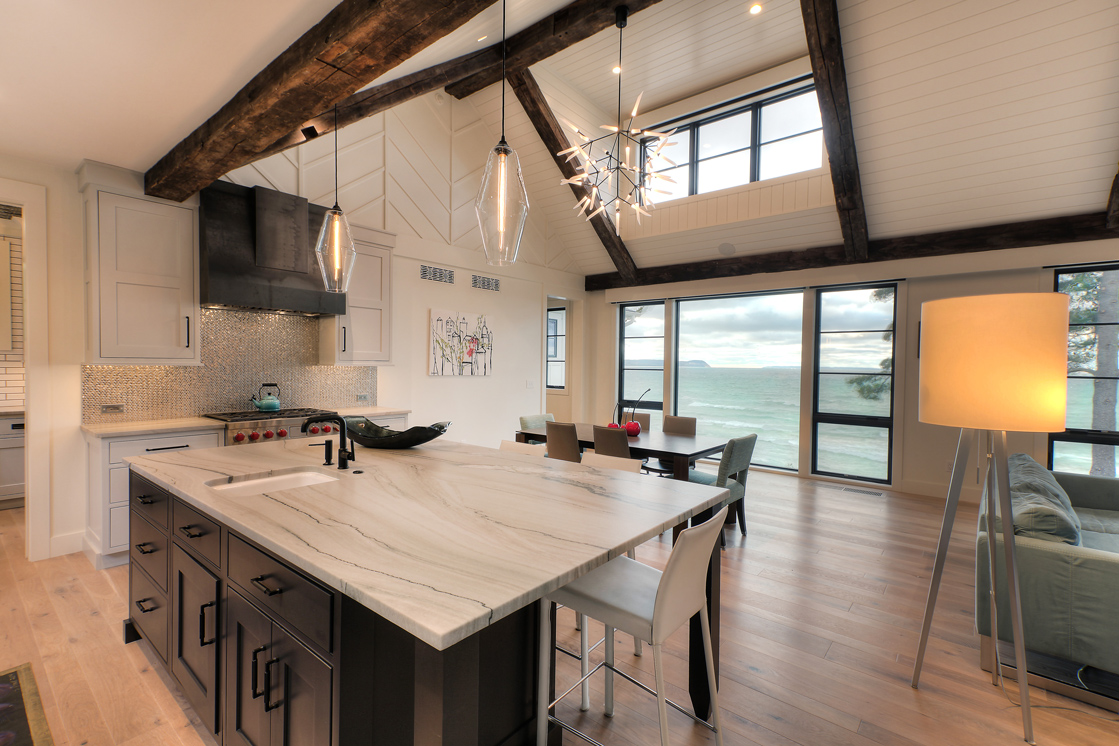 To help realize their vision, the couple looked to the combined design and build expertise of Kitchen Choreography LLC of Traverse City, Michigan; J. Peterson Homes of Traverse City, Michigan; J. Visser Design of Grand Rapids, Michigan; and Jack Barnwell of Jack Barnwell Landscape and Garden Inc. Chris Yost noted they had been looking for about a year-and-a-half and had actually been in the process of acquiring a different site in Leland, Michigan when coming across a recently subdivided property hitting the market.
"Back then, when it was just undeveloped, the bluff was high all the way across. So, then we started tinkering, I mean we loved the beach, we loved the view, we loved the fact that it is on the Good Harbor Bay and that the Sleeping Bear Dunes National Lakeshore starts wrapping the shoreline about a mile-and-a-half south, and it goes all the way around Pyramid Point so that shoreline is never going to be developed. We won't be looking at lights or a high-rise or anything else. We said, 'let's talk about how we would build on this lot' and then our plans just started growing from there," Chris Yost added.
Joel Peterson, owner and president of J. Peterson Homes, said when this particular site became available with its spectacular views of Pyramid Point, Manitou Islands, and the protected bay, it was a perfect opportunity.
"It just had everything they had desired," Peterson said. "Any site on Lake Michigan is challenging to some degree, some more than others, because you do need special permits oftentimes. This property did not need any special permits, because it was not in either Critical Dune or High Risk Erosion, so if you are not one of those two types of properties, then you are just following the county restrictions, which you still have to be very experienced at building on those kinds of sites."
Peterson Homes is a custom home builder specializing in building and renovating residences in northern Michigan. Initially founded in 2013 in East Grand Rapids, the company has since relocated full-time to its office in Traverse City. Backed by a team that strives to maintain client trust, Peterson noted their process is client-driven and takes pride in the fact that their portfolio reflects a range in scale and style.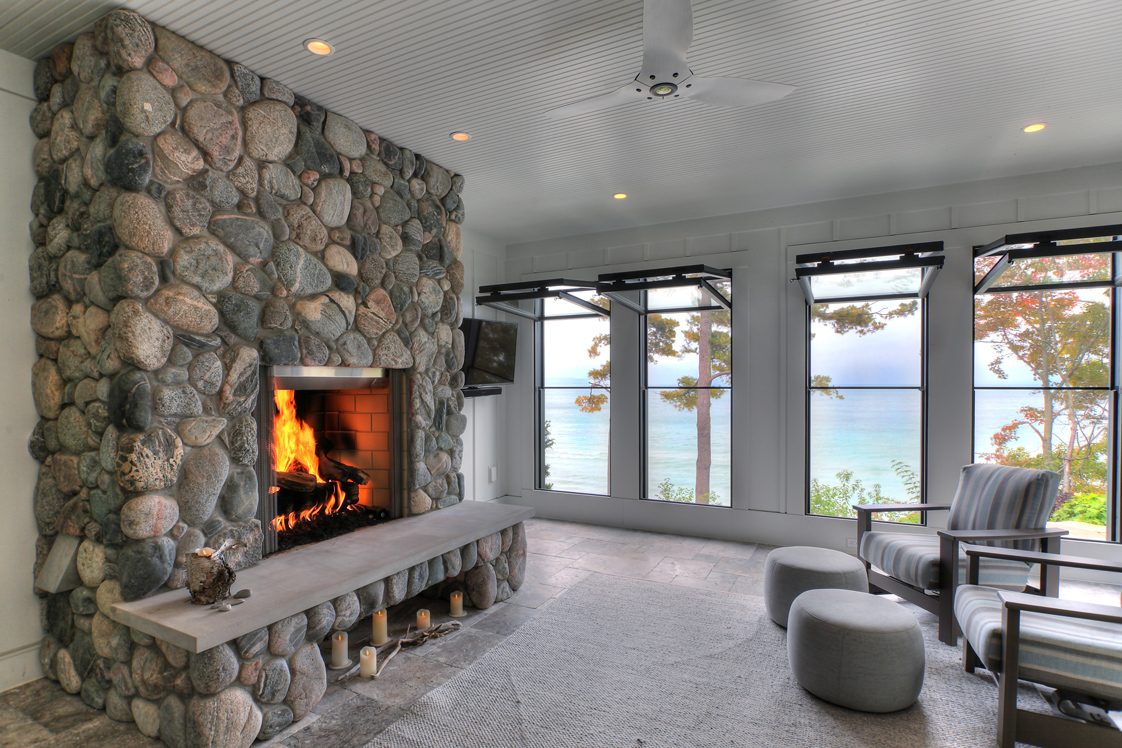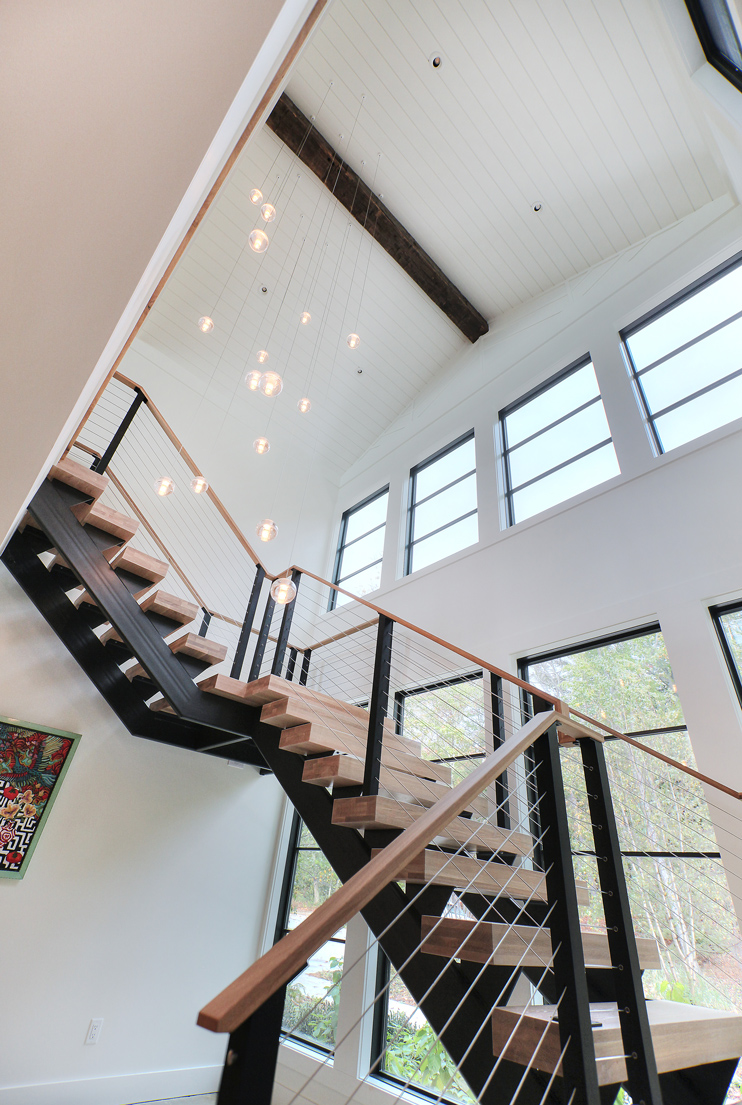 Though the Yosts' residence underwent a few iterations downscaling to align with the clients' vision, the design of the house as it now sits in its timber and dune landscape was largely informed by its sloping lot. Chris Yost, who was heavily involved in the design process, said the number one goal was to take full advantage of the beautiful views, both lakefront and forest, and the nature of the bluff really informed the home's structure and orientation.
By leveraging its elevation change, both the upper and lower level of the home could incorporate walk-out patios, which in Chris Yost's mind, maximizes usability and views while at the same time offering a pleasing exterior aesthetic compared to a traditional deck. He also noted there was a design challenge of balancing efficient use of space, with the ability to accommodate large groups of family and friends when they visit.
"I was not interested in creating something that is big for the sake of being big or in making a statement.  I don't think that is environmentally prudent, nor is it financially prudent. The reality is that we wanted to be reasonably efficient with our design," Chris Yost said. "The front stairwell was an important component of our design with the two stories of windows wrapped around it and the other design features came together around that stairwell. We didn't want to design a house for a group of 15 people who might only be here once a year. We wanted it to be comfortable when people do come, but we did not want a bunch of bedrooms or other living spaces that aren't touched for six or more months out of the year."
Informed by an affinity for lakefront living, a potentially growing family—complete with grand-dogs—and a love for cooking and entertaining, the couple's overarching vision was to take full advantage of its waterfront setting, as well as the wooded side to the east, from every location.
Upon approach, an exterior of board and batten siding and natural split stone invites the onlooker along landscaped pathway to its lower-level entrance, offering a direct view through to the shoreline bluff and expanse of Lake Michigan beyond the front door's glass panes and bold red trim. In the foyer, the eye is drawn into and through the space in a dissolution of boundaries as it opens into a family room, bar area, and lakeside walkout patio. Featuring stained concrete flooring, a cedar-clad ceiling, and a quartzite countertop in a leathered finish paired with a bronze-hued backsplash that evokes an image of pebbles in shallows, the bar area then leads to a bunk room ensuite, or Sleeping Bear Den, where a workout room, bathroom, and laundry space can be closed off from the central gathering area.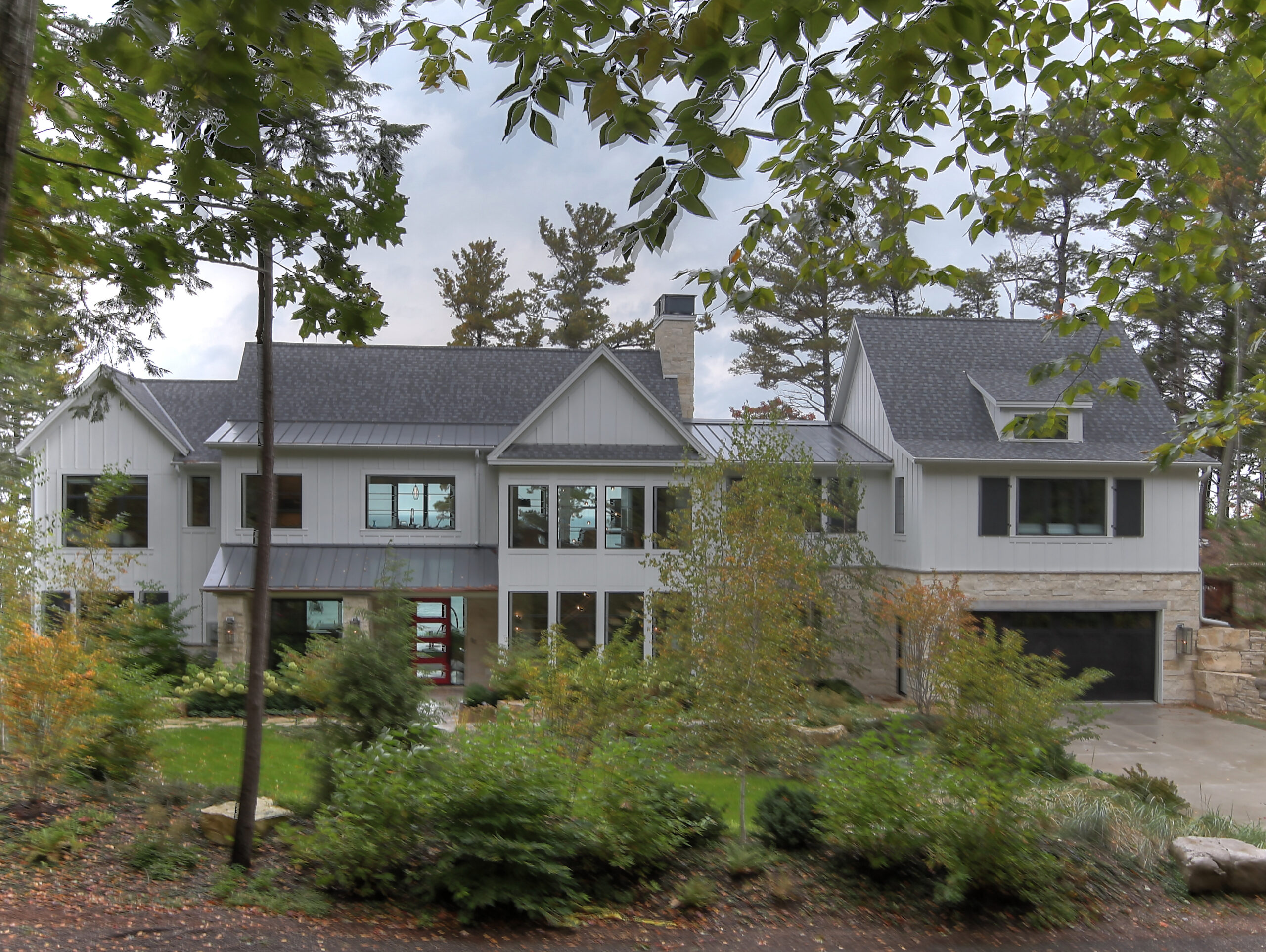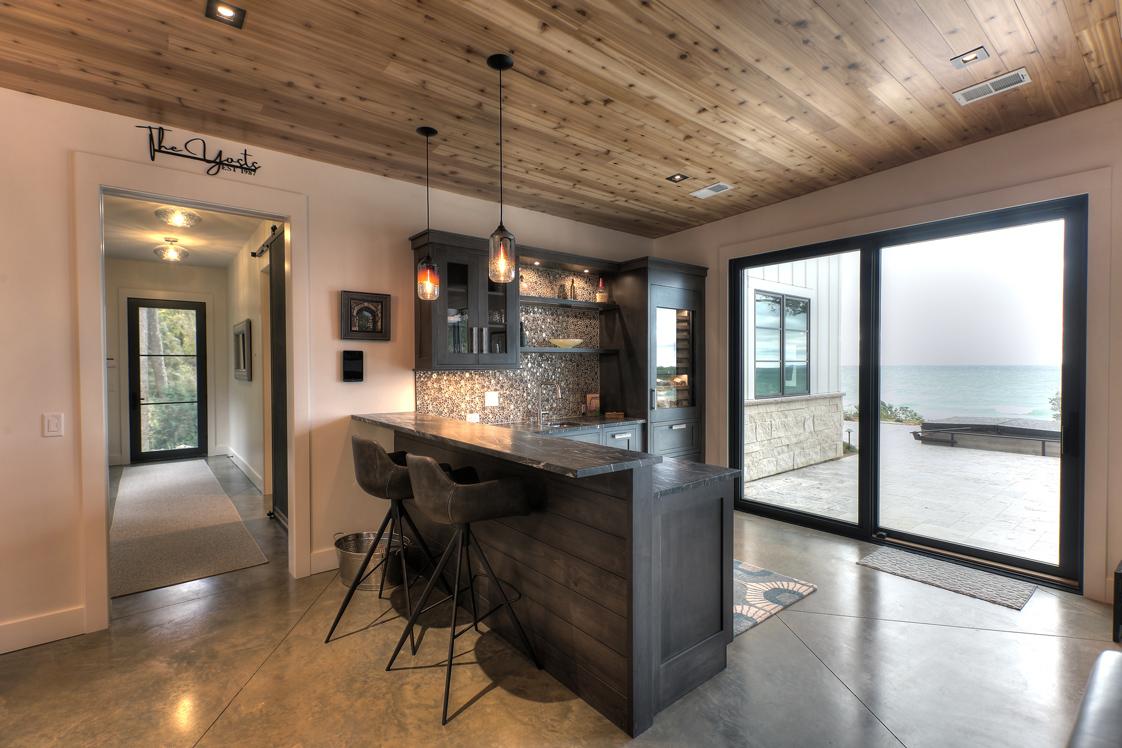 Moving from the bar opposite the bunkroom, a barnwood wall is flanked by columns clad in Solstice Stone of snow-white granite with dark gray veining and two-sided light fixtures of minimalist, vertical line. The barnwood and stone—finished in a proprietary process of finely scoring and chiseling—serves to conceal a mechanical room as well as a backdrop to the stairwell that leads to the upper-level.
Filling the two-story volume, set against a series of windows, the stairwell is a design statement complete with a cluster of articulated, cast-glass sphere pendant lights giving an ethereal, albeit minimalist impression. The upper level unfolds in an intuitive, open concept layout, where the kitchen serves as the heart of the home. Featuring live sawn white oak flooring, shiplap ceilings, reclaimed barnwood beams, vaulted ceilings, and clerestory windows, the space opens up to the dining and living spaces, where a floor-to-ceiling rolled steel fireplace anchors the space.
"The big thing about this space certainly is that it is one room, which is common of course to have an open floor plan and have everybody involved, but when the Yosts host, they are very comfortable with everybody hanging around the island while Chris is doing his thing. Including a butler's pantry provided a lot of extra space to store and prep for entertaining without having to have all the untidiness and everything visible," said Angela Goodall, co-owner and designer of Kitchen Choreography.
"And we used the lighting in another way to kind of dictate each space, so in the dining and living room, even though we used these two symmetrical chandeliers, they do specify where some of the furniture placement happened," Goodall added.
Kitchen Choreography is a husband-and-wife-led team of kitchen designers, project managers, interior designers, and craftspeople located in Traverse City. The studio, initially founded as a cabinet supplier in 2003, has since developed into a robust design and remodeling firm leveraging Goodall's talent for combining the creative and technical in design, and Mike Goodall's experience in project management and construction. Now considered a one-stop-shop for kitchen, bath, cabinetry, and other design needs, Kitchen Choreography brings an eclectically classic inspired style to projects, delivering well-designed spaces that support their clients' needs and lifestyle.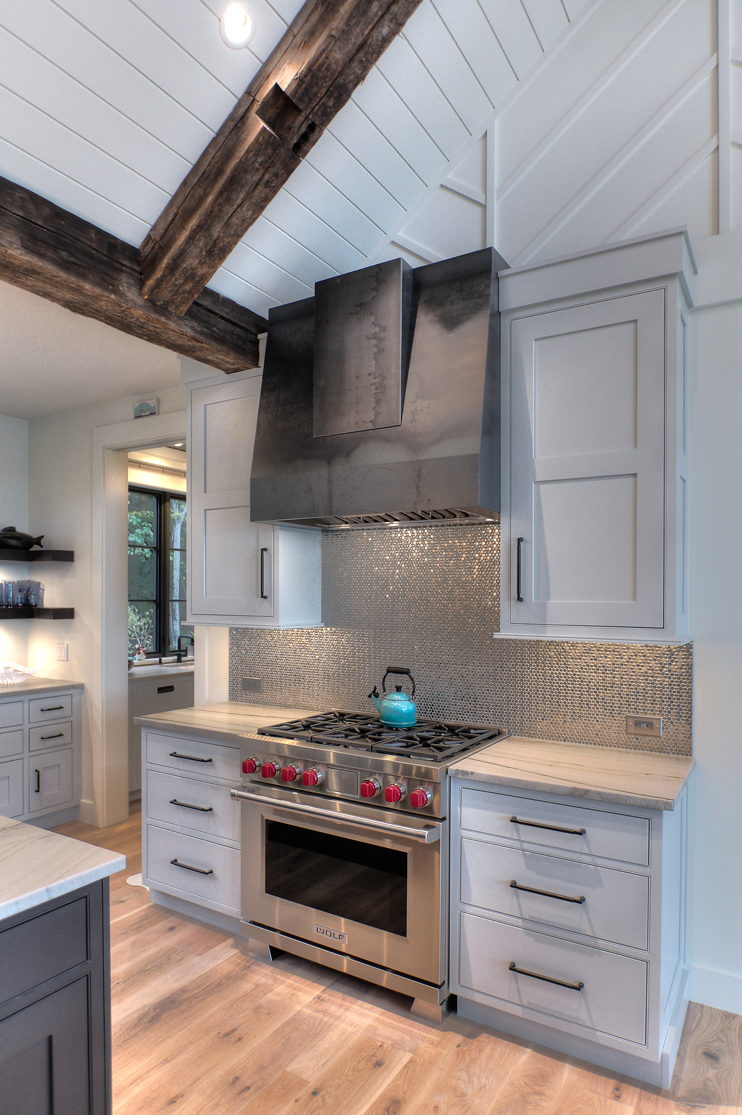 From the kitchen, a butler's pantry offers functional and aesthetic complement—and view of the woods to the east—featuring a bright-white subway-inspired farmhouse tile as backsplash, offering slight texture and subtle color variation to the quartzite countertop, pearl-finished cabinetry, and striking decorative tin tiles on the ceiling in a bold contrast of antique onyx. Parallel to it, a hall leads to the two guest suites, known as Leelanau Suite and Windward Suite, where each room and adjacent bathroom features its own distinctive element serving as inspiration to their overall design—such as the backlit panel in one shower.
To the north from the kitchen, a three- or four-seasons porch complete with rich, travertine tile flooring and large fold-up windows affords a controlled screen porch feel. The hallway adjacent to it, featuring floor-to-ceiling windows, leads to more private spaces, such as an at-home office and the primary suite—the S. Manitou Suite. The primary suite and porch both have doors leading out to the upper patio, which is also made of large travertine tiles for additional outdoor space. The upper patio offers a landscaped path that leads down a series of natural stone steps to the large travertine lakefront patio connected to the lower level, which has another stone pathway down to the stairs leading to the beach.
With its rich, reclaimed barnwood beams, combination of gray and white cabinetry, wood-cladded ceilings, organic fabrics and leathers, and stained concrete floors, its materiality is one of warm, contemporary design infused with layers of eclectic elements and styles. It is one of modern inspiration, farmhouse influence, and Napa Valley landscape serving as muse. And colors from the lake itself are captured in the rolled steel of the double-sided fireplace, reflected in the movement of blue in quartzite countertops, and in other details, flowing throughout the interior of the home.
"We don't really follow any set design rules, because when we love something, we are just doing it," Ginger Yost said. "I suppose many elements of our design don't fit neatly into any style or category."
Though the process had its own set of challenges, taking place during the pandemic, Goodall noted the couple were probably more involved than most of her clients, which is fun to have that level of collaborative engagement.
"We were working with the Yosts from a distance. They were out in Colorado and were going to tile showrooms out there, and actually bringing products that we didn't really have available to use in northern Michigan. It was kind of fun to be introduced to some of those things, and of course they are lovely people," Goodall said.
"There are a lot of details in this house and making sure that we were sending samples back and forth, and all of the challenges during that time with services being pretty limited was probably one of the biggest challenges we had to overcome," Goodall added.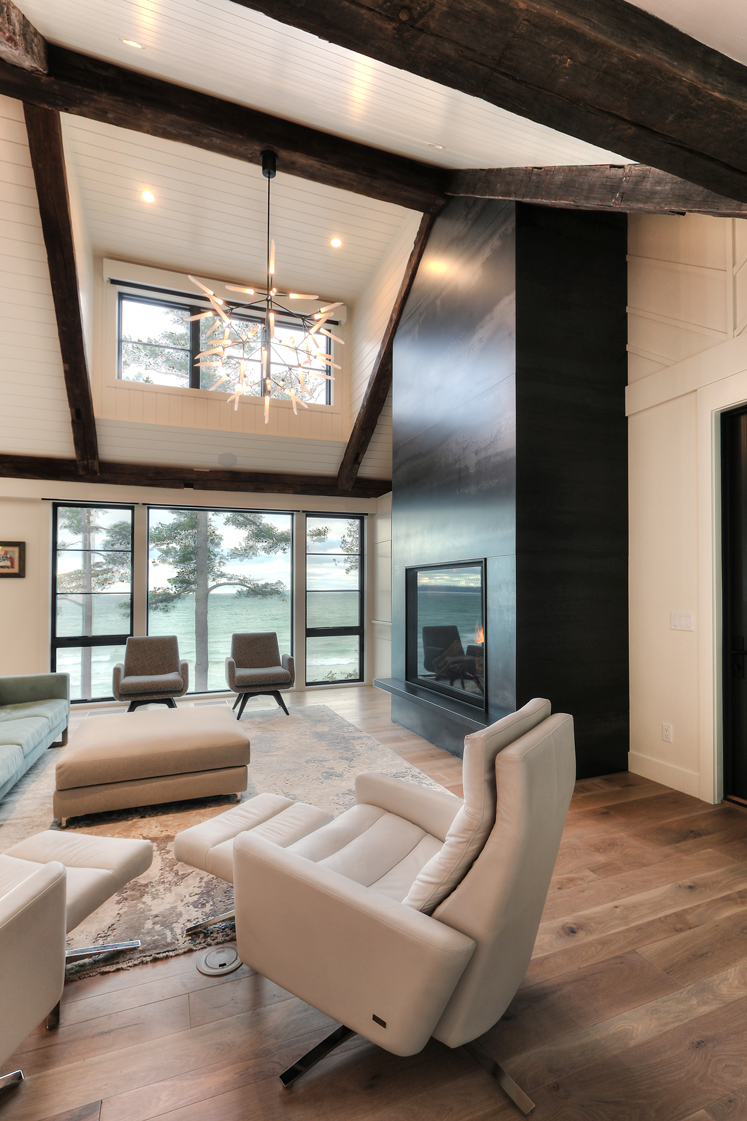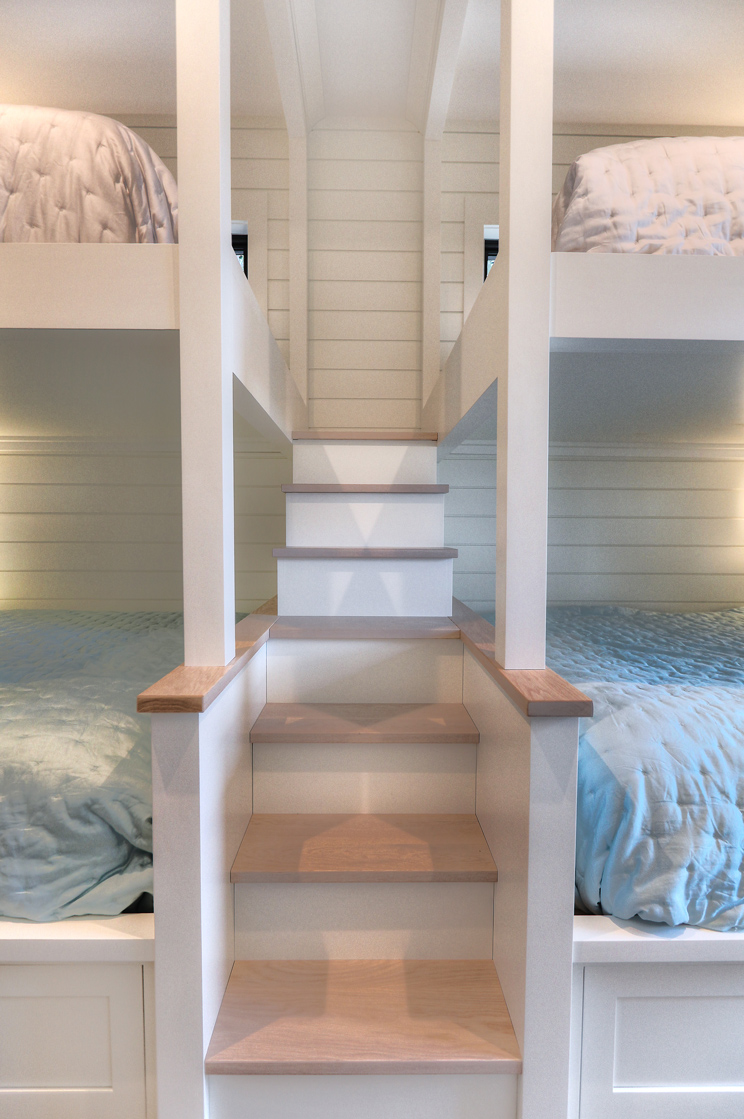 Peterson also noted the company works to ensure things move forward in an efficient way, particularly since most of their clients are based out-of-state, and it is being a part of helping clients realize their goals on world-class sites that inspires him each day.
"Almost every one of our homes is built on a pretty spectacular piece of water, whether it be Lake Michigan, North Lake Leelanau, Glen Lake, Torch Lake, East and West Bays in Traverse City, and each area is unique and special in its own right," Peterson said. "Most of the time, these are people's dream homes. It is what they have worked for, like Chris and Ginger. They worked their whole lives to be able to do this and to be able to build this home, so for me that is a pretty special part of it too, you are helping people realize their dreams."
It is a dream that also captures intimate and powerful stories about their lives, from the paintings and artwork from their travels to places like Croatia and Italy, to the light fixture on the lower level strung with beads in homage to Ginger Yost's mother. The light fixture, which the two found in an antique shop with crystals hanging from it, was eventually restored and re-strung with beads made by members of her family during the two weeks prior to her passing.
"My mother was a beader and she just loved, more than anything, going into beading shops and buying beads and making necklaces for everybody," Ginger Yost said. "It is a big piece of my mom and our whole family is actually right there, wrapped up in that light."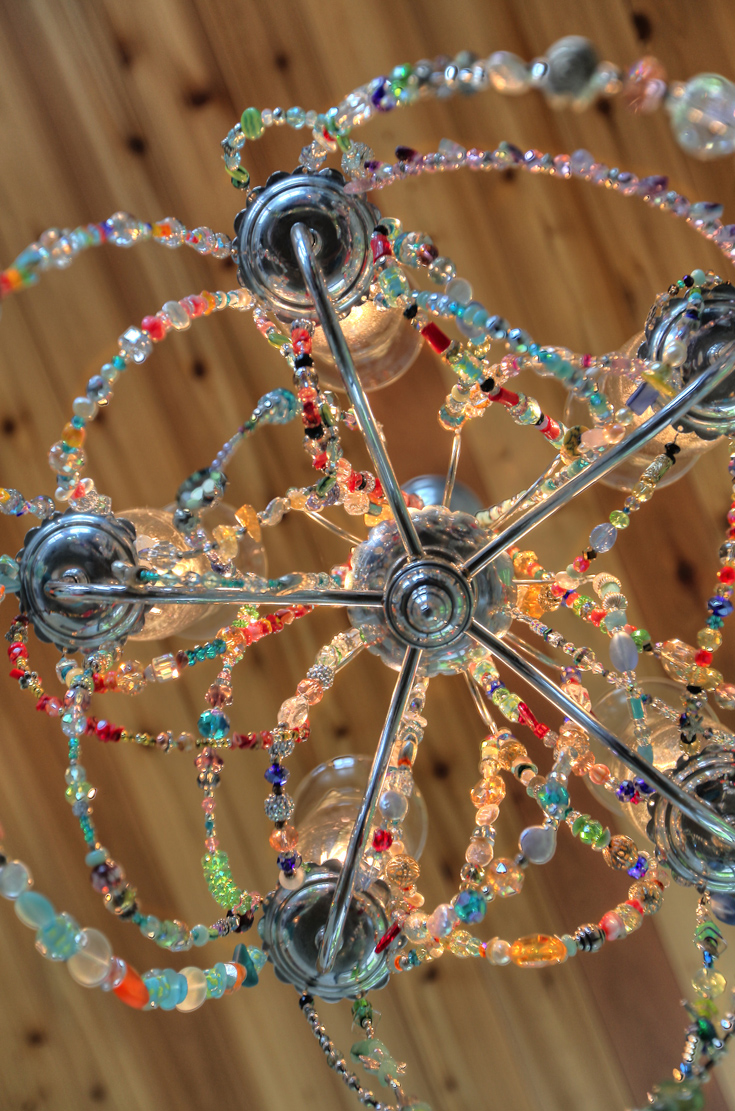 While one of the last hurdles of the project was the exterior landscaping, which was finalized as the home neared completion, it reflected an investment in additional, functional square footage. Featuring pathways, boulders, and travertine patios, the landscaping was designed by award-winning landscape architect, Jack Barnwell.
"I think what he did differently than what we had been looking at is a more natural feeling versus a very landscaped, tailored look. It reads more like it had been here before and the colors and the materials tend to blend in a little bit more instead of an overdone landscape," Goodall said.
To Chris Yost, the home is very special because it captures bits and pieces of their lives throughout, and it is the screened-in porch that is his favorite space in it. For Ginger Yost, who noted they have been official residents of the area for more than a year now and has had the opportunity to get to meet people through working at Leland Schools and Leland gal, it is a wonderful community and Someday, where sound of waves and laughter serve as beautiful backdrop, is a dream come true.
"It's perfect. It feels so comfortable and cozy and beautiful and every day I look around and say, wow, we really live here? I love when people come here, how comfortable they feel and how happy they feel and how they just can't wait to play and just relax," Ginger Yost said. "We feel very blessed to be here."
First published in Great Lakes By Design: The Acoustics, 2021
Text: R.J. Weick
Photography: Jason Hulet Real Estate Photography; featured image provided courtesy of Christ and Ginger Yost