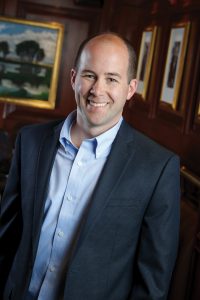 Nick Liebler, LEEP AP, architect, and partner at White & Liebler Architects in Petoskey, Michigan is inspired by the idea of craft in design. 
"You're creating something that didn't exist before, so the challenge of being able to take a given set of ideas and turn it into something tangible—that would be what is most exciting to me about design," Liebler said. "It is just the opportunity to create something and use your imagination to develop something within a set of parameters." 
Having fallen in love with the craft of building and creating homes through working in the construction industry, Liebler noted the commercial work was a bit different than he had wanted to take his career path. It was after about seven years developing his professional career in the Detroit area that Liebler moved back to northern Michigan and eventually joined N.J White Associates Architecture & Planning in Petoskey, Michigan as a project planner in 2012. 
As the firm continues to provide residential and resort architectural services in the Petoskey area, with Liebler transitioning into an architect and partner role, he remains excited about the task of creating something for clients, especially when they are not always able to visualize what they want and he is able to bring it to that point for them. 
"It is what excites me," Liebler said. "Really the starting point that got me into it was working through the building industry and falling in love with the craft of building and creating homes."
Full text available in our print edition, Great Lakes By Design, Volume 2, Issue 6: Architectonics available to purchase now or with your subscription.
To learn more about Liebler visit their site, nickwhite.com