In cities where the dining is plentiful, the physical design of a restaurant is instrumental in creating its mood, personality, and the overall experience guests can have. For Butch's Dry Dock in downtown Holland, Michigan, what started as a concept focused on deli fare and wine retail, has evolved in the last two decades to include an array of dining experiences under a single roof and menu.
The longevity of the restaurant and its many personalities is largely credited to a cultivated relationship between restauranteur, Butch TerHaar, owner and founder of Butch's Dry Dock, and designer Dennis Reckley, principal and lead architect at SVB + Reckley Architects in Holland, Michigan.
It is a relationship established on a shared enjoyment of fine wine and a continued collaboration on a handful of TerHaar's projects in the Holland area, including his home and personal cottage. Throughout the years, the pair have carefully curated both the Butch's Dry Dock brand and its physical space within Holland's active Eighth Street to appeal to both first-time guests as well as those who have enjoyed the concept since its inception as an off-site deli and wine shop.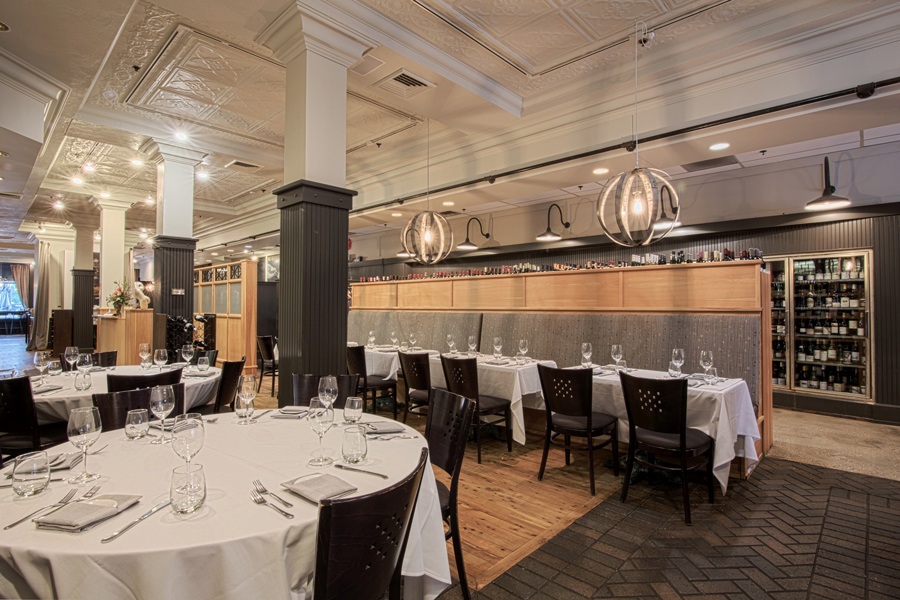 "[TerHaar] wanted to pull that following with him and then expand the concept to also include fine dining back when Holland was first beginning to revitalize itself," Reckley said. "There was only one other high-end restaurant in town so we wanted to capitalize on that as the downtown area changed its vernacular. Butch would be ahead of the curve with this restaurant."
Since moving Butch's Dry Dock to its current address at 44 E. 8th Street—in what was once a sprawling downtown butcher shop—Reckley and TerHaar have gradually adapted the interior to include new restaurant segments designed to evoke different moods. In 2017, SVB + Reckley Architects collaborated once more with TerHaar to expand and upgrade the wine and craft cocktail bar as a contemporary evening destination working in tandem with the New American Cuisine-inspired menu.
From floor to ceiling, textural details surround sleek furnishings and dim lighting to create a fresh, elegant take on the modern lounge. Speckled wood floorboards are accompanied in some areas by dark brick flooring in herringbone patterns, and cream-colored tin ceilings featuring delicate patterns provide a crisp parallel. To update the bar, Reckley proposed a black tile base for durability, completed with a zinc metal slab framed in black wood on top. Glass tiles behind bottle displays reflect LED lighting from fixtures formed by metal bands wrapped into orbs. An assortment of low and high-top tables—some with cushioned banquettes and others with window seats—provide seating variety and finish the comfortable atmosphere.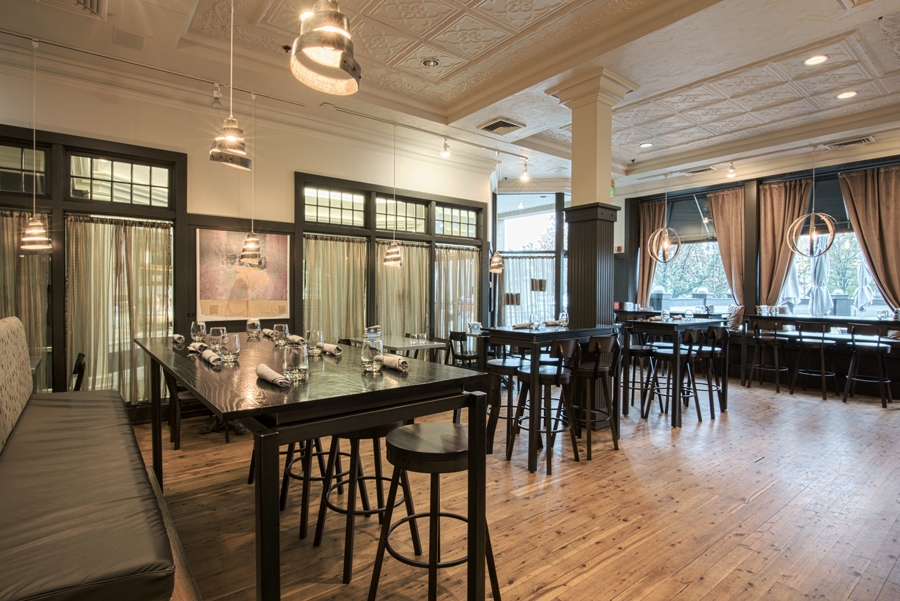 "[Reckley] has a good ability of creating the space to fit the attitude of the offering," TerHaar said. "Initially, the feeling was different; and as we evolved and remodeled, we managed to bring other [elements in] so that it has a finer, elegant feel. I think he has a really good ability to fit the atmosphere to the offering."
The cocktail lounge is one of five designed experiences within Butch's Dry Dock. It is joined by the initial fine dining area dressed in white linens and natural light, and a patio enclosure with views of a nearby college and church, designed for enjoyment on casual summer nights. On the lower level, Reckley designed a banquet-style cellar: a long 26-seat room framed by murals of a vineyard at dusk and a cloudy sky lit from within. A little over a year ago, Reckley and TerHaar created a new experience called Butch's Ondergrond in the belly of the building: a classic speakeasy-inspired lounge featuring low ceilings, rough wood details, and black metal piping.
"The thing about going to Butch's is you really have five different experiences that you can have," Reckley said. "One of my favorite things about it is I know I can always go there. Whatever experience I'm looking for in that day, it's at Butch's."
A variety of spatial selections mirror the establishment's diverse catalogue of wine—more than 800 bottles—and a menu that continues to adapt with culinary trend and kitchen creativity—currently under direction of Chef Ryan Boersema. As a space housing many programmatic elements, design personalities, and memories, Butch's Dry Dock is a project exemplifying Reckley's ability to create lasting relationships with clients founded on trust and design intuition.
SVB + Reckley Architects has completed a diverse array of projects that differ in size, scope, location, and industry. Regardless the project typology, Reckley's process begins with a careful consideration of the client's needs, the potential for a lasting relationship, and the end goal of utilizing architecture to satisfy passion.
"I think Butch's is an example of a long-term relationship, which is what we try to establish with our clients," Reckley said. "I've done work with Butch for 25 years; it's a repeat relationship that shows respect from both sides. For a restaurant to be around for 25 years is saying something in itself. Butch's has gone through recession, changes in food attitude, and what people look at for entertainment. I respect that he's been able to move through that and stay ahead of the game. It's a long-term relationship which, I think, shows a lot about both the restaurant and SVB Reckley."
Text: R. Collins | GLBD Staff Writer
Photography: Ellen Harz Photography