"We refer to a holistic approach to projects and design. We meld architecture and interior design together," said Brian Barkwell, AIA, principal architect at Via Design, Inc. in Grand Rapids, Michigan.
Barkwell's partnership in the commercial and residential-focused design firm resulted from a similar melding of his own approach to design and that of Valerie Schmieder, ASID, IIDA, ASFD, NCIDQ, who founded Via Design, Inc. in 1989 as an interior design firm. Through mutual clients and a shared list of independently acquired projects, Barkwell officially joined Schmieder at Via Design, Inc. in the late 2000s to bring both architecture and interior design under one roof to create a comprehensive design experience.
"There are a lot of architecture firms and a lot of interior design firms. Most of those firms do one or the other. Most of them I don't think put as much value on how the whole interior design program becomes so much more of a part of the whole project," Schmieder said.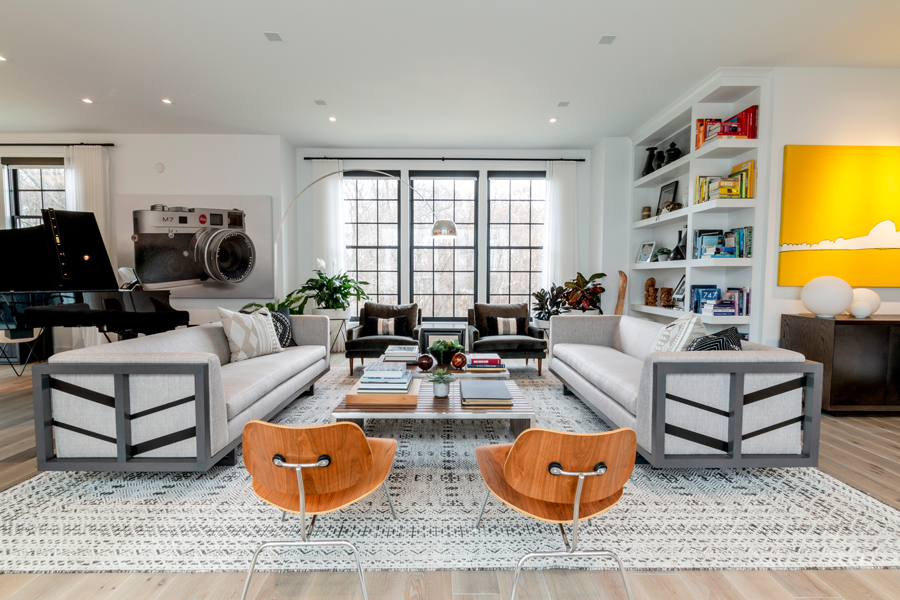 "Rather than the architect starting with a client, creating the architecture, and then bringing in an interior designer later, our approach right from the beginning, as we're doing programming, is to have the architect and interior designers develop the design [together]—whether it be commercial or residential—because they're of equal importance and shouldn't be an afterthought," Schmieder added.
From Grand Valley State University's downtown DeVos Center and James H. Zumberge Hall to colorful and eclectic club houses for the international art competition known as ArtPrize, Via Design, Inc. has completed an array of projects that span large-scale commercial and adaptive reuse tasks, to new and remodeled interiors and custom furniture design by on-staff artisans. As the firm has developed its extensive portfolio, repeat client list, technological resources, and team base—which started with just Schmieder 30 years ago—both partners have taken care to control growth in order to accommodate every project, while also creating the feeling of a small, highly-collaborative firm.
It is created in part by the office space itself, a creative zone in downtown Grand Rapids that is filled with natural light, spots of exposed brick, and accessories in Via Design, Inc.'s signature green hue. Placed throughout the studio, a curated collection of original photography, mixed media, and oil and acrylic paintings presented by the Via Gallery showcase more creative work by both local artists and members of the Via Design, Inc. team, including Barkwell. The library houses a vast collection of material samples, printed photographs, and resources from around the world to assist both designer and clients, who enter the studio like guests in a home.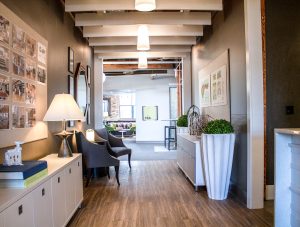 "I think [the space] does speak to our culture. We treat our office almost like our home and we're treating our clients almost like guests," Shmieder said. "We meet with a lot of clients here, because we've developed a really nice studio of products and the library and comfortable spaces where we all like to work together as a team. We've kept the office kind of non-corporate."
Its comfortable, collaborative studio atmosphere and variety of services ensure every design is completely customized—a quality that both Schmieder and Barkwell emphasize in every phase of a project, noting that the firm does not dwell in a signature style. Besides architecture, interior design, furniture design, and the curation of original artwork, the firm also specializes in sustainable design, master planning, and furniture procurement to create an inclusive studio that adapts to each client's needs.
"We truly try to design projects that represent and reflect our clients rather than creating cookie-cutter designs that look more like us," Shmieder said. "All of our projects really do take on a lot of personality. It's kind of hard for people to understand that. They're always asking 'what's your look?' Instead, we customize every project according to every client."
With the ability and desire to span influences and styles, and to successfully capture each client's personality, Schmieder and Barkwell look forward to expanding the Via Design, Inc. portfolio and unique collection of resources.
"We look forward to every day," Barkwell said. "It's wonderful working with all of our clients. We're excited to see what each day brings us and what we can bring to our clients."
Text: R.Collins | GLBD Writer
Photography: Via Design, Inc.