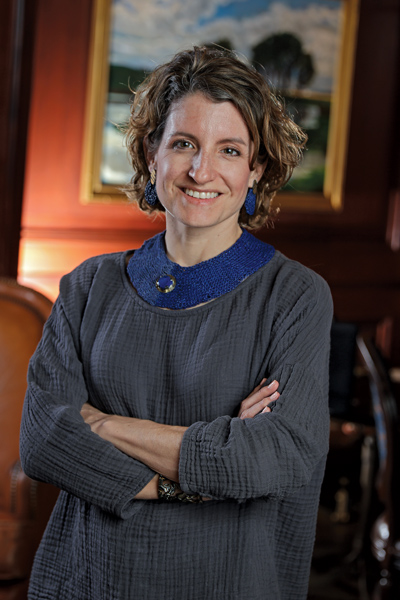 Aimee P.C. Buccellato, LEED AP, partner at Buccellato Design LLC in South Bend, Indiana, and Associate Professor of Architecture at the University of Notre Dame School of Architecture, was drawn to the beautiful and complex process of design and architecture early on in life. From Lego building blocks, drawings, and summer visits to her mother's childhood home—a Pompeiian villa replica—to witnessing a residential redesign, Buccellato can remember those early childhood influences on her career as vividly as the Latin words etched in a marble mosaic floor, or the faint aroma from old blueprints.
"I remember visiting that [villa] every summer and walking its grounds, which happened to be very fragrant, formal gardens set within a beautiful rural landscape. It struck me as a young child how powerful place could be in terms of memory, and place having the ability to alert other senses; to connect sense of smell to place, for example," Buccellato said.
Relating the practice of architecture to the artist Chris Roberts-Antieau's work in textiles reflecting the mysterious origin of joy and the wonder of childhood, Buccellato said there is a common thread, in both practice and method, that involve rich, multi-step processes to bring the finishes to life. From identifying the narrative, selecting, and deciding which textile best represents or can contribute to the overall story; to actually crafting the physical pieces into a beautiful composition; works of art and architecture involve both the abstract and the technical, artful and practical execution.
"To me, that is what design is, and that is the joy for me—not just the thinking in abstract and the sketching and loose work, but also writing window and finish schedules an being onsite. It is all of it and I love every single part of it," Buccellato added.
Full text available in our print edition, Great Lakes By Design, Volume 2, Issue 6: Architectonics available to purchase now or with your subscription.
To learn more about Buccellato visit their site, buccellatodesign.com