There is comfort and versatility in the modern sunroom. It is purposeful in its ability to minimize sensory distance between users and the outdoors, and in sheltering those within from the elements of winter snow storms, spring rains, and late summer heat. It is also complementary, as its form and style often has to blend with existing residential or commercial vernacular.
For more than 15 years, Sunspace West Michigan in Wyoming, Michigan and Traverse City, Michigan has been outfitting residences and businesses with durable, stylish, and high-quality customized sunrooms to extend clients' enjoyment of the outdoors. Sunspace also offers other custom-designed features to create multi-seasonal living spaces, such as: aluminum railing and decking systems, WeatherMaster window and door systems, and the Slide Clear pleated screen system, among others.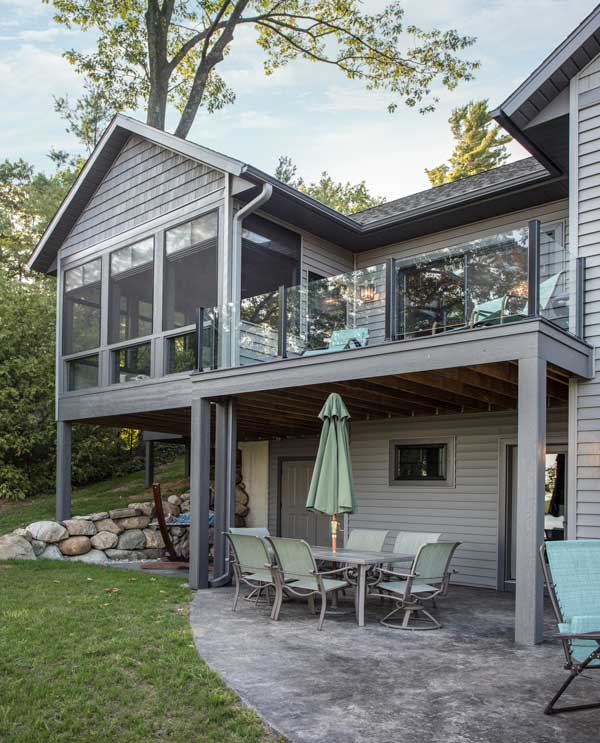 Its portfolio showcases both small-scale and high-profile projects, such as: the glass railing encasement at Bonobo Winery's deck overlooking the Traverse City vineyard and the private sunroom of an approximately $8 million home plan by Birmingham, Michigan-based firm Saroki Architects.
"It's a more upscale product than our competitors, because of the design features and what we're able to do with our product," said Nancy Young, business manager at Sunspace West Michigan. "We have all the features to keep it more customized, whereas competitors do what I call 'making a little white box on the back of a house.'"
Being one of the first franchise dealerships to carry and specialize in the Sunspace Sunrooms brand—headquartered in Toronto—Sunspace West Michigan has developed expertise in design, installation techniques, and new technologies to create designs in-house that are tailored to each project. When involved in new construction, the firm's ability to virtually design sunrooms and other additions to the home is both cost- and time-effective as it saves room for easy changes. Patios, decks, gazebos, and previously constructed roofing can be repurposed with the addition of a few custom-made features that protect the space from insects, ultraviolet rays, and heat. Product durability is credited to its material palette, comprised of tempered glass, strong aluminum, and resilient vinyl sealants in versatile shades such as smoke grey, bronze, or clear.
"The product is so versatile and such quality aluminum," Young said. "I love the fact that I don't have to do anything to it once it's [installed]. That's also what my clients look for: something maintenance free that still looks new. It holds its quality quite well."
The function and style offered by Sunspace West Michigan products are also met with expert installation techniques. As a full-service firm established on owner and general contractor Tom Young's roughly 30 years of construction experience, Sunspace West Michigan provides clients with the service of registered builders with established backgrounds in carpentry.
"When we're working with builders and architects, we can easily decipher the prints, know what's going to work best for them, and solve situations," Young said. "Also, just the knowledge of knowing how things need to be done—that comes with years of experience. It's all about what you want to do with the product and we can design it to fit that lifestyle."
Sunspace West Michigan is a Midwest dealer of products by Sunspace Sunrooms, a fabricator and installer of sunroom materials established in 1991 with a similar focus on high-quality performance and product customization. The full-service ability and personal approach of the Sunspace West Michigan team is a quality that, according to Young, is always present in a Sunspace project from beginning to end, and continues to draw architects, builders, and homeowners to the firm for assistance in expanding value beyond the interior.
Text: R. Collins | GLBD writer
Photos courtesy Sunspace West Michigan