A full-service architectural practice in Grand Rapids, Michigan approaches sustainability through a modernist lens.
Photography: Bill Lindhout
The Grand Rapids, Michigan-based architectural and planning—and recently, interior design—firm of Mathison|Mathison Architects has become known for its creation of elevated-modern, high-profile homes throughout the United States. Yet, Evan Mathison, co-founding principal architect, noted there are some who may not realize the firm's breadth of award-winning commercial projects in its portfolio that highlight an affinity for sustainable and experiential design solutions.
From sculptural public pavilions that interpret the concept of shelter, to renovations fusing historic design with modern sustainability; many Mathison|Mathison Architects, or MMA, projects create meaningful experiences among space, structure, and user—and ameliorate the natural beauty of their surrounding environments.
"We're always looking for new ways to kind of create modern solutions for our projects and we do that through a number of avenues," Evan Mathison said. "Some of those are visual and some of those are experiential."
From a visual perspective, the firm's work is partially characterized by natural materials that add aesthetic merit, and, as Evan Mathison explained, their true purpose is in structural and conceptual utility. Rather than simply applying natural materials like stone or wood planks to a surface, the firm integrates them into the core makeup of an overall design, shrinking the threshold between indoors and out, and infusing spaces with holistic value.
For Tom Mathison, FAIA, REFP, and co-founding principal at MMA, the first natural material considered during any project is pure sunlight.
"We're trying to take advantage of everything we can even before the first line is drawn on the piece of paper," Tom Mathison said, in reference to the initial planning phase.
"At that point we not only try to include a lot of materially-wise choices in our sustainable design, but we also try to take advantage of what the outdoors has to offer the indoors; we try to make sure that [relationship] is transparent as well. … We think sustainable design helps us do that well and pretty seamlessly," Tom Mathison added.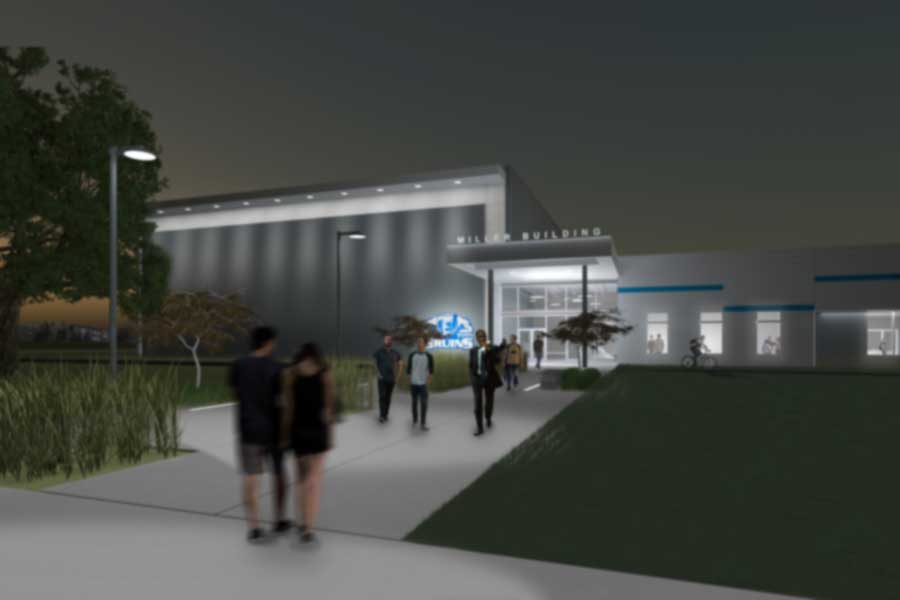 From an experiential standpoint, MMA also considers a design's impact on its end users, topographical foundation, and social contexts. When expanding the Gerald R. Ford International Airport Viewing Park, Tom Mathison noted the design was as much about placemaking as it was about a simple shading shelter—its purpose to create an educational and social space with nearly no boundaries to the surrounding elements. The park's two canopies are shaped to evoke the wings of a plane and gently sloped to suggest the trajectory of takeoff. The underbellies of the wings are clad in wood panels to create a sense of warmth and enclosure for those learning about aviation or simply enjoying the view of flight.
"I think people appreciate a project like that which is simple in one respect, but also profound in how it has impacted that neighborhood," Tom Mathison said.
The firm's approach to design has an influential potential to neighborhood and workplace culture alike; an example being the recent transformation of a dark, 30,000-square-foot warehouse and office in Grandville, Michigan, into a vibrant vessel for a new era of leadership. A technical firm with a sophisticated portfolio, the client needed ample space for in-house meetings and collaborative areas that would complement its new culture. MMA reoriented the floorplan to provide natural light for all employees—some had previously worked without it—and create a naturally lit lunch space serving as the fulcrum of the interior. The firm also utilized its interior design resources to streamline the office's furnishings and accessories, creating a unified project from exterior to finishes.
From its modern, sustainable approach to the design process and its full-service capabilities, MMA has developed an array of commercial and residential solutions that place design under a unique lens. For Evan Mathison, it begins by simply distilling a material palette to its most natural forms, and clients' goals to their elemental needs.
"Each time you expand an idea from three or four core values that they're trying to achieve you can come out of that conversation with maybe three or five design solutions," Evan Mathison said. "What we're really good at is coming up with different ideas that still achieve the values and goals of the client in ways that they maybe didn't imagine themselves, and that's why they hire us—to do exactly that."
Text: R. Collins | GLBD writer
Featured image: Jason Keen Photography