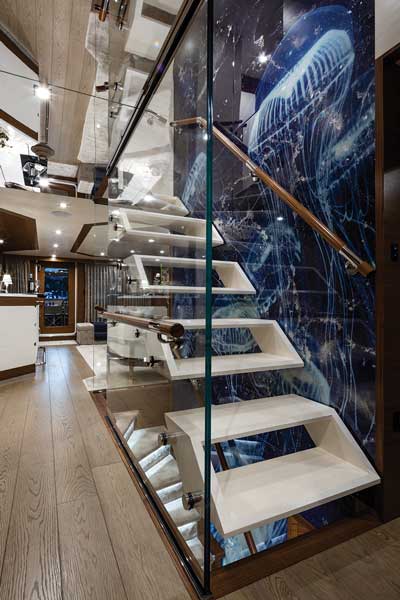 Water, in its many forms, could be considered a first and final frontier. A fundamental element of survival, its freshwater bodies are a priceless resource and have led to vast, complex cities developed at its shorelines. Its waterways have proven to be vital conduits for the transportation of commercial goods and services, and in the Great Lakes region, offer a sprawling, interconnected aquatic playground for recreational boating elements.
In Manitowoc, Wisconsin, there is a company that has built a legacy of designing and building custom, handcrafted vessels since the mid-1800s with the launch of small 20-to-30-foot fishing boats for local commercial fishermen. For the next 156 years, the company would hone its craftsmanship and skill as it launched an 80-foot, blue oak, three-masted schooner in 1888; the more than 200-foot Indiana ferry in 1890; mine sweepers, tugs, and sub chasers for the U.S. Navy during World War I and World War II; and the first all-welded, aluminum shoal draft, centerboard yawl known as Dyna in 1958. Backed by a history of tradition, the company then launched the largest aluminum yacht built in the U.S. in 1977 for the Illinois Tool Works.
Today, the company is known as Burger Boat Company and is a full-service shipyard and custom boat builder crafting luxury yachts for its discerning clientele; weaving passion, artistry, attention to detail, and inspired design into its vessels.
"We like to partner with people to design and build the boat of their dreams. That is the bottom line of what we do," said Ron Cleveringa, vice president of sales and marketing at Burger Boat Company.
"We've been around since 1863. We work with clients who wish to build a custom, one-off yacht in steel or aluminum. We don't build two boats alike unless you want it that way," Cleveringa added.
Experienced and an experience, Burger Boat company works with its clients through conceptual design in rendering of hulls; exterior styling and interior floor plans; interior elevations; engines, propulsion, and electrical equipment selection; recreational, shore tender, and storage options; navigational and entertainment systems. Upon review and approval of a design brief and written specification, the process then moves into the build where a team of passionate craftspeople leave their distinctive handprints on the infrastructural integrity of the yacht. The team will also guide clients through various sea trials before final modifications and refinements are made from delivery.
Burger Boat Company has its own in-house team of designers, engineers, and builders; and partners with select subcontractors to source specific equipment such as state-of-the-art navigational electronics and audio visual systems. Each boat is built sea-worthy whether it is destined for the ocean or the Great Lakes, with only a few minor differences in the design—bottom paint and sacrificial anodes—according to Cleveringa. The maritime designer-and-builder also collaborates with renowned designers across the world to bring their clients' dreams to life. Cleveringa noted it often depends on the project whether the client will come to them with a specific idea or a blank sheet, and there are times when clients will hire a designer for exterior and/or interior styling prior to approaching Burger Boat Company.
"The last two yachts that we built—the Northland and Blue Boat Home—there was a designer hired by the owner. In Northland's case, it was for both the exterior look and the interior design; and then in Blue Boat Home, the owner hired a designer to create the interior," Cleveringa said. "The particular owner [of Northland] knew what he wanted and he actually shopped the world to see if he could find one already built—or even someone who was building something like it."
Designed by Luiz de Basto of De Basto Designs Inc. in Miami, Florida and built by Burger Boat Company, the approximate 103-foot Northland yacht is the picture of modern naval architecture. Its sleek and simple lines on the exterior bely the intricate mechanical, water, roll stabilization, and electrical systems integrated within. Meant for ocean, long-range cruising and sport fishing, Northland was completed in 2017 by Burger Boat Company's team of experienced engineers and craftspeople at the Wisconsin shipyard.
Burger Boat Company not only pushed its own boundaries with the new design style and hull composition of Northland, but also recently repositioned itself to a new market with the design and build of its first 48-foot cruiser as a viable alternative to production boats. Known as Blue Boat Home, the aluminum cruiser was designed in collaboration with its owner, Vripack Naval Architects in The Netherlands, and Celeste Wegman Interiors in Ephraim, Wisconsin.
Full text available in Great Lakes By Design: Crafted Lodging
Photography by Jeff Brown – Breed Media