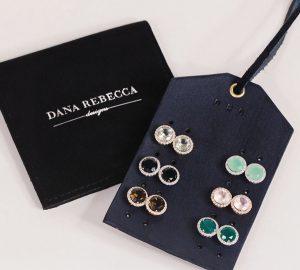 There is something both timeless and romantic to the narrative of precious stones and metals. It is an industry that has transcended as its artisans and designers instill their skill and passion into every polished diamond and each finely wrought metal. There is a story to be told, one of nuanced characteristics that make each stone and metal unique, and of artistry as hands carefully weave beauty and delight into each finished piece of fine jewelry. It is expressive and emotive, in both its wearing and its crafting. 
For Dana Rebecca Gordon, founder and jewelry designer of Dana Rebecca Designs in Chicago, Illinois, jewelry has an ability to connect with memory and story, and as a third-generation jeweler, diamonds are a family affair. 
"Jewelry is a way to express your personality. I think people don't take that into consideration enough; the way you stack your rings or the way you layer your ears and your neck is indicative of who you are," Gordon said. "I think jewelry is also something that ties directly to milestones. People feel that connection. I remember from a really young age my grandmother and my mom having pieces and being able to tell me a story about them. It is a total package that impacts people."
Dana Rebecca Designs is a fine jewelry company known for its collections of understated elegance. Founded in 2007 with the launch of its namesake collection, Dana Rebecca Designs has since created countless collections weaving the iconic sparkle of diamonds, the timeless aesthetic of pearls, and bold metals of gold into works of art that have graced the arms and necks of celebrities and the everyday woman. The company has its flagship showroom on Michigan Avenue in Chicago, a second showroom in New York City, and partners with a network of brick-and-mortar and online retailers across the country. Dana Rebecca Designs also works with retailers in Ontario, Canada; Paraguay, South America; Beirut, Lebanon; and London, United Kingdom. 
"I never really envisioned the business being where it is today—some amazing, awesome things have happened—but my dreams keep getting bigger. Dana Rebecca Designs has definitely grown into a female-empowered business," Gordon said. "All of my pieces are named after family and friends' first and middle names. It is paying back to the women who have inspired me and helped me get to where I am today."
Gordon's fondness for the arts and crafts—and for diamonds—was cut and polished by the time she was 16-years-old when she launched her first collection to a sold-out success within 48 hours at two charity golf auctions supporting brittle bone disease and Tourette syndrome. The youngest of three, Gordon hails from a family that has been in the larger Chicago area diamond industry for more than 40 years and is no stranger to the storied sidewalks in the Diamond District of Chicago, otherwise known as Jewelers Row. While her creative passion began as a hobby, it quickly turned into something more after traveling with her father overseas to places such as India where she had the chance to sit with local designers and create fine jewelry. 
Her father, who is Moroccan-Israeli and grew up in the mountains of Morocco, took after his own father from a really young age as an artisan. Gordon noted when he came to America and applied for a Green Card, he became one of the first diamond-cutters in Chicago after returning from the Vietnam War where he served two tours in the U.S. Navy.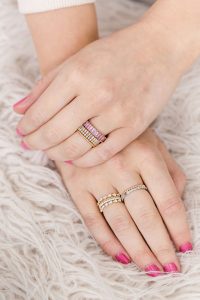 "We have a long history of family in the jewelry industry and it is pretty amazing to be able to follow in the footsteps of someone who has really paved his way in a career, especially in a new country," Gordon said. "I started making beaded jewelry when I was 13- or 14-years-old and on a trip to India with my dad when I was 16-years-old, I really just butted in on a conversation he was having. I clearly impressed him, because it sparked him to have a deeper conversation with me and he introduced me to a couple different people while we were on our trip."
Gordon's first collection would become known as part of her ITSADANA brand and launched a series of summers where she spent time overseas crafting jewelry before selling them at different charity events. Despite her affinity for the craft, immediate success, and launch of a diamond collection as an in-coming freshman at the University of Texas at Austin, Gordon admitted she hadn't really considered becoming a jewelry designer as a career and had initially wanted to become a lawyer. 
"I wanted to be in the court room and I was lucky that my brother was a senior studying to take the LSAT to get into law school. I remember him saying to me that I had an opportunity to do something I was passionate about," Gordon said. 
By May 2007, Gordon had established Dana Rebecca Designs on the idea of jewelry should be comfort, should last, and be an investment. The brand is intended to capture the essence of jewelry at its core; while the pieces in jewelry boxes may be ever-moving and ever-rotating, is not unlike a second skin or extension of memory. 
Gordon noted brand feedback is often about client stories relating to an heirloom piece owned by a relative or grandparent, which goes back to her philosophy of creating jewelry that is enduring rather than trend. 
"Jewelry connects people. Everybody—no matter male, female, rich, or poor—has some sort of connection to a piece of jewelry. It could be as simple as a timepiece or as small as a pendant or stud," Gordon said. "It connects people. It is emotion." 
Text: R.J. Weick
Photography: Dana Rebecca Designs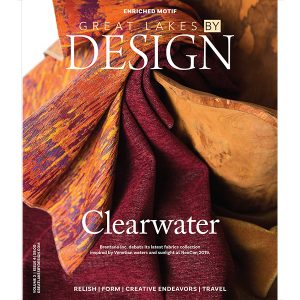 Full text available in
Great Lakes By Design:
Enriched Motif