In December 2019, the Cranbrook Art Museum in Bloomfield Hills, Michigan unveiled three textile and craft-centric exhibitions that will run until March 2020 exploring how innovative people and teaching methods influenced design for generations. One of the exhibitions showcases the lifework of one of Detroit's formative figures in interior and textile design. The exhibit, titled "Ruth Adler Schnee: Modern Designs for Living," posits designer Ruth Adler Schnee's prolific, influential, seven-decade career and pivotal—if underrepresented—role in design history in a bright and full account.
"I think a lot of times her textiles are looked at in isolation and maybe that is what gets lost, is that she is most famous for her textile designs; and rightly so, they're fantastic and they really are iconic when you think about midcentury textiles," said Ian Gabriel Wilson, the Cranbrook Art Museum Jeanne and Ralph Graham Collections Fellow and curator of "Ruth Adler Schnee: Modern Designs for Living."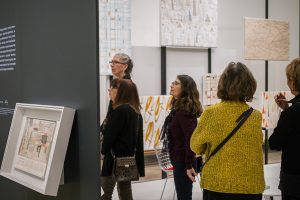 "I think what is so impressive about them is how they were informed by [her] architectural training and how they blended into this really broad career. I think it is that broad career that is so impressive and maybe also why she hasn't gotten her due. She's known for different things in different places, at different scales," Wilson added.
Among Adler Schnee's timeless, functional, and boldly patterned textile designs, as well as her role in creating some of the most recognizable logos across the country—including Shell Oil and the script for Coca Cola—the designer's career includes collaborations with several prominent architectural figures such as Minoru Yamasaki and Eero Saarinen, and drapery and design commissions for spaces like Yamasaki's World Trade Center in New York City and the Ford Rotunda in Dearborn, Michigan.
Adler Schnee is also credited by many as singlehandedly introducing the American midcentury modern design movement to Detroit through her beloved design and home furnishing shop: Adler Schnee Associates, which she opened with husband Edward Schnee in 1948.
In the realm of textile design, she is known for deploying architectural concepts largely informed by her passion for and background in architectural collaboration and education, which includes a Master of Fine Art degree in Design from the Cranbrook Academy of Art in 1946—one of the first received by a woman. While studying with Eliel Saarinen at Cranbrook in the 1940s and 1950s, Adler Schnee was introduced to a comprehensive approach to design, from walls to interior, according to Wilson, and though her textile patterns also reflect an architectural geometry, the fabrics functioned more so as drapery designed to divide space. Even in her thesis work, Adler Schnee was exploring innovative and architectural ways to sculpt space using more fluid forms.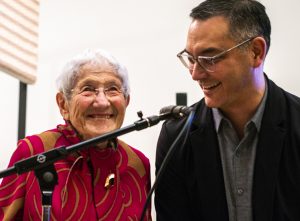 "She did a number of experiments in her thesis work at Cranbrook with photograms, kind of shooting a projector on to photographic paper on the wall, to think more critically and, in an abstract way, about light, and how it could be manipulated," Wilson said. "In many of the same ways, that's how she was trying to manipulate fabric and space. The movement of fabric and its manipulation of light could change how we perceive our environment, frame it in a new way and, in many ways, I think make it more human."
In turn, Adler Schnee's architectural textiles have inspired an architectonic approach to the museum exhibit, explained Wilson, whose team, beyond draping fabrics on walls, stretched them across beam structures and supplemented them with archival materials Adler Schnee has donated to the Cranbrook Archives.
The heart of the exhibit comprises the body of textile patterns that Adler Schnee has created throughout the course of her career, including the screen-printed patterns, which elevated her profile in the midcentury modern movement due to their broad appeal for architects and everyday clients. It also includes vintage textiles, photography, and examples of her ongoing textile collaborations with companies such as Anzea Textiles and KnollTextiles.
The exhibit is also accompanied by a 224-page monograph on the designer's prolific career featuring a variety of contributors, including Wilson, who is also co-editor with Cranbrook Art Museum Director Andrew Blauvelt.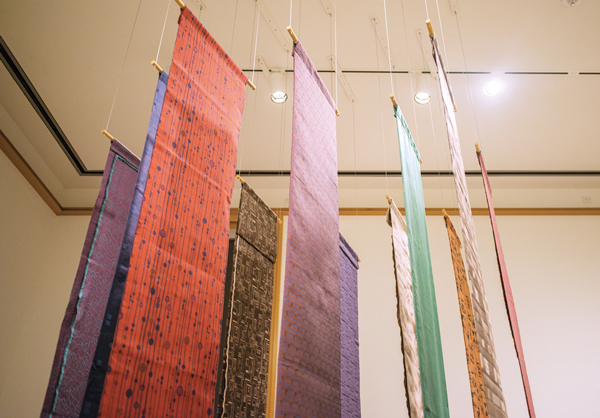 The Cranbrook Museum is one of the earliest institutions in the country dedicated to the presentation of contemporary art, and it is located on the historic landmark campus of the Cranbrook Educational Community in the suburbs of Detroit.
In tandem with "Ruth Adler Schnee: Modern Designs for Living," the museum also presents "In the Vanguard: Haystack Mountain School of Crafts, 1950-1969," which explores the experimental and collaborative nature of another influential school of design on the east coast. Additionally, "Christy Matson: Crossings" will feature contemporary textile work by Los Angeles-based artist Christy Matson, who combines both hand and machine processes to create intricate weavings spanning historical design practices and modern textile traditions.
Each exhibit will close in mid-March, and will be followed in April by the "2020 Graduate Degree Exhibition of Cranbrook Academy of Art" and "With Eyes Opened: Cranbrook Academy of Art Since 1932," in June.
Text: R. Collins | GLBD writer
Photography: Cranbrook Art Museum.