A well-designed space often produces a connection between a person and their built environment. SnapCab®, a company that manufactures both elevator interior systems, and in more recent years, WorkSpace pods, defines itself with a new tagline highlighting the flexibility of the design for its pods representative of the connection between a space's design and its user: "Space to be you."
SnapCab, originally founded by Glenn Bostock, chief executive officer of the company, in 1983 as a company specializing in custom cabinetry, now has headquarters in two locations: one for SnapCab's elevator interior systems in Warrington, Pennsylvania, and another for the SnapCab Workspace products in Kingston, Ontario in Canada. While both SnapCab Elevator and SnapCab Workspace utilize the SnapCab® paneling system that promotes simple installation and flexible design, Bostock shared that those products were not always what he had set out to create, but the ideas flourished out of chance encounters.
"When I was in school, I was dyslexic and had a bunch of learning disabilities. I failed my way through school, but found I was confident at making things after school, so I did that," Bostock said.
During high school, Bostock spent a lot of his free time working in his father's woodworking shop. He then studied fine woodworking in college, where he met a few friends that joined him in renting a barn. In that space, he and his wife started a woodworking business where they did custom cabinetry work for approximately 14 years, before venturing into developing elevator interior systems.
"My dad had a partner who had an elevator maintenance company, and at the time they were tearing out old elevator shells and buying a new shell from the factory just to spruce up the interior," Bostock said.
"We started remodeling elevators, and then over about a six-year period that part of our business continued to grow and was a lot more lucrative. I think it was in 1995 that we did our last custom cabinet, and then we were doing just 100 percent elevator work," Bostock added.
Back then, Bostock's team was only about two-to-three people and found the process that they were using to remodel elevators cumbersome. For simplification, they invented a new, systematic way to remodel elevators called the SnapCab® system, which is a patented Interlocking Paneling system, or ILP, designed to fit imperfect spaces and to forgive small defects. The interlocking joints and horizontal panels make installation as easy as stacking the panels and screwing them in place, a process that reduced the installation time for elevator mechanics from four days down to one day.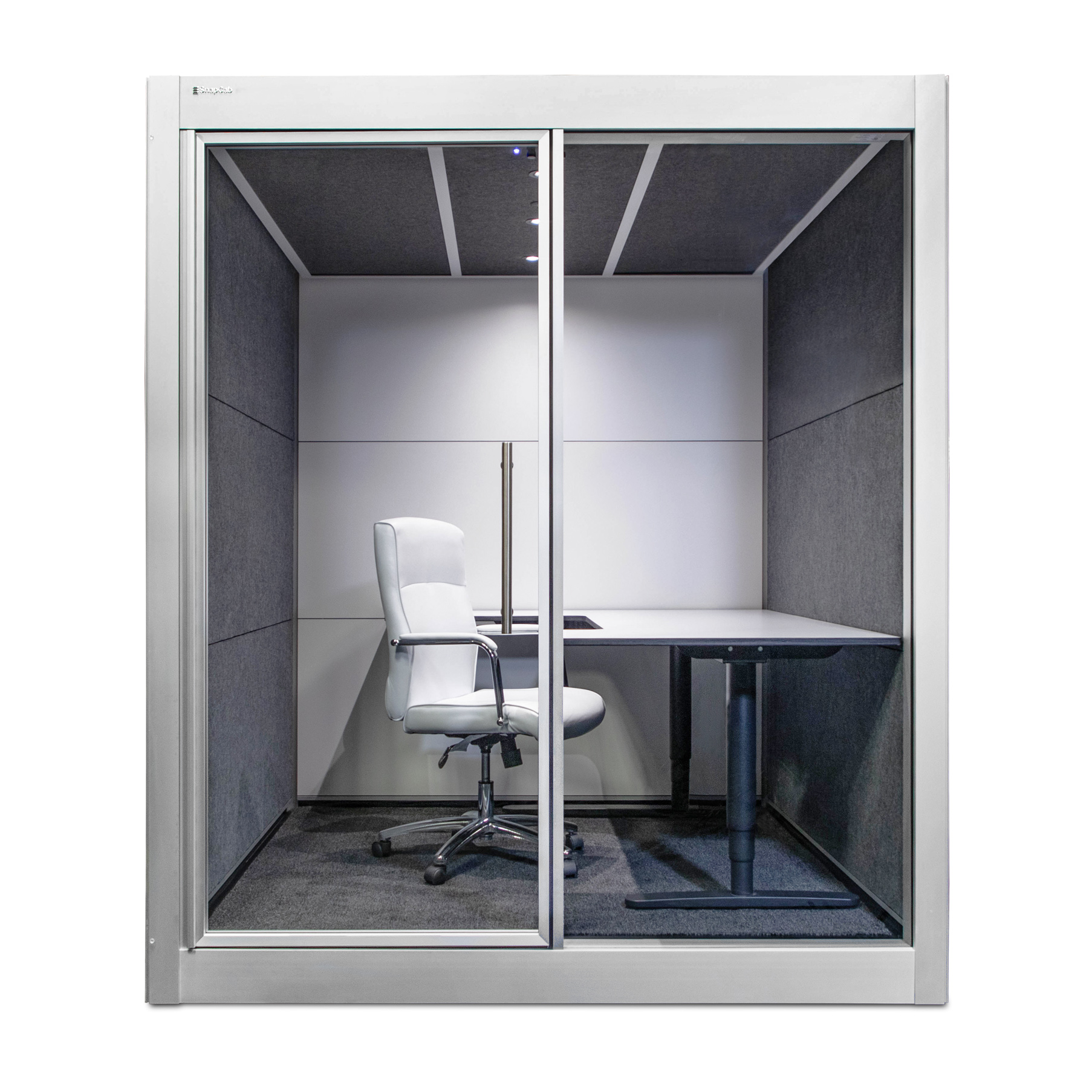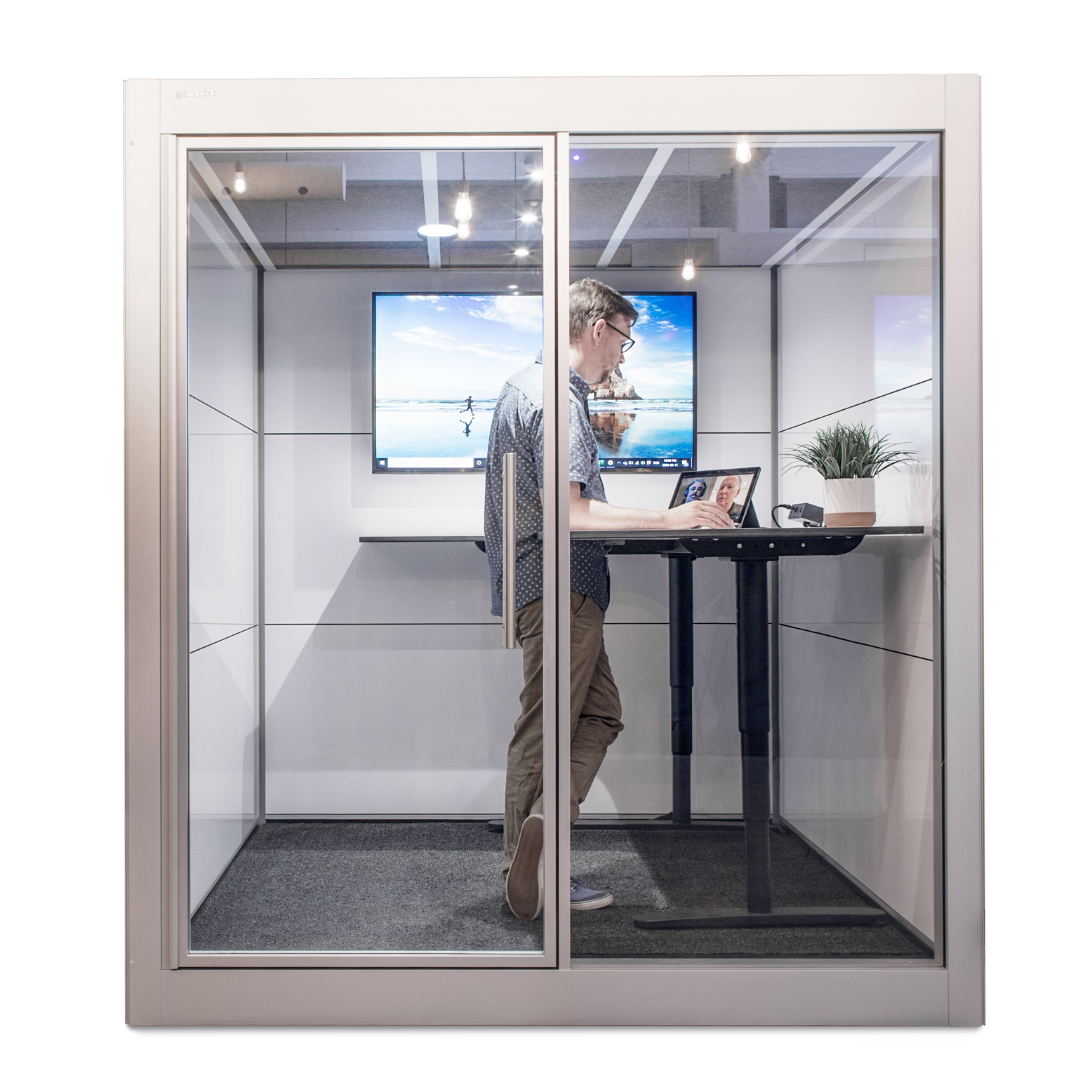 In 2016, SnapCab was presenting their elevator interiors at a trade show, when they were approached by a consultant from WeWork, an American commercial real estate company that designs and builds physical and virtual shared spaces and office services for entrepreneurs and companies. The consultant had been searching for a design solution that would provide privacy in an open office setting and noted that the elevator interiors SnapCab manufactured could be just that—they would only need to be tweaked slightly, such as the addition of a door, to create work pods. Fulfilling WeWork's need for an open office solution, in 2017 SnapCab created a prototype of the SnapCab Workspace, and ultimately realized there was a strong market need for the product.
That same year, the Workspace prototype was presented at NeoCon, an annual tradeshow that welcomes more than 700 international exhibitors in commercial design, and won Best of NeoCon Silver in the Workplace Technologies category. The following year, in 2018, the company's Kingston, Ontario location, a 36,000-square-foot large factory, was converted to the Workspace headquarters, a production center for the office pods.
Snapcab's Workspace product line offers mobile, highly customizable solutions to give users standalone private offices, collaborative meeting rooms, consultation areas, and many other office solutions that have evolved in different editions of the Workspace line. The pods are built with strength and longevity for high traffic use; they have a heavy-gauge aluminum structural frame, patented interlocking panels, a tempered glass front, a sound-blocking framed door, and motion-censored lights and fans.
Customization options are also available so that each Workspace fits the aesthetic of its surrounding, such as varying color and wood grain options for the laminate on the pods. Alternative paneling for the interior or exterior of each pod are also available, such as the addition of Corning® Gorilla® Glass, which is an optically clear glass that when placed over white panels, transforms SnapCab's upper back wall into a whiteboard that users can write directly onto. Gigapixel panoramic photograph displays on a pod's interior allow people to choose a natural environment to retreat into when sitting inside their pod. Computer monitors, televisions and air conditioners can also be mounted to SnapCab panels.
All Workspace pods are designed with corners that support SnapCab Connects, a demountable wall system that allows companies to create unique work areas through the connection of individual pods. SnapCab Connects has the flexibility of arrangement in angled or squared configurations and can form an inner-office community of different types of Workspaces, personalized to each individual that will be using them.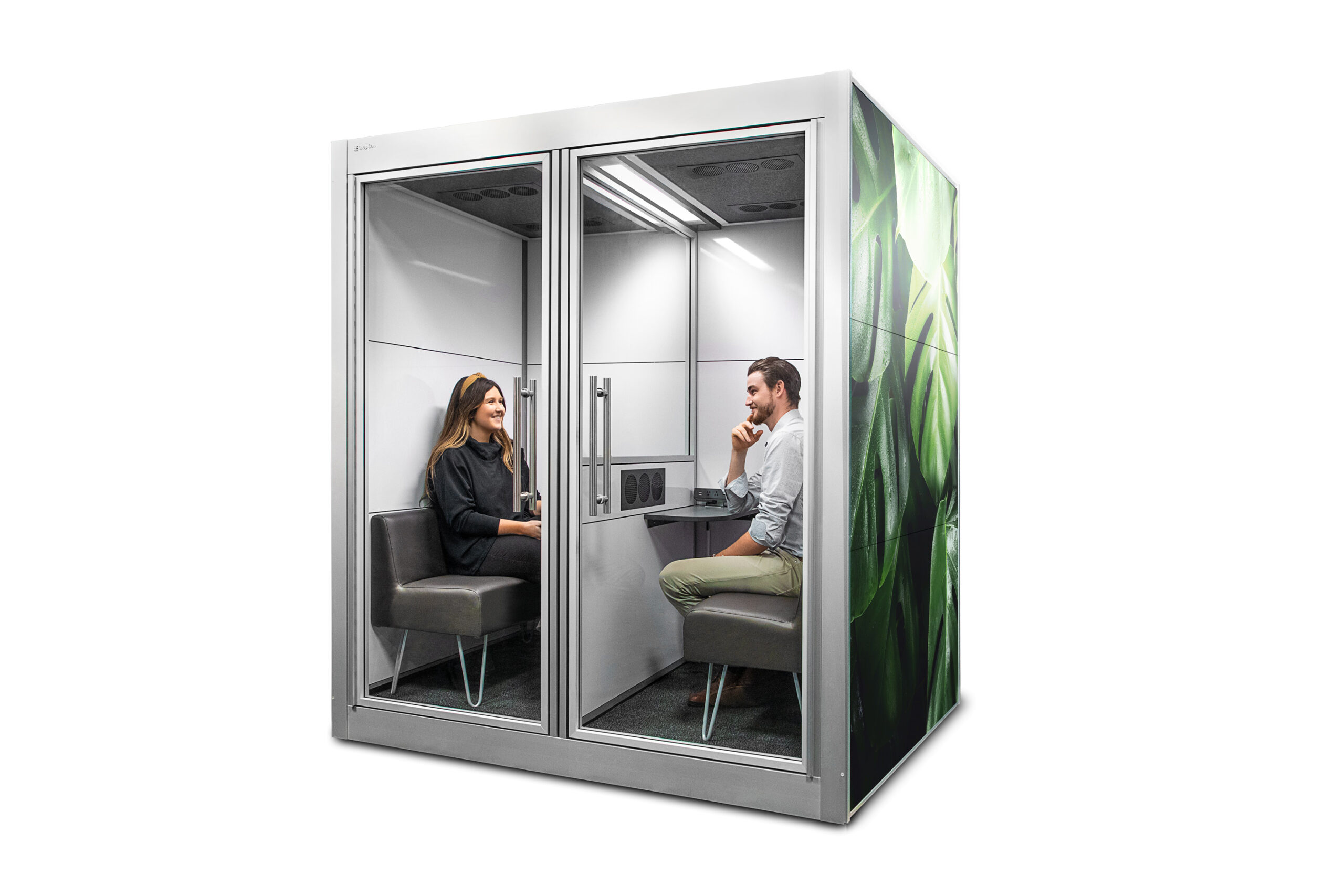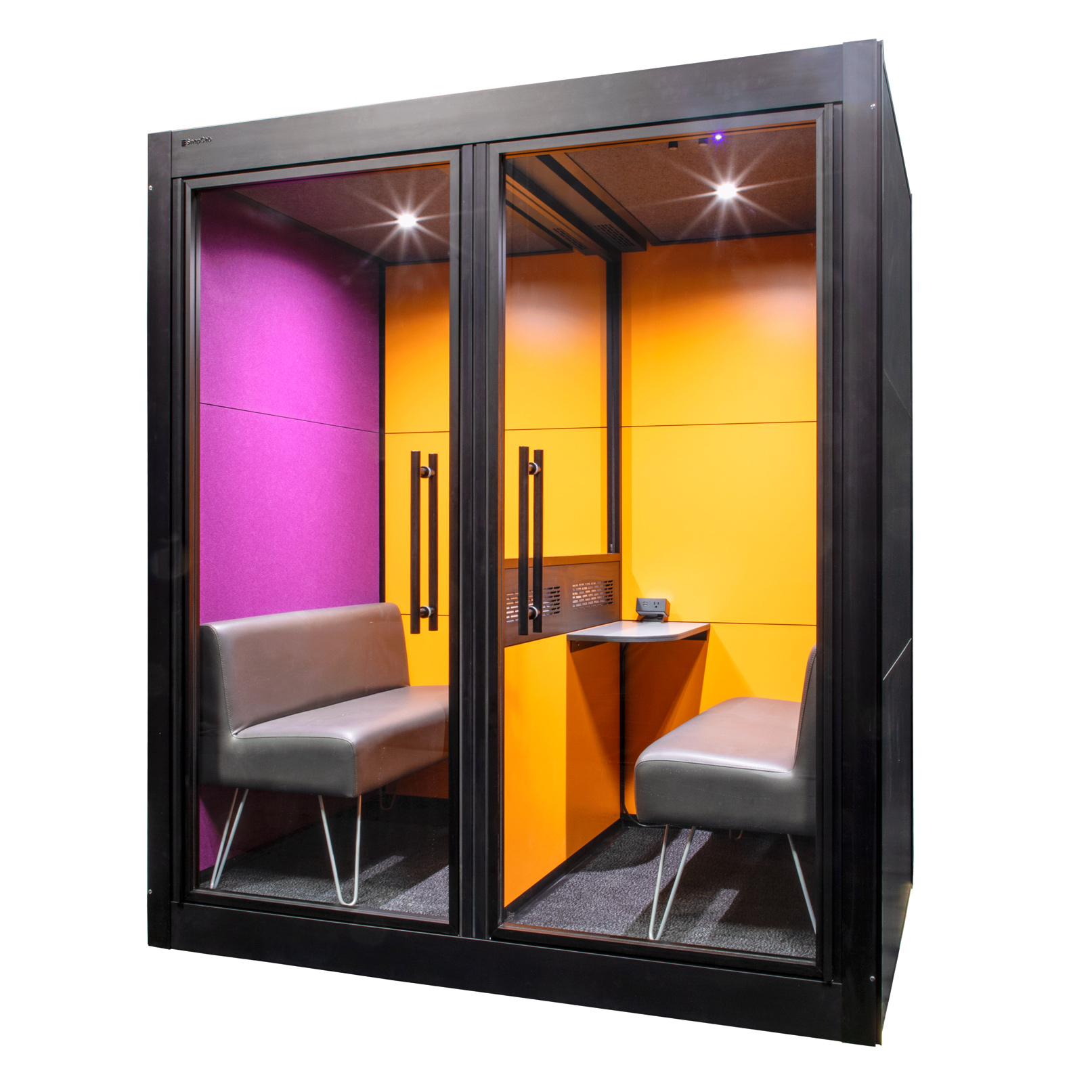 A variety of special pod options are available to serve different purposes for businesses and individuals alike. A few of the company's more recent releases include the Work and Work+, which are a mobile office pod providing private workspace that can fit in a variety of different environments. These pods have height-adjustable tables and panels that can alternate at any time for continuous personalization to what appeals to the user. The principal distinction between the two designs is that the Work+ is slightly larger than the Work model.
The company has also released options for a more inclusive work environment. Nurture, a quiet, standalone pod, was designed as a lactation space for mothers in the workplace to use. The opaque, sound dampening glass door is lockable and has an occupancy indicator, providing utmost privacy to mothers inside. SnapCab has also released Access, a pod designed for wheelchair users, highlighted by a 37-inch doorway and a wheelchair ramp.
The pandemic has shifted the average worker's needs when it comes to user health, and SnapCab responded in the form of new, COVID-19-friendly products. To address some of those changing needs, Consult is a mobile pod split into two separate rooms, divided by a glass partition, allowing for safe face-to-face consultation between two people. This pod has a door on each side so that its two users never have to invade the other's personal space, and it has dedicated HEPA filters in the ceiling on either side. As more people have begun working remotely, SnapCab also released the Meet 2, a pod intended to provide a private, quiet space for individuals working from home.
"When the pandemic came along, first everything stopped. Justin Trudeau was asking factories if they could do anything to help with the pandemic. We started experimenting with these testing pods with gloves. We're still working on those, but that was one of the initial things we did," Bostock said.
The COVID Shield, a pod with built-in gloves that aims to assist the medical community with meeting a greater testing capacity while conserving their personal protective equipment, is currently in research and development. In an acknowledgement of the business's shifted focus during the pandemic, SnapCab has received an honorable mention in the North American category by Fast Company's 2021 World Changing Ideas Awards, an annual awards program seeking to highlight social good and creative people, products, and projects that make the world a better place.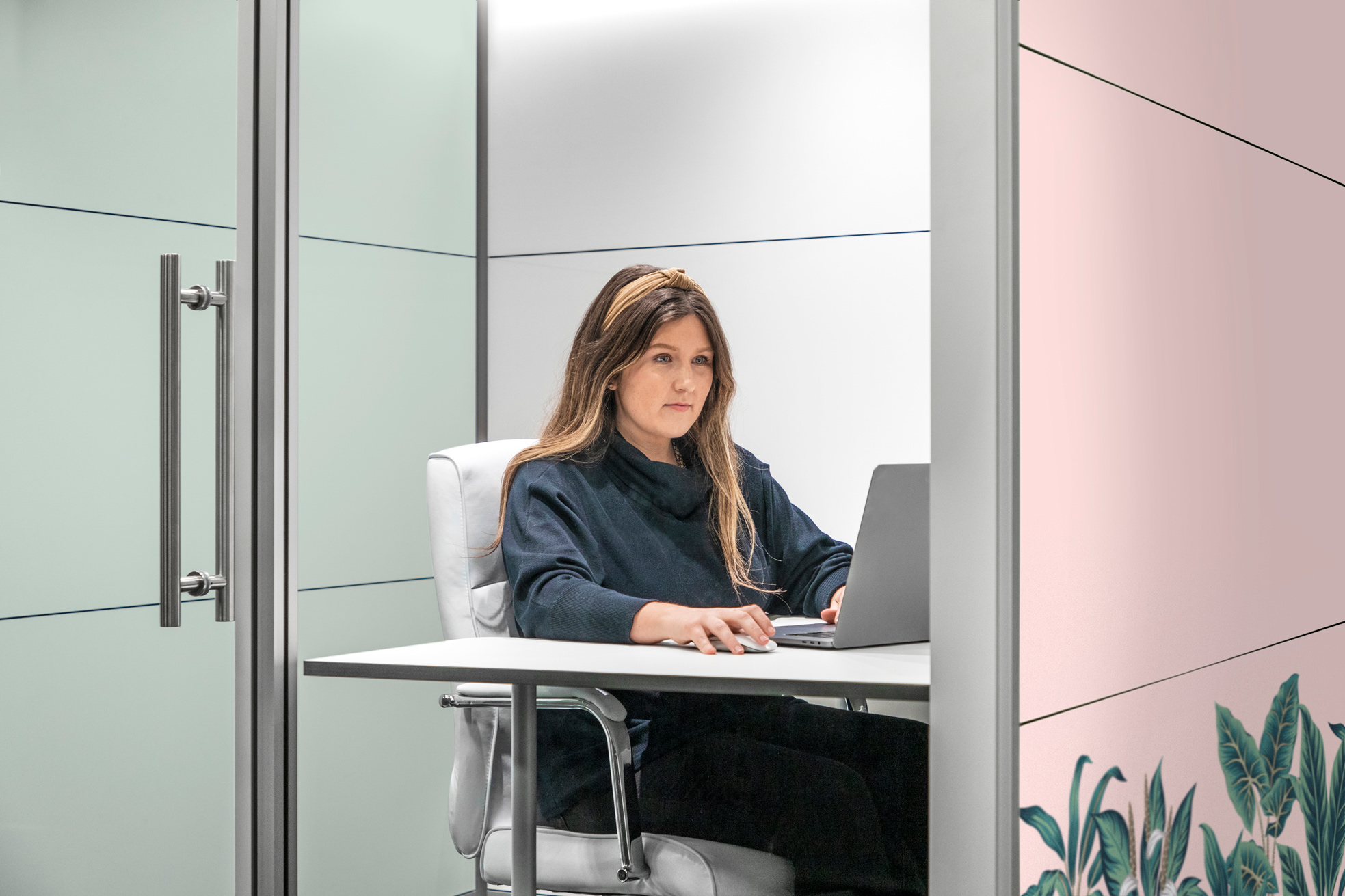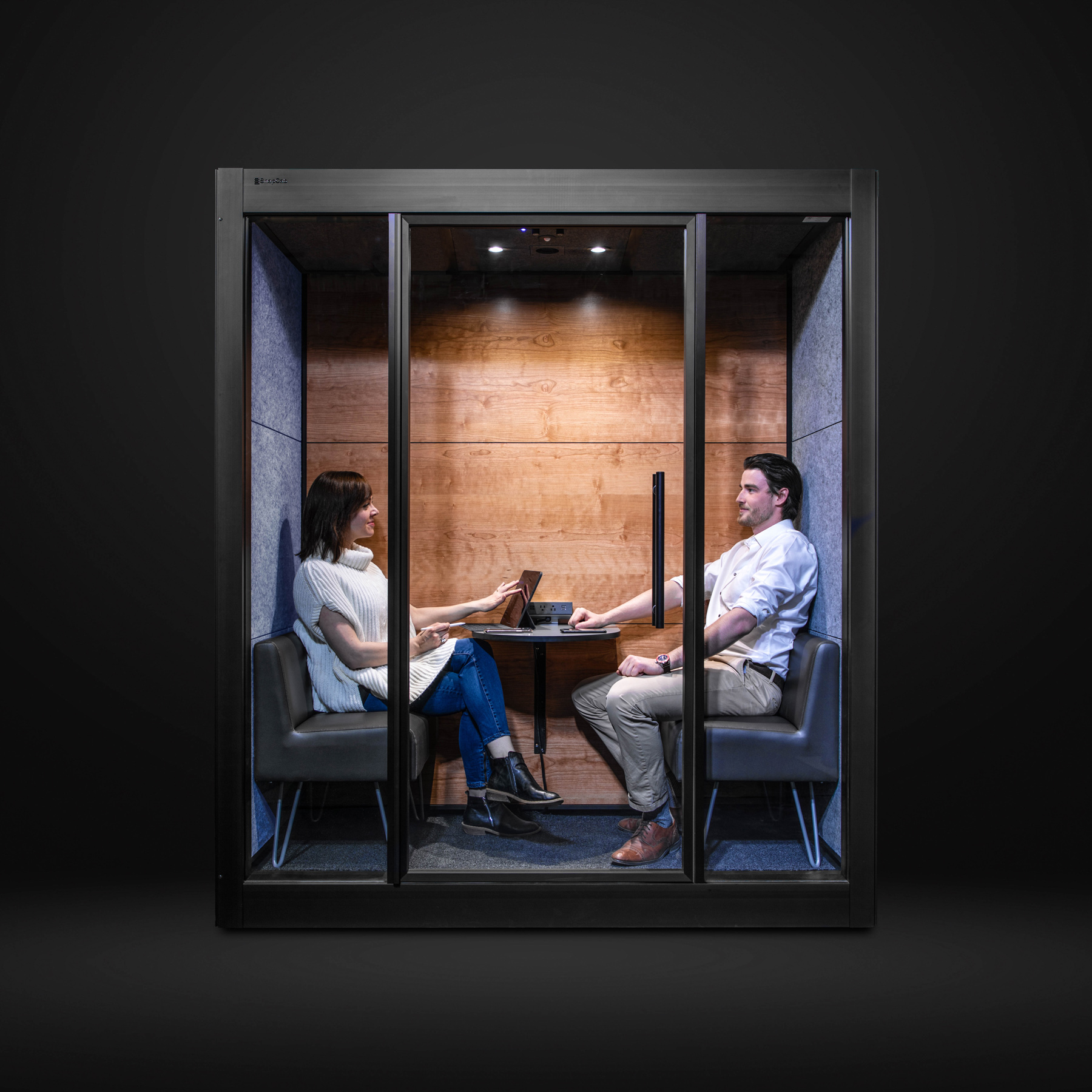 For Bostock, the future of SnapCab holds many possibilities, but at the forefront he aims his focus on the people who make the products possible. Bostock is interested in building another factory that manufactures individual parts for the SnapCab Workspaces, such as furniture, as that job is currently fulfilled by outside businesses. Having multiple companies under the SnapCab umbrella would allow his employees more room for growth and a wider range of opportunities when it comes to their individual career paths. Bostock believes there is value in investing in the people who make the product, as much as the product itself.
"I'd like SnapCab to be a place to foster and grow leaders. We are looking to attract people, and who we are looking for are people who have a love of manufacturing things and taking care of our customers, but also who want to build a community," Bostock said.
"We'd rather embrace humans and try to give them a place where they can grow up, become leaders, and have a career path," Bostock added.
First published in Great Lakes By Design: Ergonomics, 2022
Text: Brenna Buckwald
Photography: SnapCab
*SnapCab's Workspace pods tagline is "Space to be you." The print and an earlier online edition referred to its elevator interiors tagline, "Space to move you."