Journeyman Distillery in Three Oaks, Michigan has once again announced the return of its annually released, highly anticipated Kissing Cousins Whiskey as of May 23, 2020. The whiskey, which is a complex blend of bourbon and wine barrel accented finish, courtesy of the nearby southwestern Michigan Dablon Vineyards. 
The Kissing Cousins limited small batch is imbued with the character of Journeyman Distillery's Featherbone Bourbon—a 90-proof, certified organic and kosher bourbon blend—and the deep, earthy notes of an extra finish in wine barrels from Dablon Vineyards in Baroda, Michigan. The proximity of the distiller and vineyard partners gives Kissing Cousins its spirited name. The double-distilled process comprised aging the bourbon in new, charred white-oak barrels for two-and-a-half years prior to transferring it to Dablon Vineyards' cabernet sauvignon reserve and chardonnay barrels for an extra layered finish.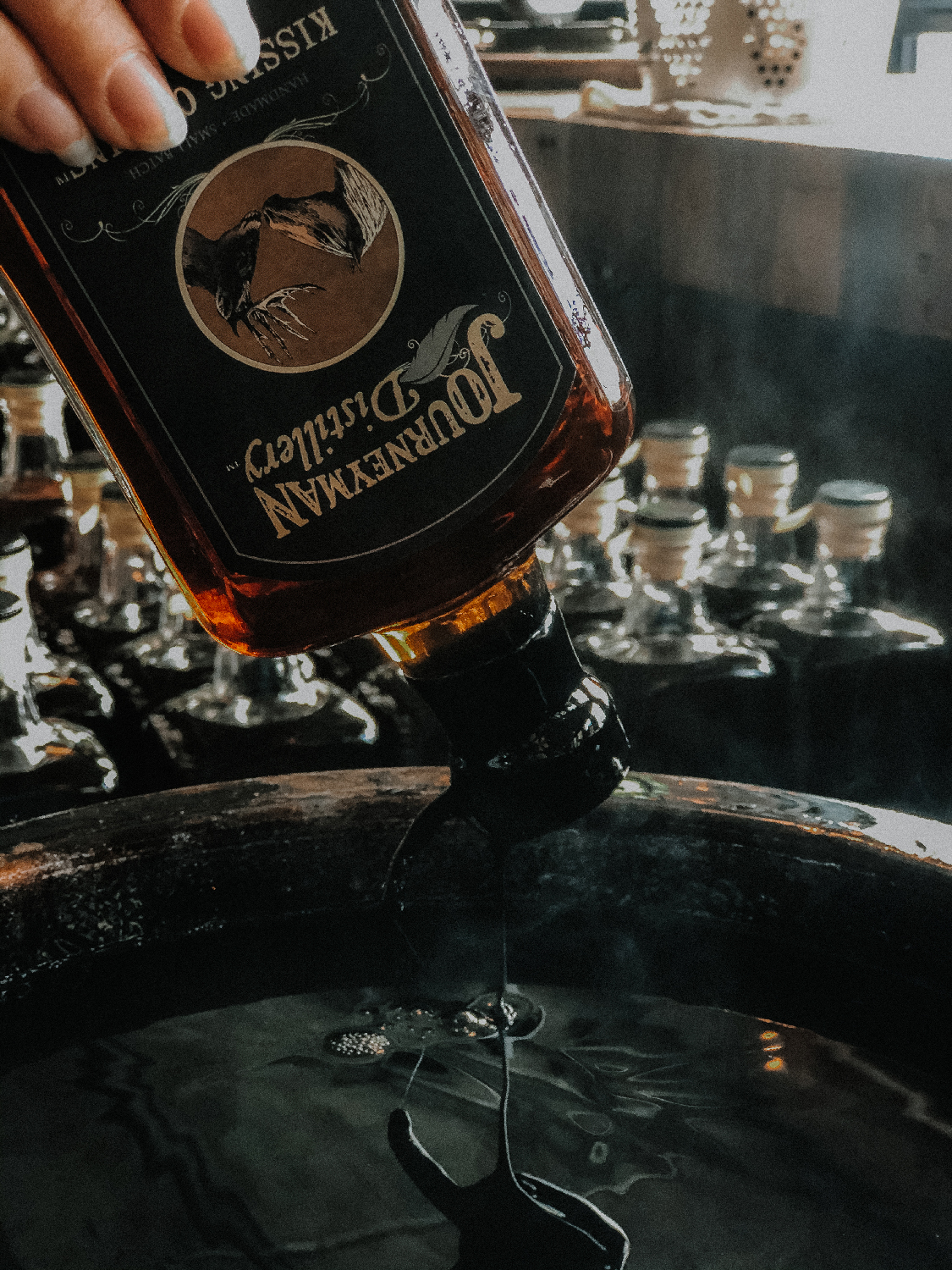 The total process is roughly three-and-a-half-years, with resulting tasting notes of dried stone fruit and fresh-cut tobacco on the nose; as well as the instantly noticeable wine barrel influence. As the taste develops, hints of candied pecan and vanilla cream soda are followed by nutmeg and cinnamon, according to the Journeyman Distillery team.
"Red Licorice becomes very present, as well as an underlying juiciness that is just phenomenal," said Tom Balich, production manager at Journeyman Distillery, in the press release.  
Journeyman Distillery's Kissing Cousins edition for 2020 is the eighth batch and annual collaboration with the local vineyard, and the limited small batch is available in 375 ml and 750 ml, with custom bottle engraving optional for the latter. 
For the distillery, which is located in the historic Featherbone Factory in Three Oaks that was once the site of a prohibitionist-founded buggy, whip, and corset factory in the 1880s, the design and process of handcrafted spirits is an intentional and authentic part of its story. Since it officially opened its tasting room in 2011, Journeyman Distillery has not only expanded its product portfolio, but also its space within the historic structure and offerings with the introduction of Staymaker Restaurant, Welter's Folly, and multiple event spaces. 
The distillery sources high-quality grains from local, organic midwestern farms and distills them into award-winning spirits and inspired dishes at its on-site restaurant. Its collection of spirits is diverse, from nine different whiskeys—including bourbons, rye, wheat, and single malt variations—and gin, to rum, vodka, and brandy. The distillery also has a series of creative spirits and liqueurs, like O.C.G. Apple Cider Liqueur, Snaggle Tooth Coffee Liqueur, Limoncello, and the Humdinger Jalapeno Spirit, among others. 
Text: R. Collins | GLBD writer
Photography: Journeyman Distillery