Artistic parallels are often drawn to architecture, building on a core function that began as a shelter building practice. It has offered opportunities for the creation of artistic and poetic alludes through structure, and modern materials—and their innovative evolution—have furthered the tradition when things such as acoustics or light are applied to a space. 
What began as a poetic exploration of light, shadow, and space manipulation during a thesis project at the University of Michigan for Abhinand Lath, founder and president of Sensitile Systems in Ypsilanti, Michigan, resulted in a patented, groundbreaking architectural innovation. Since then, Sensitile Systems has become an award-winning, internationally recognized manufacturer of glass, resin, and terrazzo design products led by Lath and his wife Vanika Lath, chief executive officer. 
When describing the origins of Sensitile Systems' material portfolio, Abhinand Lath recalls a poem by 18th century Japanese poet Gyokuran that had initially inspired him. It describes how a delicate bamboo forest emits "ten thousand generations of shadows" as the movement of flexible bamboo stalks transform light.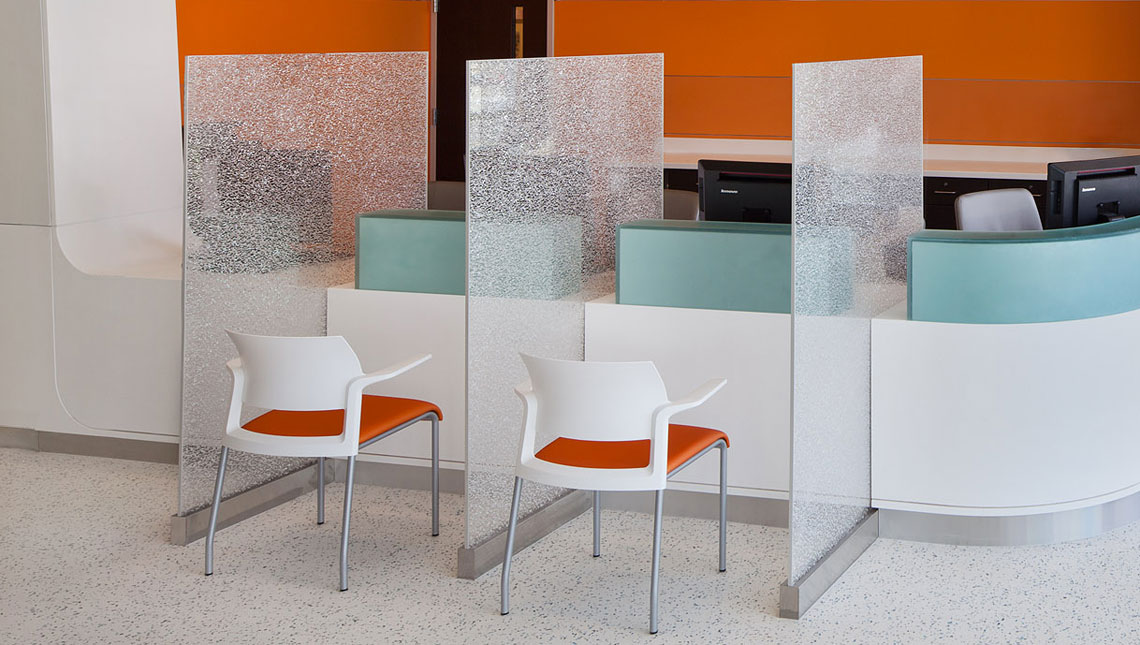 "How do you capture what you might have felt and reproduce it? Experiences have to be reproduced; you can't really describe them," Lath said. "So, I made a sample of the first , which kind of had that effect of transferring light and shadow."
Since then, Sensitile Systems' architectural materials serve a specific purpose: to allow designers and applicants to build with light and play with its inherently joyful qualities. Each sheet of product— typically formed into screens—manipulates light using internal conductors, light pipes, and laser technology that fracture and bend within the internal structure. In effect, moving around Sensitile Systems' products creates a unique interaction between product, light, and user that can surface in shimmering, twinkling, light displacement, and light variation by distance and potency.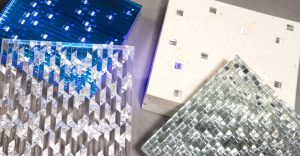 "When you block one of [the channels], it transfers shadow inside the surface and takes it elsewhere," Lath said. "If you had for example a light on one of them you see that light comes out somewhere else. It rearranges the light and condition on a surface, thereby creating an interaction."
The glass, resin, and terrazzo materials have been used all over the world, for everything from restaurant partitions and healthcare and university space dividers, to jewelry and collage—such as the aqua-colored screen collage at the Toronto Pearson International Airport stairwell. They are also renowned for a usefulness in promoting personal wellness and environmental health, pre-and-post consumer. 
On the environmental end, Sensitile Systems has integrated conscious and regenerative practices into each stage of production, from supplementing wet processes with a closed-loop gray water recycling system to packing resin, glass, and terrazzo materials with certified post-consumer recycled content, and relying on local supply chains. Everything from material design and prototyping, to manufacturing, packaging, and shipping is done at Sensitile Systems' Ypsilanti facility. Products are also PVC and formaldehyde-free and have received the Clean Air GOLD Certification from Intertek. 
Individually, resin—an option for indoor and outdoor applications—is flexible, lightweight, resilient, and UV stable, and its malleability offers solutions from wet bar countertops to sheet-thin, fold-up pads. Similarly, terrazzo is durable, non-flammable, and easy to maintain, and can be cast into any shape. Glass offers acoustic control thanks to its unique composite structure and it is preferable for higher fire ratings.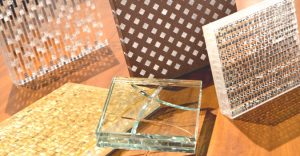 Regardless of materiality, screens and other products offered by Sensitile Systems are meant to uniquely connect individuals with surrounding space through the most basic of architectural elements: light. Light exposure is proven to play a key role in personal wellbeing and, paired with texture and color variations, can alter mood and create a more holistic connection between person and space. 
"It does give people an opportunity to bring a little bit of something joyful or something that stands apart into certain spaces, and it has to be done anyway—and we have them," Lath said. 
Sensitile Systems not only offers customizable materials and ready-made screen patterns, but also an online shopping platform for housewares like light pendants and serving platters—as well as a library of on-hand stock materials for second life uses in projects. 
Text: R. Collins
Photography: Sensitile Systems