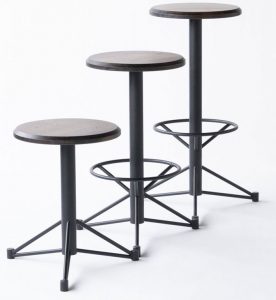 For the small team of artisans at Edgework Creative, a furniture, millwork, and metalwork studio in Columbus, Ohio, growth has been swift and fast ever since their DIY effort at creating a new kitchen table seven years ago erupted into requests for custom furnishings from their surrounding community. Their portfolio now includes hundreds of custom projects in the commercial and residential markets, as well as a ready-made line of handcrafted furnishings ranging from nestable stools and dining tables to modular shelves, chairs, and reclaimed tabletops. 
"About two years in [to our practice], we moved out of our garage and hired our first employee and sort of made it official, as opposed to a hobby and side project; it became something we were trying to build," said Lindsay Remley, who founded Edgework Creative with husband Alex Remley. "That was in 2015; fast forward five years and we're a team of 11, and we're in a really big warehouse space that we've already outgrown and are just continuing to do more and bigger work, and expanding our reach."
Edgework Creative is also a product of Pinterest's rapid growth in the design market, namely through those inspired homeowners and interiors connoisseurs who have turned to the platform for countless style boards and reference materials. At the time of Edgework's initial growth, the platform was seeing sparks of what would become a reclaimed-wood-renaissance that continues to grow, and coincidentally, the team was already investing the material in its practice and processes. 
"I think stylistically when we started it was [a product of] reclaimed lumber, which has sort of a warm modern farmhouse or traditional style, and as we've grown, what's great about our work—because we do wood and metal work and because we use all types of lumber—is we're able to achieve so many different looks: everything from Scandinavian and midcentury to industrial and traditional," Remley said. 
Using metal and wood for a material palette has allowed the team a near limitless amount of styles to experiment with and develop, and it has helped enrich the studio with a diverse client base that ranges from restaurants and homeowners to commercial offices and retail stores. In-house capabilities for metal and woodworking also allow the team a tight-knit, thorough approach to their craft. Their process is informed by a belief in the handcrafted, the quality material, and in designing a piece of furniture or space that tells a story.
"We do everything in-house, which makes it really seamless because, for instance, with [designers] they're always managing vendors, people, and trades and we can eliminate the communication and coordination piece between two separate vendors," Remley said. 
Edgework Creative's work can be seen across the United States and in projects that vary in scale from a few furnished pieces to fully outfitted spaces transformed by custom storage, furnishings, and even artful custom finishes that serve as aesthetic decoration. For VÉRITÉ Dermatology Boutique in Bexley, Ohio, the team crafted a piece that artfully merges ornament and form. The eye-catching semi-circular reception desk was custom made and finished with wood strips and brushed solid brass that entirely speak the soft, curved language of the rest of the interior aspects, which were designed by Double Knot Home, an interior design studio in the area. 
A home in Columbus's German Village features several built components by Edgework Creative that complement its rigorous architectural transformation, including custom steel, glass, and brass shelving throughout; a dark oak and steel dining table that comfortably seats 10, a custom media wall with shelving in the living area; and white steel-framed custom mirrors in the bathroom. 
Pieces like dining tables are increasingly in-demand for Edgework, with designs like the Ryder and Grove Dining Tables being two of the most popular and requested from their pre-made catalogue. Grove's walnut tabletop, geometric steel base and chamfered edge make for a traditional piece that anchors rooms, but easily transitions with the styled atmosphere around it, as does Ryder: a more rustic design featuring similarly clean lines, and available in ash, white oak, or walnut.
The sturdy, refined Mast Stools are another popular, pre-made option that befit nearly any spatial style, but can be customized for clients. Made in several heights fit for bars, counters, and flex seating, the stools can be upgraded to backed or swiveled structures, and can be finished in a variety of walnut, ash, and oak options such as Espresso, Arctic, and Sunrise, and metal finishes like Southern Bronze and Harvest Gold. 
Text: R. Collins | GLBD writer
Photography: Edgework Creative
Featured image: Marshall Evan Photography