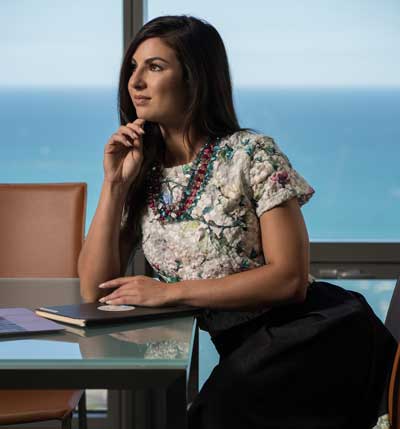 Like many other facets of art and design, fashion provides a highly sensory method of self-expression and creativity, but it stands apart in its proximity to the user. As designs that encompass the body, garments hold a unique responsibility for their users, and as Chicago-based fashion designer Bhavana Jain knows, balancing the responsibility of designing for a specific customer while staying true to design principles can be a challenging—yet exciting—effort.
"When I started in design school, I actually had ideas of designing [garments] that are commonly worn in India, and I really was enamored with the color, the fabrics, and the design features," Jain said. "As I went further along, I pivoted and really wanted to design for the western contemporary woman, because I was that woman as well. I worked for a professional industry so I wanted to design pieces that I could relate to, but also incorporate my heritage in some of that."
Her design studio, BhavyJ Designs, was established on these aspects of identity and has since produced a series of garments that reflect them through classic silhouettes that are enhanced by motifs in texture, pattern, and color. Tweed is fitted to cross-stitching on wrap tops, providing a textural detail on structured dresses; and a-frame silhouettes and classic blazers are softened by satin and glittering tulle details—or in the case of the Savannah floral dress, fringe floral fabric complete with pockets for the skirt.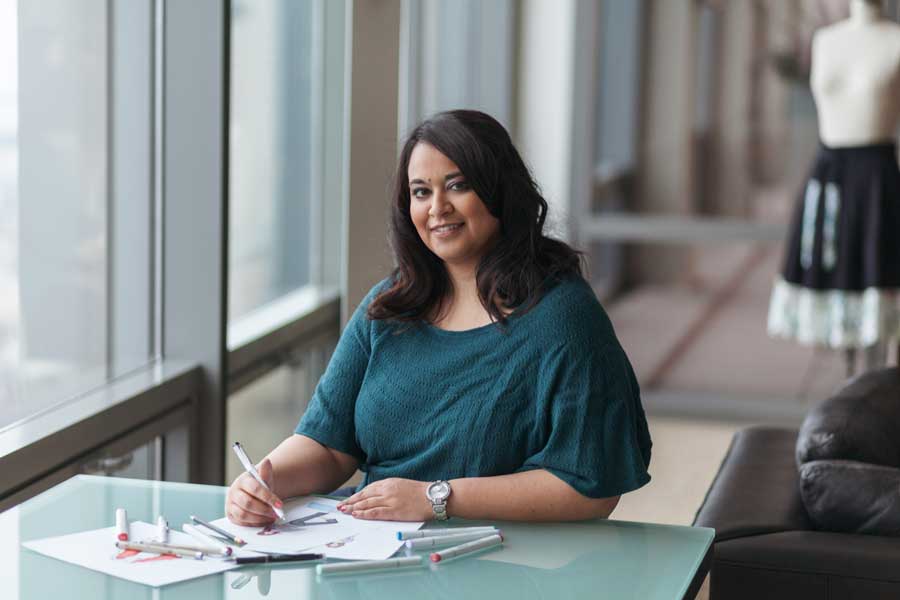 Transitional by design, the fashion pieces are meant to allow versatility and efficacy for the daily activities of the modern woman. Each piece can offer a statement on its own or can be paired with accessories for a more formal image.
Jain's design philosophy is also founded on a preference for globally-sourced fabrics and an ethical manufacturing process. Each garment is made in the United States by manufacturers striving to reduce waste and respect labor laws; and local pattern-makers help bring designs to fruition.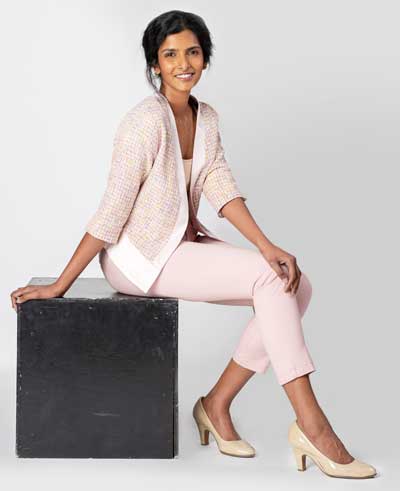 "I focus on the quality of my fabrics [and] much of my fabrics are imported from Europe. I try to incorporate those in my designs," Jain said. "I always try to stay true to my overall mission: versatility and transitional-ware and that kind of thing. I also look for fabrics that reflect my Indian heritage which would [have] color, embroidery, nothing too excessive, but something to give it something different."
Ethicality and conscientious fashion practices are key components of the BhavyJ Designs studio which Jain, especially as the fashion industry has come under scrutiny for waste mitigation. As the industry looks toward repurposing commonly discarded materials—as seen in the rise of vegetable leather and re-imagined auto parts—it is also seeing technological advances in performance fabrics, according to Jain, who said she has even considered integrating them in her designs. Now in the process of producing her second line, she is reveling in the discovery constantly posed by the industry, and looks forward to continually discovering new ways of expressing her identity while creating the garments that express the contemporary western woman.
"It's always evolving and that's really exciting, because I learned there's really no right or wrong in fashion; it's just about what you aspire to and how you express yourself," Jain said.   
Text: R. Collins | GLBD writer
Photography: BhavyJ Designs | Madeline Northway | Alex Callejo