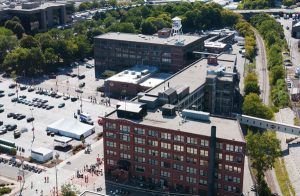 For more than a century, the Harley-Davidson Motor Cycle Company, a subsidiary of Harley-Davidson Inc., has been an icon of American motorcycle design, both classic and innovative, with the company's upcoming—and long-awaited—release of its first electric motorcycle, the LiveWire, being no exception. Harley-Davidson is also known as one of the only American motorcycle manufacturers still in existence from the industry's formative decades, and the company's current headquarters on Juneau Avenue in Milwaukee is a testament to its longevity. 
Construction on today's iteration of the Juneau Avenue complex—originally the company's factory—began in 1910, the same year Harley-Davison's iconic bar and shield logo was first used. Recently, flat files containing a collection of more than 1,300 vintage documents were uncovered inside its current facilities department, and among them some of the building's original architectural drawings. This September they are being featured in an exhibit at the Harley-Davidson Museum called "Building a Milwaukee Icon: Harley-Davidson's Juneau Avenue Factory," alongside archival photographs providing a snapshot of the architecture and explosive growth that marked the company's first decades, approximately a century ago.
"We had no reason to know that [the files] existed really," said Jim Fricke, curatorial director at the Harley-Davidson Museum. "So, they came over here and our museum registrar started going through them and got pretty excited by what she found. … and that pretty naturally led to people saying 'we should do a display of these things.'"
Within the exhibit, about 14 of the architectural drawings—including some by pioneering Milwaukee Architect H.C. Eschweiler—are displayed as full-scale facsimiles, and paired with more than two dozen vintage photographs to reveal intriguing details of the facility's frenzy of early construction between 1910 and 1920. Horse-drawn trailers appear on-site in some photographs, and others—along with the architectural drawings—illustrate the drama and excitement of the process, according to Fricke, as the company's growth and its new facility transformed in unison. 
"We've got these photographs that show that the company was growing so quickly both in terms of sales, just skyrocketing, and then trying to build production capacity to meet those demands, and those things don't necessarily go together in real time," Fricke said.
At the same time that construction was stirring excitement in the Milwaukee neighborhood, the company was making history in other ways. It formally entered motorcycle racing after 1915 and thousands of its motorcycles were used by the U.S. Army during World War I. At the war's end, the first American to enter Germany was riding a Harley-Davidson motorcycle, according to the company.
Throughout the course of the period, the company's original single-story wood factory from 1906 had been transformed into the campus that remains largely similar today. The six-story brick factory building—today's headquarters—encompasses a wedge-shaped complex built in five interconnecting sections along a railroad line in just a few years.
Building a Milwaukee Icon showcases these formative years for the company, and it was organized alongside three other similar exhibitions that comprise the series "Milwaukee Made," which explores the ingenuity of Milwaukee's creative community and some of its most notable mechanical creations.
The Milwaukee Art Museum's exhibit, "Portraits of Milwaukee," features photographs from approximately seven decades of Milwaukee history that highlight some of the people, businesses, neighborhoods, and movements that have shaped the city of today. The exhibit "Magnificent Machines of Milwaukee" at the Milwaukee School of Engineering's Grohmann Museum takes a similar approach, displaying photographs and ephemera showcasing some of the most significant marvels in Milwaukee engineering history, and the engineers who created them. 
Additionally, "MKE Generations: New Work by Willie G. And Michael Davidson" takes place at the University of Wisconsin-Milwaukee's Union Art Gallery, and features artworks by the former vice president of styling at Harley-Davidson, and his son, who have shared a lifelong devotion to painting. MKE Generations opened in late August and is on display until September 13th; each of the other exhibits opened September 6th, and Building a Milwaukee Icon is tentatively scheduled to remain on display for a year. 
Fricke said the opportunity to provide an account of the city's creative and industrial heritage is credited in part to the resilience of its historic buildings, many of which are registered historic places today. This includes Harley Davidson's Juneau Avenue facility, which remains similar in likeness, as does the company's popularity. Harley-Davidson added more than 52,000 riders in the United States in 2018, and expects to have shipped over 217,000 motorcycles during 2019.
"A big part of the reason we're telling the story and are able to tell the story is because all of the buildings still exist," Fricke said. "They've been added to the National Register of Historic Places and the company is taking great care to maintain the integrity of those structures. The insides have changed pretty radically but the exterior looks remarkably [similar]."
Text: R. Collins | GLBD writer
Photos courtesy Harley-Davidson Motor Cycle Company