Throughout the 20th century, The J.L. Hudson Company, or Hudson's, department stores were fixtures in Detroit's history as a fashion and design capital, and played a major role in holiday shopping traditions and style development alike.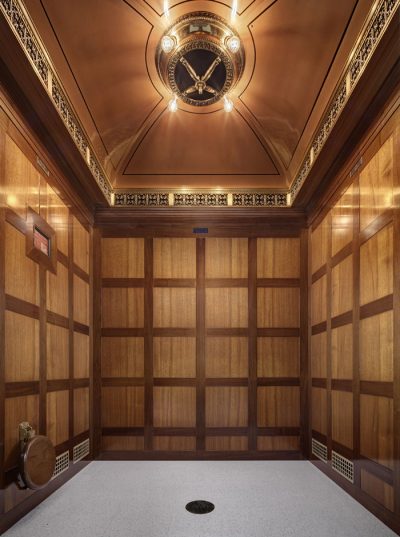 Opened on Woodward Avenue in 1911, the Hudson's department store in downtown Detroit would eventually grow into a massive, 25-story structure that was the world's tallest department store until 1961, commanding the downtown corridor with a multitude of restaurants, a groundbreaking deliveries system, more than 700 fitting rooms and roughly 50 passenger elevators. On the tails of economic downturn, the store was eventually demolished in 1998, but not before one of its long-time appreciators salvaged two of its classic passenger elevators. Recently, these historic accessories have informed the design of a new residence on Forest Lake, a serene inland lake northwest of Detroit and Lake St. Clair. 
"My parents used to take me to Hudson's downtown flagship store frequently as a child. I fell in love with the entire store, along with the 50 elevators and their operators," said Alex Begin, who salvaged the elevators and is the homeowner of the Forest Lake home. "When the store closed in 1983, I couldn't bear the thought of these beautiful art objects meeting the wrecking-ball. I wrote the successive owners and after 12 years of correspondence, they gave me 30 days to remove as many as I wanted before the buildings were to be demolished."
Begin and his wife, Diane Begin, then looked to DesRosiers Architects Inc., a Bloomfield Hills, Michigan-based architectural design firm for the task of creating a new custom residence around the elevators. To Louis DesRosiers, AIA, architect and president of DesRosiers Architects, Hudson's was a meaningful part of his upbringing as well being born and raised in the Detroit area. 
"There was something special about Hudson's, and I loved the idea and challenge of designing a modern home around this historic elevator," stated DesRosiers in a press release. "I also admired Alex's commitment to preserving this beautiful piece of Detroit history."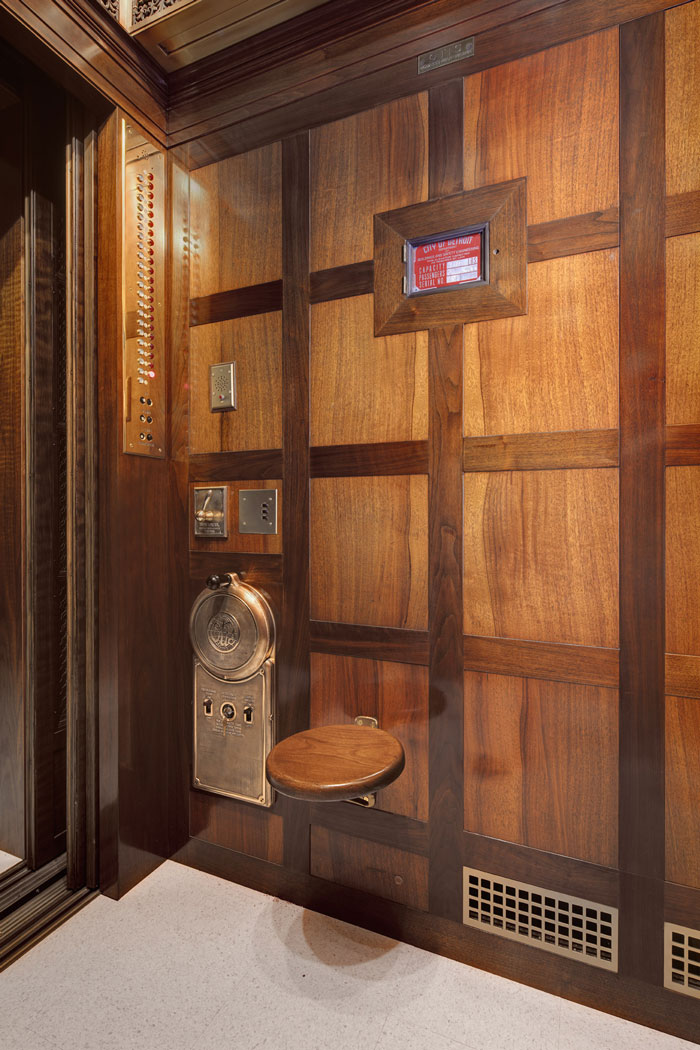 The rich wood materiality of the classic elevators complements the primarily stone-and-glass-clad home set against the scenic backdrop of Forest Lake. To integrate the elevators' antique technology with current codes, the team worked with Detroit Elevator Company, reviving the pneumatic doors, back-lit floor position indicator, and more. 
The high-rise elevator required a generous rooftop machine room, which protrudes through the roof of the home, and its access stairs are covered by a glass skylight from an attic below. The ornate woodwork details in the Hudson's elevators are carried aesthetically with wood trim and accents throughout the home. They merge with the architecture's overall contemporary flavor, accenting clean lines and neutral stone variations with a sleek texture and warm hue. Natural light spills inside the home in panoramic views of the lakeshore and a great room walled in floor-to-ceiling butted glass.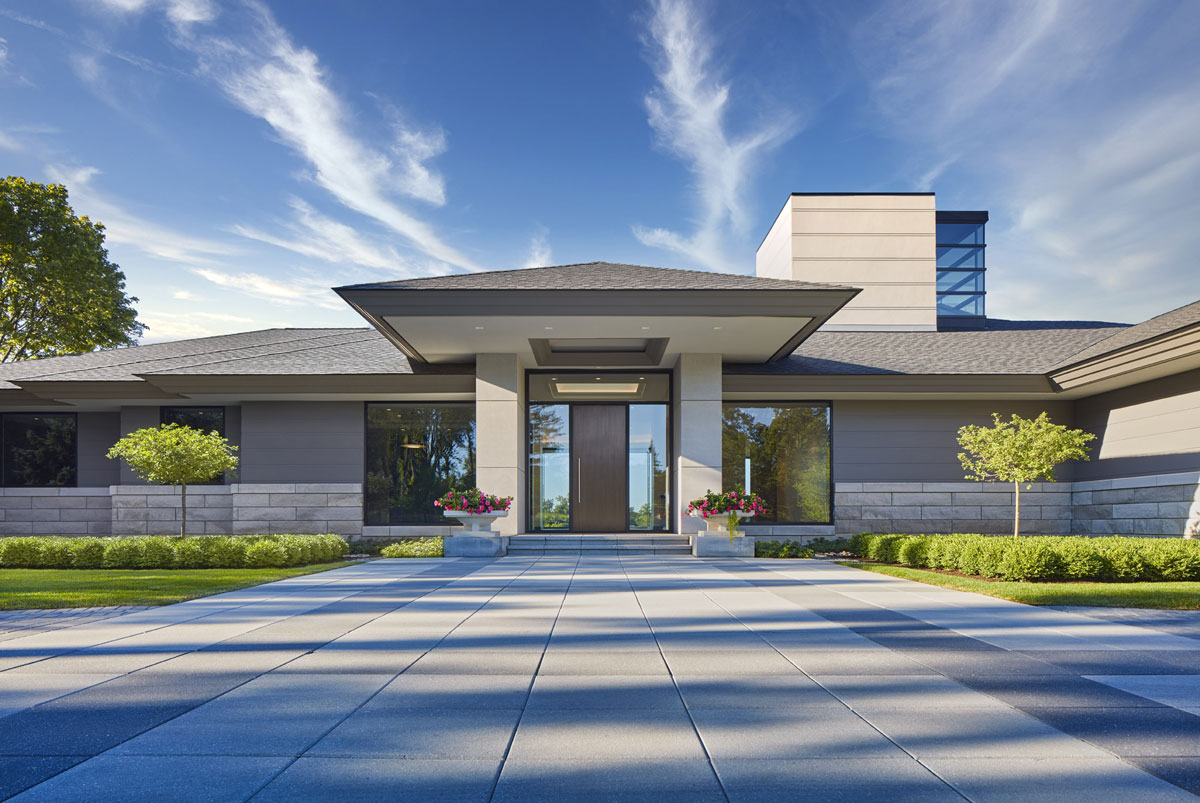 An emphasis on natural light is uniform across the DesRosiers Architects portfolio, which includes waterfront properties throughout Oakland County, Michigan, as well as scenic areas across the United States, including Beverly Hills, California, Jupiter, Florida and Telluride, Colorado. The award-winning architecture firm has specialized in custom residential, institutional, and commercial property design for more than 40 years, and the architectural genres of its luxury custom homes span from traditional to transitional and contemporary. The firm's involvement in the Forest Lake residence project was fitting, as it repurposed beloved pieces of classic commercial architecture and Detroit history in a new residence that savors them. 
The team behind the Forest Lake home not only comprised DesRosiers Architects and Detroit Elevator Company, but also Detroit-area firms like Vogue Furniture in Royal Oak, the local master glass blower Andy Koupal, and Thomas Sebold & Associates Inc, a Bloomfield Hills-based general contractor specializing in custom homes, home preservation, and renovations. 
"It's really a dream come true to see this important part of Detroit's history brought back to life," Begin said. 
Text: R. Collins | GLBD writer
Photography: James Haefner Photography