Containing approximately 90 percent of the United States' freshwater supply, and about 20 percent of the world's freshwater supply, the Great Lakes—Superior, Huron, Michigan, Erie, and Ontario—are a vital natural resource. Aside from providing many Americans and Canadians with clean drinking water, the Great Lakes also contribute to the region's economy through the creation of jobs, goods, and services.
Since its founding in 1989, Inland Seas Education Association, or ISEA, a nonprofit organization located in Suttons Bay, Michigan, has worked toward educating people of all ages on the importance of long-term preservation of the Great Lakes through hands-on experiential learning activities aboard a traditionally rigged, tall ship schooner.
"The essence of our work is protecting the Great Lakes through education. We do that in a variety of ways, but the unifying theme of all our programming is providing a good, hands-on, unique experience that gets kids up close and personal with the lakes. That is a big goal of ours, to expose kids to the lakes who have never had the experience, but also in a way that they may not have experienced before," said Fred Sitkins, executive director at Inland Seas Education Association.
In recent years, ISEA has been updating amenities as well as conducting renovation and expansion work to grow their facilities, and in turn, provide a more beneficial experience that creates a connection between people and the Great Lakes. In 2019, the nonprofit's main facilities building was renamed the Capt. Thomas M. Kelly Biological Station after the late Thomas M. Kelly, founder of ISEA. The updated building title coincided with a renovation that encompassed light exterior work, and the addition of dorm space on the lower level, able to sleep up to 40 people. This project was designed by Ray Kendra, AIA, LEED AP, principal architect at Environment Architects in Traverse City, Michigan.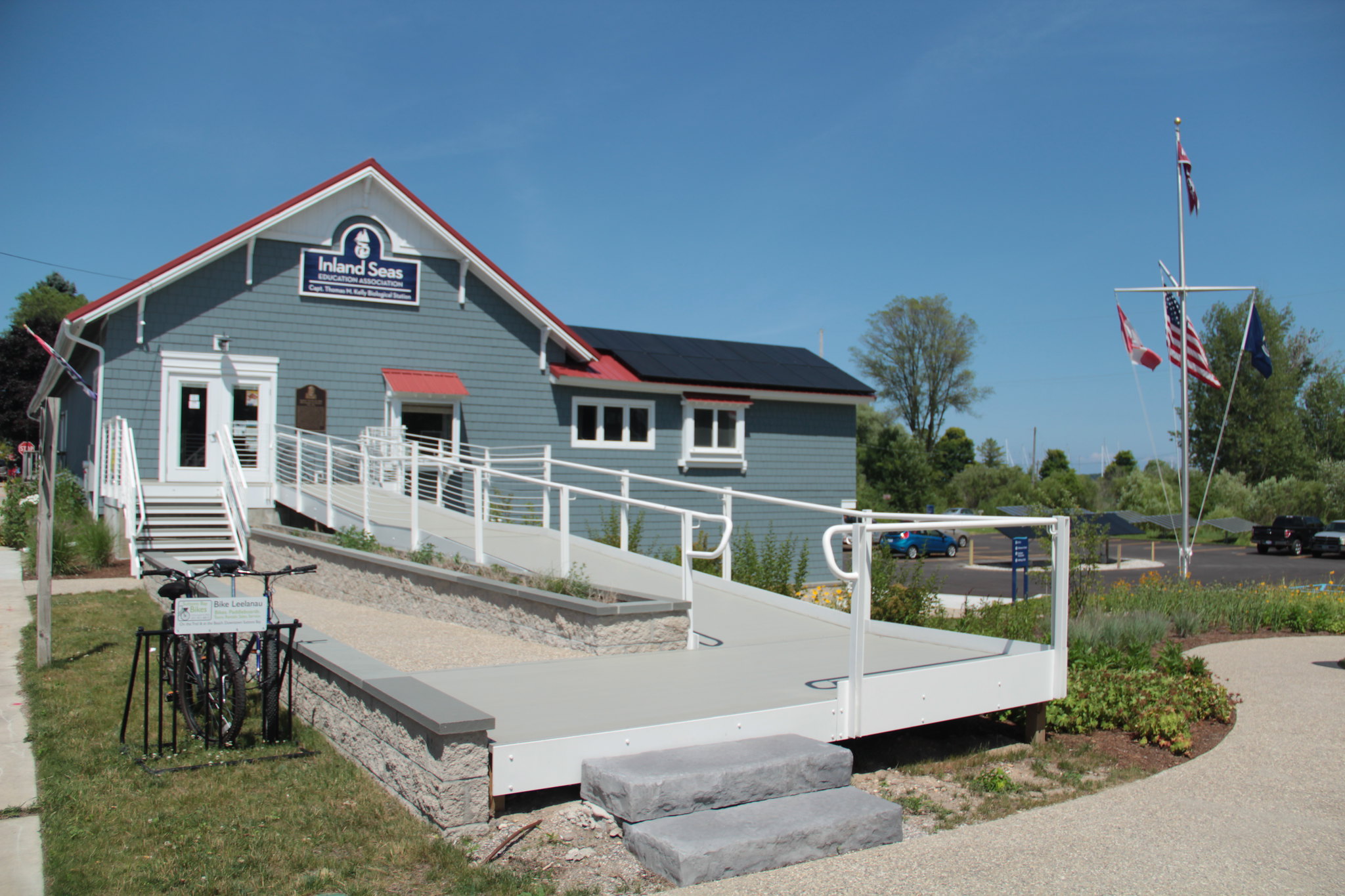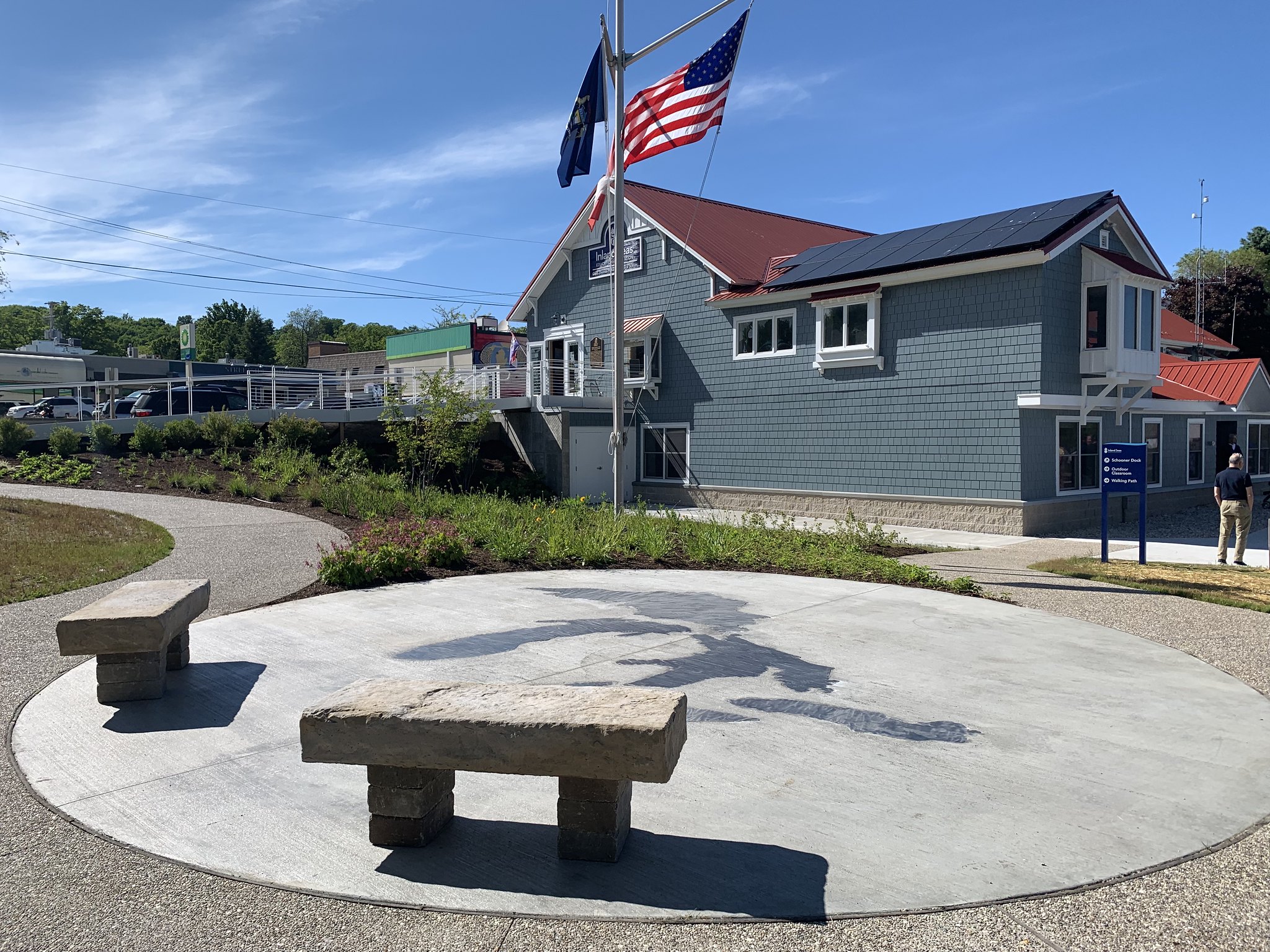 Kendra indicated Environment Architects was first brought onto the renovation project to do exterior work to the building, assisting in fitting the design with the surrounding village of Suttons Bay. The shingle-style building is a very subtle blue-gray with pops of bright red and white detailing. A long ramp that extends toward the upper-level museum inside the building was also implemented, improving accessibility for those in a wheelchair.
"Fred Sitkins was a relatively newer director of the organization, and I think he has led with a strong vision throughout the last couple years, evolving their offerings and what they can do to help children," Kendra said.
"That is where the second piece of the project then came into play; they were looking to add that component of having the place where the kids actually stay at the facility. They had flooding in the basement that they were going to have to address anyway, so it was a way to take care of some of the existing issues, but then create a new opportunity," Kendra added.
Designed to resemble the berths of a ship, the bunk room's main purpose is to house school classes overnight, allowing educational trips to be extended, and students and their instructors to experience as much programming at ISEA as possible during their stay. Since implemented, the boarding space has also allowed for college university groups and researchers to stay overnight and extend their time at the nonprofit, as well as providing housing for the interns who work there.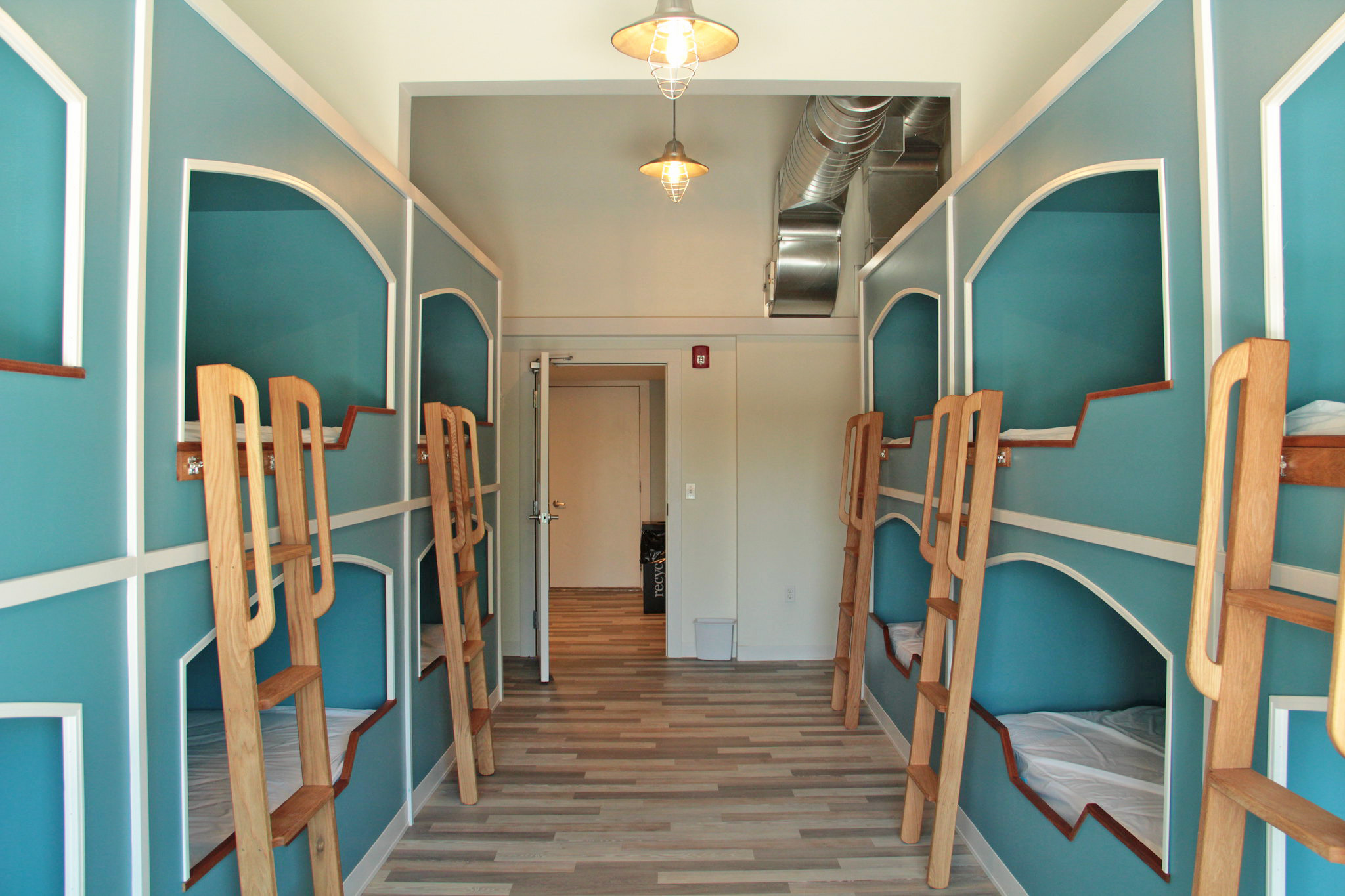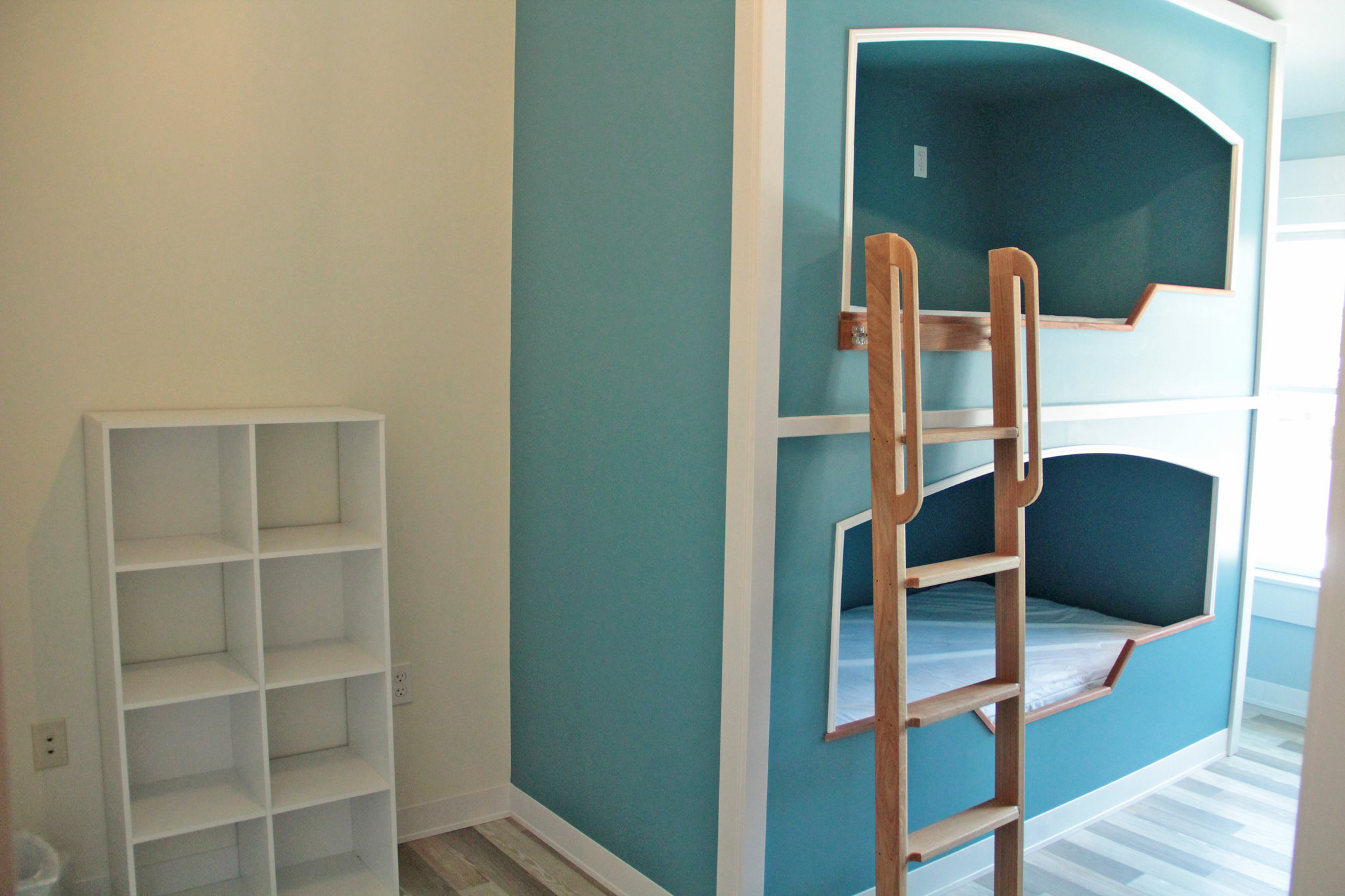 "The principle is our goal of trying to reach the population who has not really had the experience on the Great Lakes or have an understanding of how important this resource is to our region. To do that, we are drawing from schools from long distances, sometimes from the Detroit, Chicago, Illinois, or Indiana area," Sitkins said.
"We live in a beautiful region in Traverse city, it is a real tourist destination, and like most tourist destinations it is not really affordable for a school to come stay the night somewhere. We saw that as a big hurdle for our goal of trying to target these schools, so we wanted to remove that barrier by providing an overnight accommodation for school groups. The design followed in that goal as far as providing something that is really unique and memorable," Sitkins added.
Inside the dorm areas, the teal sleeping cubbies stacked one on top of the other establish the feeling of a ship's sleeping quarters, sparking visitors' imagination and allowing them to feel as though they are aboard a ship on the waters of the Great Lakes. Wooden, ship-like ladders are attached to each pair of bunks, assisting guests with climbing into the upper bed. Washrooms and bathrooms were also incorporated into the lower-level remodel to support overnight stay.
"That has really expanded our ability to provide a deep learning experience for students, and it also has expanded our program options. We have developed a new line of programming to support this idea that schools might be staying for a couple of days' worth of programs for us," Sitkins said.
Also in 2019, ISEA finished the retrofit of a schooner, Utopia, originally built in the mid-1940s and donated to the organization in 2016. The intention of this renovation was to improve the ship's safety, seaworthiness, and to extend its life. Sitkins indicated that the unique construction of the boat led them to replace large amounts of steel and wood planking.
"One of the things we really wanted to do was preserve the interior because it just screams 1950s opulence, and it is just a really beautiful, historical layout and what really stunning yachts would have looked like back in those days. We didn't want to change that, it was part of what was unique about the boat," Sitkins said.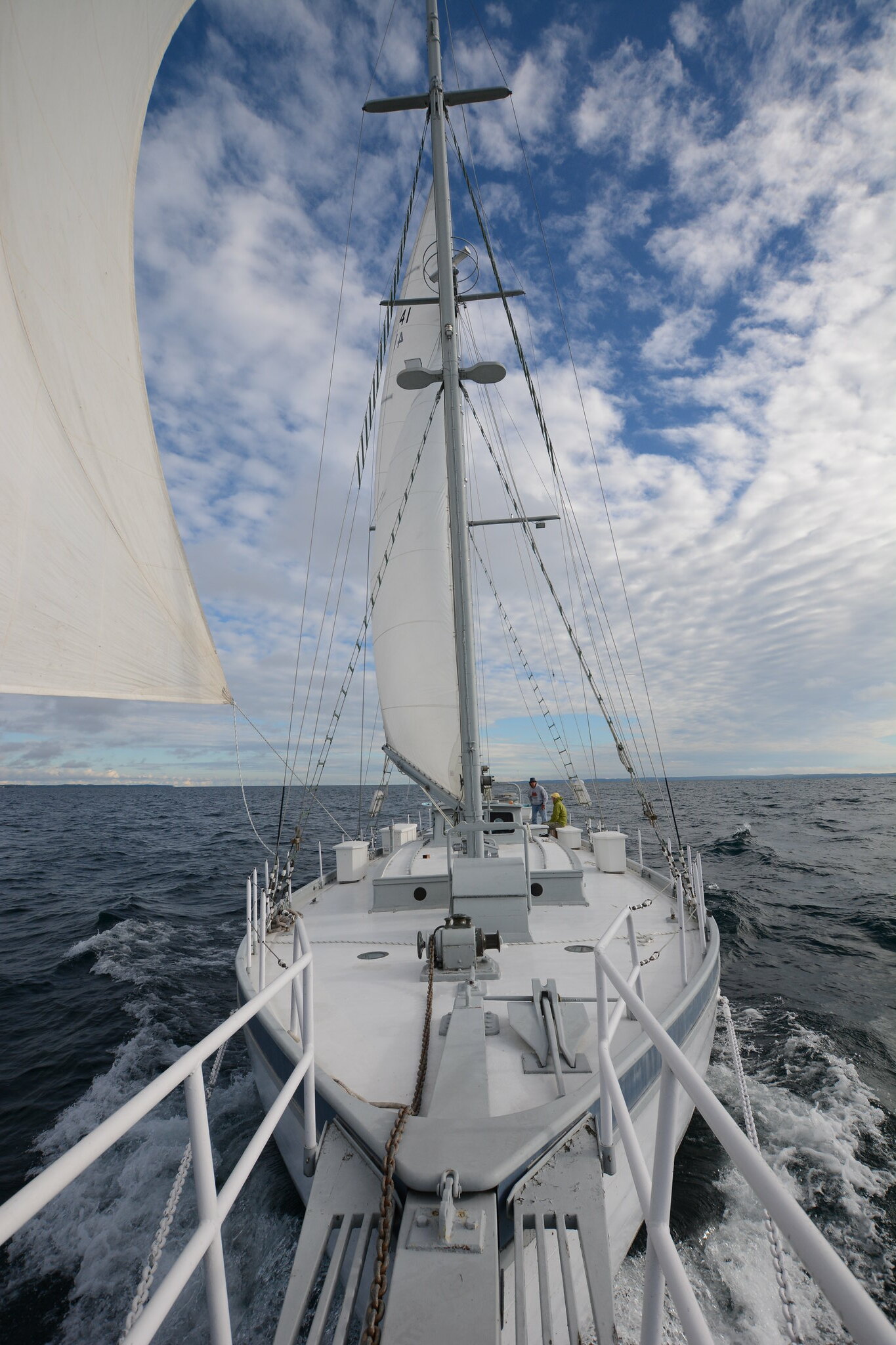 Now, the organization owns two boats to provide learners with educational activities right on the water. Sitkins noted that Utopia is primarily used for activities that involve underwater robotics. To assist with continuing that focused programming into the winter, ISEA is also currently upgrading lab space on the lower level of the Capt. Thomas M. Kelly Biological Station. The new laboratory will be a more versatile, maker space lab to support the robotics programs, allowing learners to build underwater remotely operated vehicles, or ROVs, and water quality sensors attached to the ROVs, which will then be launched under the ice at Suttons Bay.
For Sitkins, the biggest sacrifice of the dormitory project was having to move the organization's boat shop that was previously on the lower level of the educational building to a different location. ISEA is currently working with Kendra again on design plans to bring the boat building, where students can learn to build canoes, kayaks, standup paddle boards, and sailboats, back onto campus. The project encompasses the transformation of an existing outdoor classroom space on the grounds into an enclosed four-seasons pavilion, as well as building a new structure that will be the boat shop connected to the pavilion.
"It is about extending the experience for the students who we work with and providing a deeper experience to a broader range of participants. In order to be able to have them on campus doing these unique programs under the ice of Suttons Bay or working in what is going to be the new outdoor learning space, we needed them to be able to have overnight accommodations. That was the most important piece of the puzzle, and the thing we are most proud of, and now it is going to support some real program expansion for us," Sitkins said.
Sitkins noted that ISEA will begin to introduce plans for the new pavilion and boat shop project to funders in spring of 2022, with hopes that it will be under construction in 2023.
"One of my guiding principles for the organization is kind of Jacque Cousteau's theory; Jacque Cousteau often preached that people protect what they love. In essence, our goal is helping to develop the future stewardship of our Great Lakes and having people who are taking actions to protect those lakes. As I believe what Jacque Cousteau did, you're not going to be successful at that goal unless you develop that love, that care, and that appreciation for the lakes," Sitkins said.
"That is how our programming is designed and that is how are facilities are designed; to provide that deep level of engagement and ultimately an appreciation for this natural resource," Sitkins added.
Text: Brenna Buckwald
Photography: Inland Seas Education Association